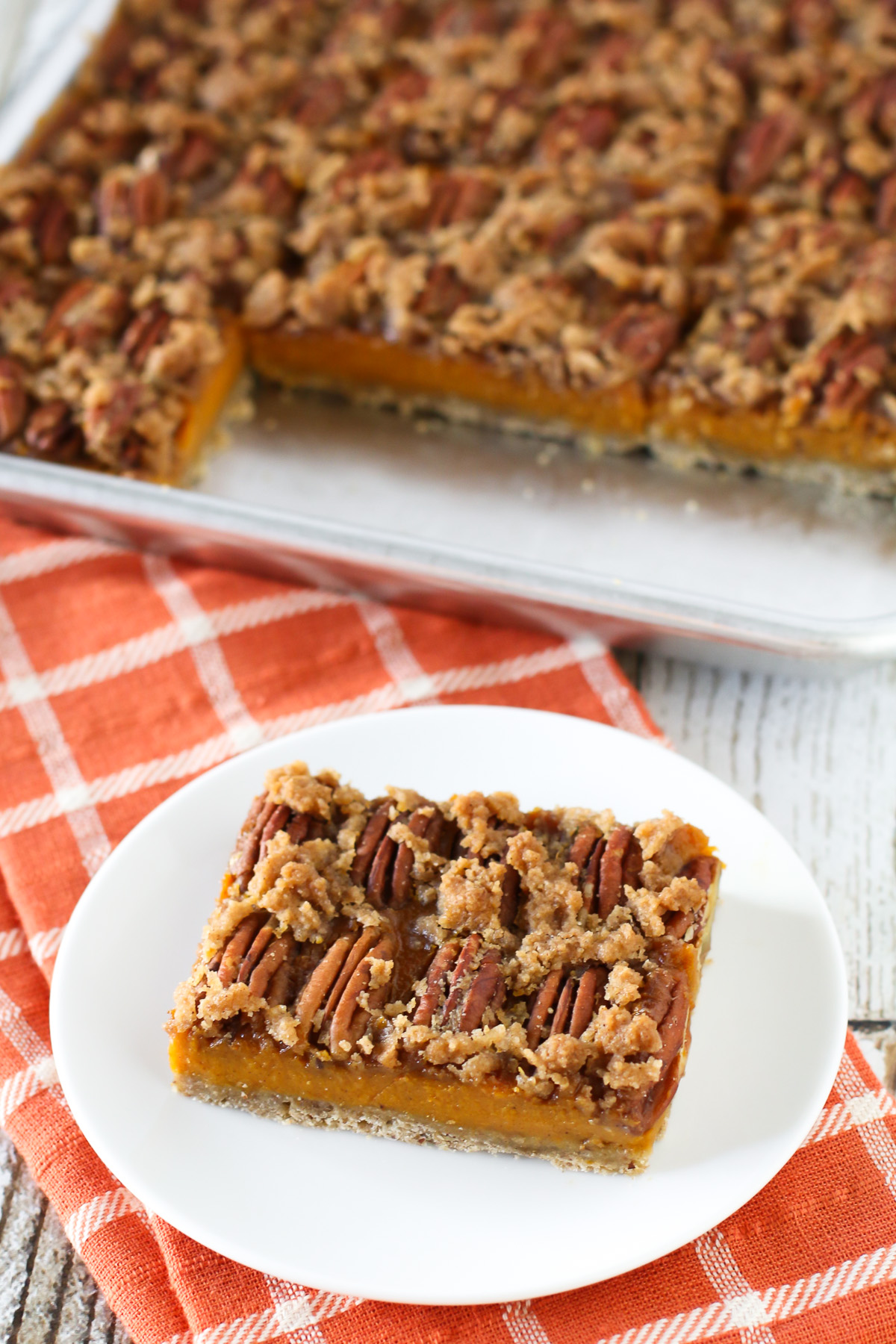 Gluten Free Vegan Pecan Pumpkin Pie Bars. Simple oat crust, smooth pumpkin filling and sugar crumble pecan topping. Easy-peasy and a fall favorite!
Pie season is in full swing and I love it! I absolutely love it. I look forward to it pretty much all year. From pumpkin pie, to apple cranberry pie, to chocolate pie. All of them have my heart. For many reasons, but mainly because pie is just fantastic. Who can resist a slice of homemade pie?
One of the things people don't like about making pie from scratch is the making and rolling out of the crust. It's time consuming and can easily turn out looking horrible. Trust me, even this baker struggles with getting pie crust just right. That's why I love this pie recipe! This crust is super simple, thanks to the use of Bob's Red Mill certified gluten free oat flour.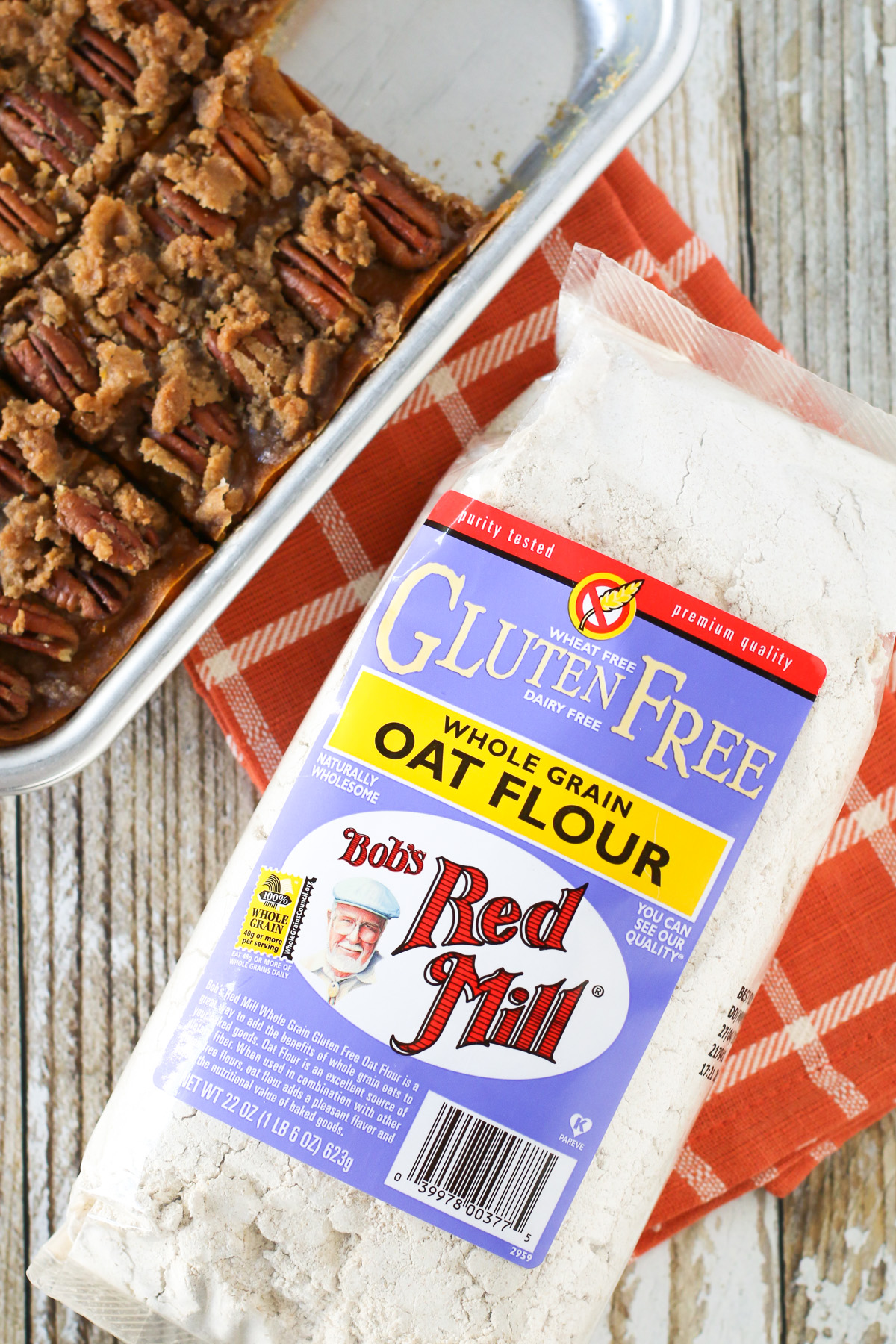 Shortcuts save me time in the kitchen and this oat flour is a timesaver, for sure. It's pre-ground certified gluten free oats, ready to add to muffins, pancakes and breads. For this crust, it replaces the flour and is mixed with ground pecans. It's a mix, press and bake kind of crust. No refrigerating and no rolling needed.
A smooth and creamy, vegan pumpkin pie filling is added to the pre-baked oat crust. Then we've got the sugar crumble pecan topping. Can we just admire that for a moment? It adds great texture and I love that the pecans get nice and toasty. So flavorful. You could even take these bars to the next level and add a little whipped coconut cream. You know you want to.
Easy slice and serve gluten free vegan pecan pumpkin pie bars. There's a new Thanksgiving pie in town and it's here to stay!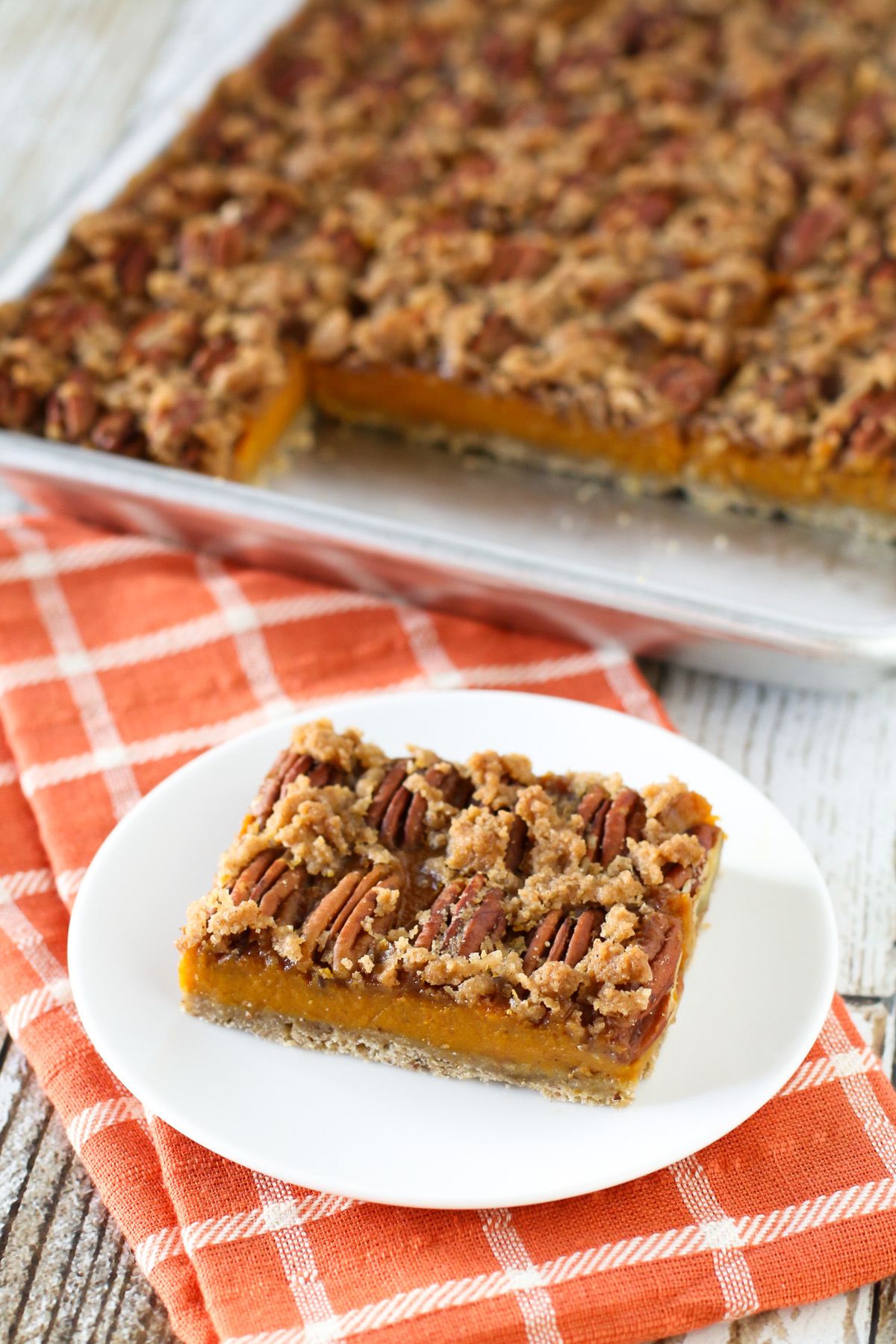 gluten free vegan pumpkin pecan pie bars
AUTHOR:
Sarah Bakes Gluten Free
RECIPE TYPE:
pies & tarts
INGREDIENTS
oat crust
1 cup Bob's Red Mill certified gluten free oat flour
1/2 cup raw pecans, ground
3 tablespoons coconut oil, melted
3 tablespoons pure maple syrup
pinch sea salt
pumpkin pie filling
2 cups pumpkin puree
1 cup full-fat coconut milk, stirred
1/2 cup cane sugar or coconut sugar
1/4 cup corn starch or tapioca starch
2 tablespoons pure maple syrup
1 teaspoon pure vanilla extract
1 teaspoons ground cinnamon
1/2 teaspoon ground ginger
1/4 teaspoon ground nutmeg
sugar pecan topping
1 1/4 cups raw pecan halves
1/4 cup brown sugar or coconut sugar
3 tablespoons cane sugar
2 tablespoons Bob's Red Mill certified gluten free oat flour
2 tablespoons melted coconut oil
1 tablespoon pure maple syrup
1/2 teaspoon ground cinnamon
INSTRUCTIONS
Preheat oven to 375 degrees. Spray 9x13 baking pan with nonstick cooking spray or line with parchment paper.
To make crust, mix together oat flour, ground pecans, melted coconut oil, pure maple syrup and salt. Press dough into bottom of prepared pan. Bake crust 15 minutes.
While crust is baking, make pumpkin filling. In large mixing bowl, add pumpkin puree, coconut milk, cane sugar, corn starch, maple syrup, vanilla, cinnamon, ginger and nutmeg. Whisk until smooth.
Pour pumpkin filling over pre-baked crust. Bake 15 minutes.
In small bowl, stir together brown sugar, sugar and oat flour for sugar topping. Add melted coconut oil, maple syrup and cinnamon. Mix until combined.
After 15 minutes of baking, remove pumpkin pie from oven. Carefully top with single layer of pecan halves. Sprinkle sugar mixture over pecans. Bake additional 20-25 minute or until set.
Place pumpkin pecan pie on cooling rack to cool completely. Serve chilled, if preferred.
NOTES
You can also grind
certified gluten free oats
in the food processor or high-powered blender, if you are having a hard time finding the oat flour.
Bob's Red Mill
 always keeps me stocked during the holiday season, with all of their amazing flours and gluten free mixes. They have so many to choose from too! Get a coupon for a discount on any Bob's Red Mill product by clicking
here
.
This post has been sponsored by Bob's Red Mill. All opinions are my own.