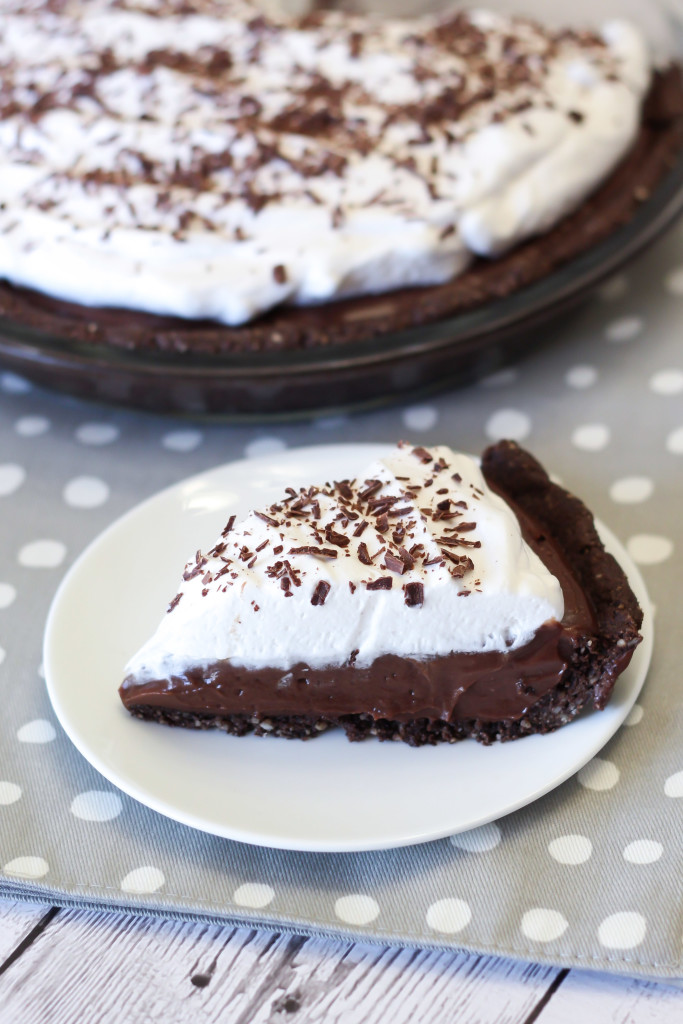 I'm so excited to share the new look of my blog with all of you! I've been waiting for so long to switch over to wordpress and really be able to do more with my site. I finally made the leap 2 weeks ago. Let me tell you, it was a complete nightmare at first. Seriously. Everything that could have gone wrong, went wrong. My site was down at one point and I was so sad for all of you (I was crying lots of tears).
You'll notice the home page layout is a bit different, but I love it! There is also a new way to navigate my recipes. You'll notice a recipes tab at the top with all of the categories. When you click on those categories, it will bring up every recipe with a photo and link. Yay! All of them are not categorized quite yet, as it's taking a hundred years to go through all of my recipes. Don't worry though, you can also search in the box above to find a specific recipe.
Now onto this chocolate pie. Sweet chocolate cream pie. Oh how this pie has stolen my heart. The crust that tastes just like an Oreo cookie crust, filled with the most decadent dairy free chocolate pudding and topped with my favorite So Delicious Cocowhip. Every bite with all three glorious layers. Oh, and a little extra chocolate on top. More chocolate. Always more chocolate.
Enjoy this new recipe and feel free to ask any questions about the new blog layout. I'm sorry it has been a bit confusing. Thank you for being so patient with me as I work out all of the kinks. It won't be long until it's all running, spick and span!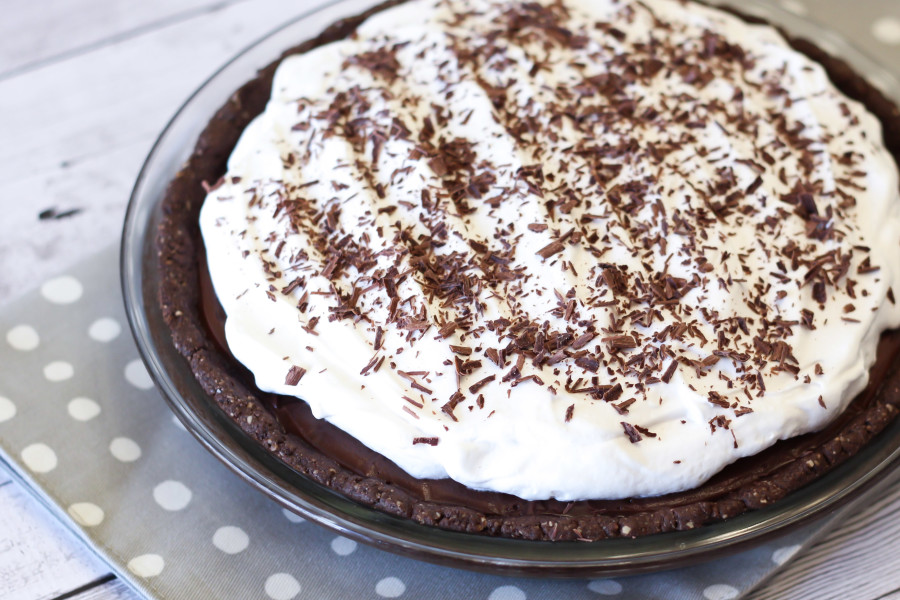 gluten free vegan chocolate cream pie
AUTHOR:
Sarah Bakes Gluten Free
RECIPE TYPE:
pies & tarts
INGREDIENTS
pie crust
3/4 cup almond flour
1/3 cup gluten free oat flour*
1/4 cup cocoa powder
1 tablespoon cane sugar
dash sea salt
3 tablespoons coconut oil, melted
2 tablespoons pure maple syrup
chocolate pudding
3/4 cup cane sugar
1/2 cup cocoa powder
3 tablespoons cornstarch
1/4 teaspoon salt
2 1/2 cups lite coconut milk
1/2 cup dairy free chocolate chips
1 teaspoon pure vanilla extract
1 tub So Delicious Cocowhip whipped topping or whipped coconut cream
2 tablespoons dairy free dark chocolate shavings
INSTRUCTIONS
Preheat oven to 350 degrees. Prepare 9-inch pie pan by spraying with nonstick cooking spray. Sift together almond flour, oat flour, cocoa powder and salt in large mixing bowl. Add melted coconut oil and maple syrup. Mix until dough comes together.
Place dough into prepared pie pan, pressing into bottom and up sides of pie pan. Bake pie crust for for 14-16 minutes. Allow to cool on cooling rack.
To make chocolate pudding, whisk together sugar, cocoa powder, cornstarch and salt in medium saucepan. Over medium heat, whisk in coconut milk. While stirring constantly, cook until bubbly and thick (about 5 minutes).
Remove pudding from heat and stir in chocolate chips and vanilla. Continue to stir until chocolate chips are completely melted.
Pour pudding into cooled pie crust. Cover pudding with plastic wrap and place in refrigerator to cool completely, 2-3 hours.
When pie is chilled, top with cocowhip and sprinkle with chocolate shavings. Serve immediately or keep chilled in refrigerator.
NOTES
*To make oat flour, place 1/2 cup gluten free rolled oats into blender. Blend on high until oats are finely ground into flour.