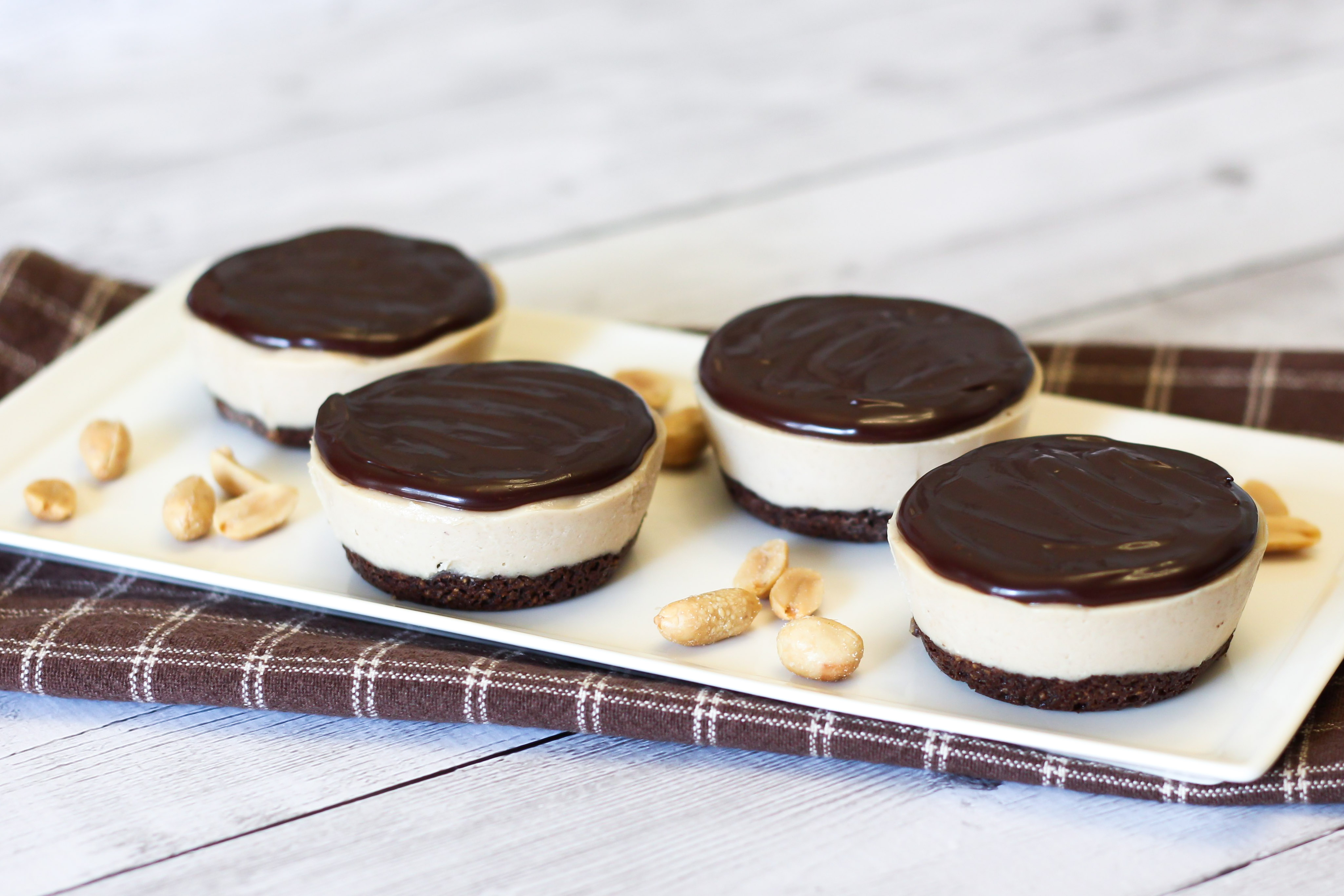 Peanut butter and chocolate. You know that magic happens when those two ingredients come together. I don't know why peanut butter is so glorious, but it just is. There really is nothing like it. Don't get me wrong, I love almond and sunflower seed butter. Both so tasty and nutritious. There is just something about peanut butter that makes it so addictive. Undeniable deliciousness.
These little peanut butter chocolate cheesecakes have my heart going pitter-patter. That chocolate cookie crust. That creamy peanut butter cheesecake filling, made from cashews. That semisweet chocolate glaze. Amazing all around. Made in a muffin tin, they are pretty darn cute too. Have one, or maybe two. These gluten, dairy and egg free cheesecakes are perfect when you need a little something sweet and a little something chocolatey.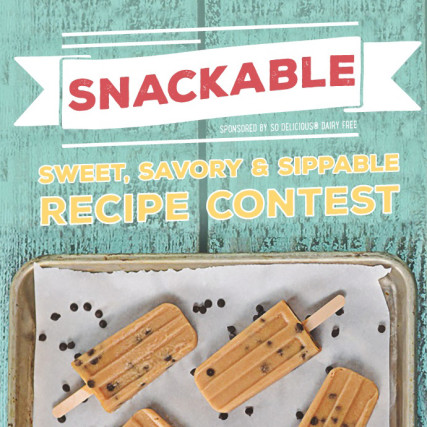 It's that time again. Time for another recipe contest! So Delicious and Go Dairy Free are on the hunt for something sweet, savory and sippable, all to celebrate the release of their Free Snackable eBook. They have put together this Snackable recipe contest and I couldn't be more excited to join in on the fun! For my first entry, I give you these peanut butter chocolate cheesecakes. Go ahead, stop what you are doing right now. Make these bite-size dairy free treats!

gluten free vegan peanut butter chocolate cheesecakes
AUTHOR:
Sarah Bakes Gluten Free
RECIPE TYPE:
pies & tarts
INGREDIENTS
chocolate cookie crust
1/2 cup almond flour
3 tablespoons gluten free oat flour*
2 tablespoons cocoa powder
1 tablespoon cane sugar
dash sea salt
2 tablespoons coconut oil, melted
1 tablespoon pure maple syrup
peanut butter cheesecake
1 1/2 cups raw cashews, soaked
1/3 cup So Delicious lite culinary coconut milk
1/3 cup creamy peanut butter
1/3 cup pure maple syrup
2 tablespoons cane sugar
2 tablespoons coconut oil, melted
1 teaspoon pure vanilla extract
semisweet chocolate glaze
1/3 cup cocoa powder
1/4 cup pure maple syrup, room temperature
2 tablespoons coconut oil, melted
INSTRUCTIONS
Preheat oven to 350 degrees. To make crusts, stir together almond meal, oat flour, cocoa powder, sugar and salt. Add melted coconut oil and maple syrup. Continue to stir until combined.
Lightly grease standard muffin tin. Place strips of parchment paper in each slot to create tabs for easy removal. Divide crust evenly into prepared muffin tin (makes 12 crusts). Bake crusts for 8-10 minutes. Allow to cool completely in the pan, while you make filling.
Soak raw cashews in hot water for 30 minutes. Drain. Add soaked cashews, coconut milk, peanut butter, maple syrup, cane sugar and melted coconut oil to food processor or high-powered blender. Blend on high for 1-2 minutes. Pour in vanilla extract. Pulse until combined.
Pour peanut butter mixture into muffin tin, over cooled crusts. Cover and carefully place in freezer for 2-3 hours to become firm.
To make chocolate glaze, mix together cocoa powder, maple syrup and coconut oil until smooth and creamy. Add an additional 1-2 teaspoons of maple syrup, if needed.
Remove cheesecakes from freezer. Carefully remove each cheesecake from muffin tin, by using parchment paper tabs and butter knife to help pop them out. Spread chocolate glaze over cheesecakes.
Store in refrigerator until ready to serve. Enjoy chilled.
NOTES
*To make your own oat flour, place 1/4 cup certified gluten free rolled oats in blender or food processor. Blend on high until oats are ground into flour, 1-2 minutes.