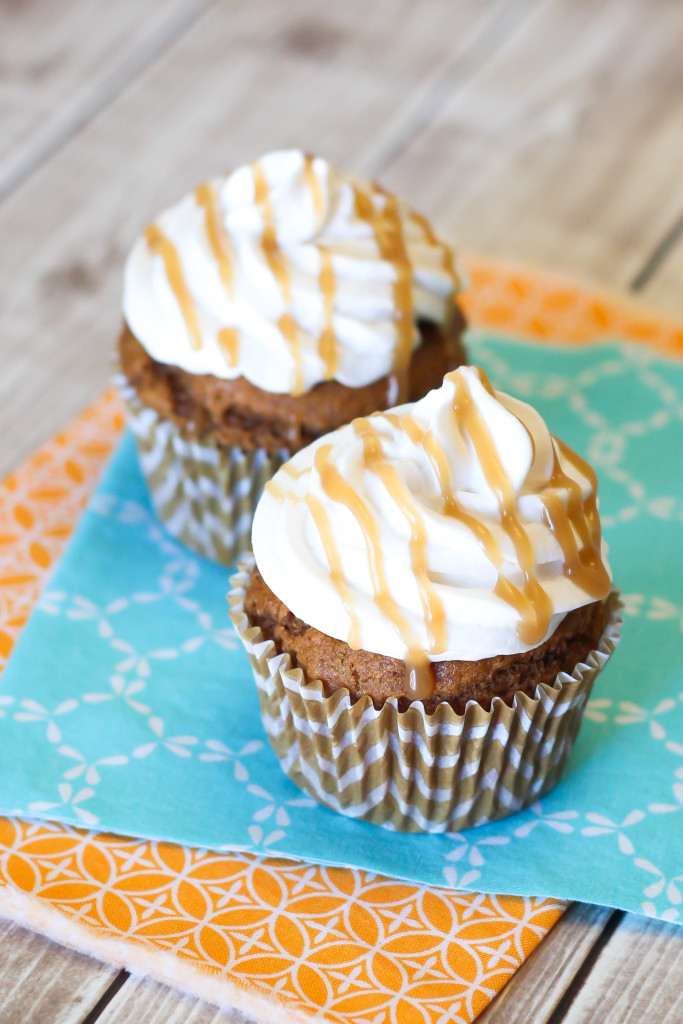 I'm starting off pumpkin season right. With a cupcake! I know it's only August, but I just can't help myself. I had a can of pumpkin puree in my pantry and it was calling my name. For any of you that know me, you know that pumpkin desserts are my all time FAVE. It's kind of an obsession. I'm totally cool with admitting that.
This just isn't any pumpkin cupcake. This is a pumpkin spice latte cupcake. Like the much-anticipated seasonal coffee drink. Just the right amour of pumpkin, all the fall spices that we love and the much-needed espresso. I've topped the cupcake with So Delicious Dairy Free Cocowhip whipped topping. Think of a dairy free, organic, AMAZING version of cool whip. I'm now officially a fan of whipped coconut cream on top of cupcakes. So light, not too sweet and kind of a dream come true. See that caramel drizzle on top? Just so happens it's homemade and completely dairy free. It just makes the cupcake, well, perfect.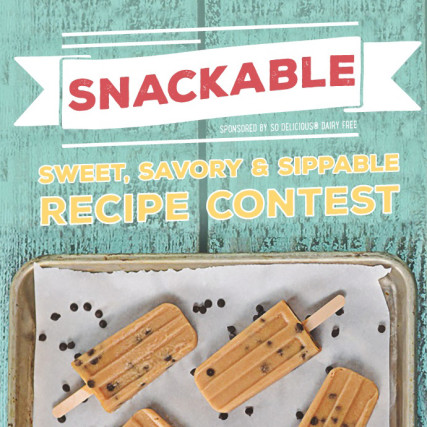 I couldn't just create one recipe for the Snackable Recipe Contest, put on by So Delicious and Go Dairy Free. Last week I shared these peanut butter chocolate cheesecakes, which was my first entry into the the contest. I'll be entering this recipe into the "sweet" category as well, cause that's how I roll. I have a good feeling about this one. They just might be my most favorite cupcake (and soon to be most requested) recipe yet!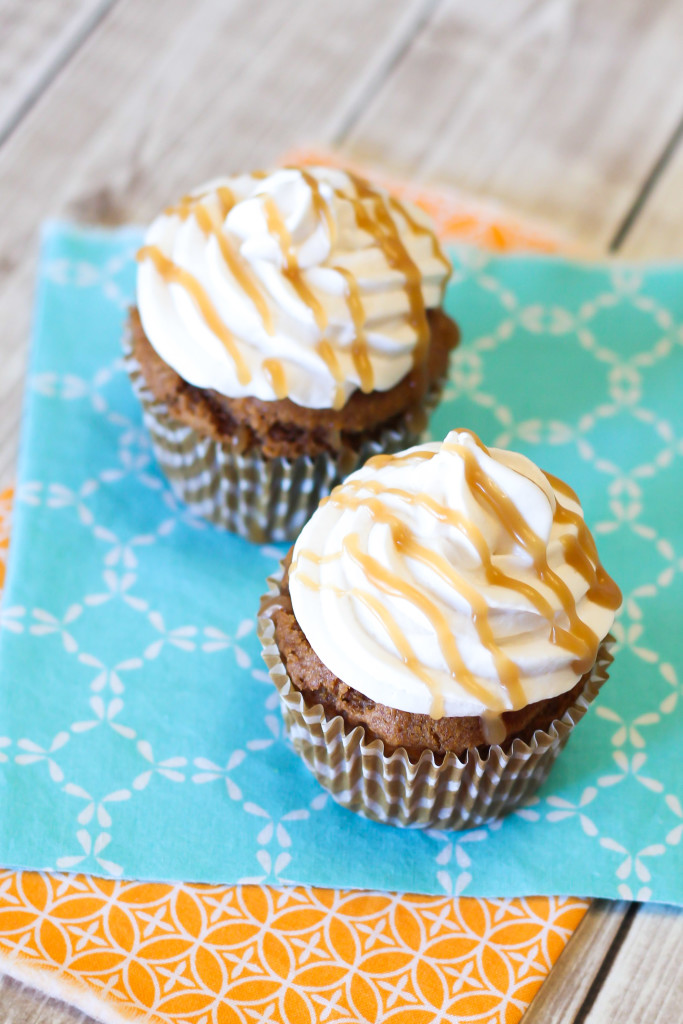 gluten free vegan pumpkin spice latte cupcakes
AUTHOR:
Sarah Bakes Gluten Free
RECIPE TYPE:
cupcakes & cakes
INGREDIENTS
caramel sauce
1 cup So Delicious Dairy Free culinary coconut milk, full fat*
1/2 cup brown sugar
1/4 cup pure maple syrup
1 teaspoon pure vanilla extract
cupcakes
INSTRUCTIONS
To make caramel sauce, stir together coconut cream, brown sugar and maple syrup in medium saucepan. Cook over medium-low heat and bring to low boil. Continue to boil on low for 25-30 minutes, stirring with rubber spatula every 3-5 minutes to keep from burning. When thickened, remove from heat and stir in vanilla. Pour into glass jar to cool completely.
Preheat oven to 350 degrees. Prepare cupcake pan by lining with paper liners. Sift together flour, cinnamon, ginger, nutmeg, baking powder, baking soda and salt. Set aside.
In large mixing bowl, dissolve espresso powder in coconut milk. Add pumpkin puree, oil, brown sugar, sugar, maple syrup and vanilla. Mix until well blended. Add flour mixture and stir for 1 minute.
Divide cupcake batter evenly into prepared cupcake pan. Bake for 17-19 minutes or until toothpick inserted in center comes out clean. Cool in pans for 5 minutes, then invert onto cooling rack to cool completely.
To frost cupcakes, place Cocowhip whipped topping in piping bag with large star tip. Quickly pipe onto cupcakes and drizzle with cooled caramel. Serve immediately or store cupcakes in refrigerator until ready to serve.
Store remaining caramel in glass jar with lid. Keeps in refrigerator for 3-4 weeks.
NOTES
*If you are unable to find the So Delicious culinary coconut milk, simply use 1 cup canned full fat coconut milk.
Be sure to check out the Free Snackable Ebook from Go Dairy Free. So many great recipes!