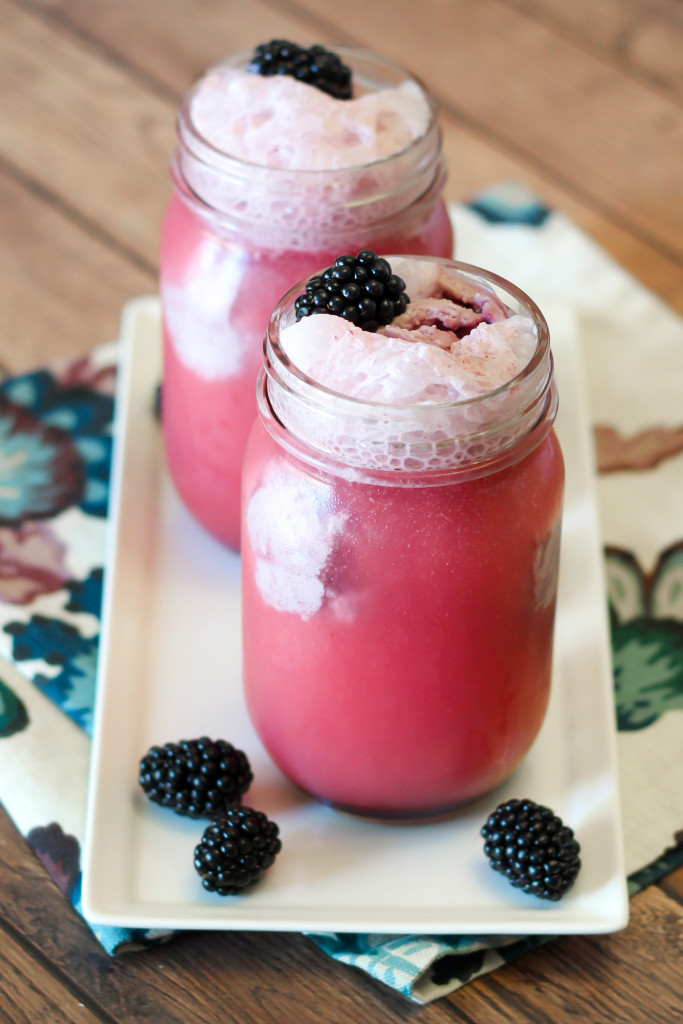 Did you know So Delicious released two new coconut milk ice cream flavors this summer? Cause they did aaaaaand you need to try them. Both of them. One is Simply Strawberry. A classic ice cream flavor, where strawberry is the star of the show. The other is Oregon Mixed Berry and it's kind of amazing. Marrion berry ice cream with swirls of mixed berry goodness. This girl is always super excited about new, delicious dairy free ice cream flavors!
Since it's still crazy hot here in California, ice cold drinks are in full effect. I'm always making smoothies and fun, sparkling drinks for my family. My newest creation is this dairy free blackberry float. See that bright pink soda? It's a mixture of sparkling water and blackberry syrup, made from fresh blackberries. The mixed berry coconut milk ice cream is added and then come the bubbles. Lots of bubbles. Top with a few fresh blackberries and you have a fruity twist on the traditional float.
Alright, friends. Here is my "sippable" recipe for the Snackable Recipe Contest. Thanks to So Delicious and Go Dairy Free for the challenge of using So Delicious products in new, creative ways. I now have a huge crush on these diary free blackberry floats. Just about the prettiest floats you ever did see. Fizzy, creamy and oh so berrilicious!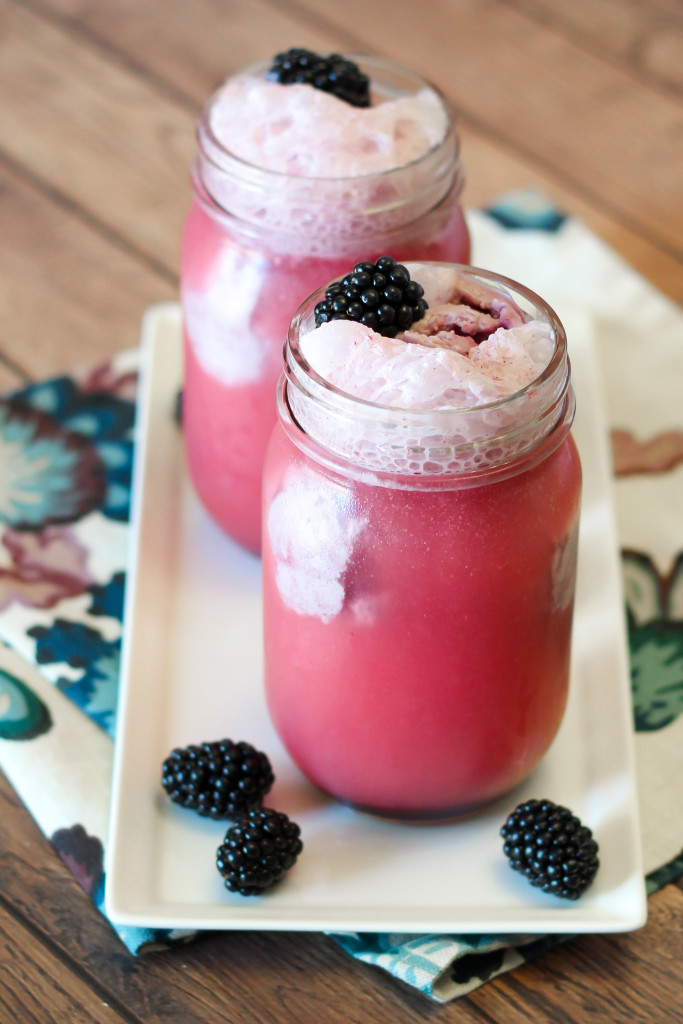 dairy free blackberry floats
AUTHOR:
Sarah Bakes Gluten Free
RECIPE TYPE:
smoothies & drinks
INGREDIENTS
blackberry syrup
1 cup fresh blackberries
3 tablespoons water
2 tablespoons cane sugar

blackberry floats
1/4 cup blackberry syrup
3 cups plain or berry unsweetened sparkling water, chilled
1 pint So Delicious Oregon Mixed Berry coconut milk ice cream
additional fresh blackberries, for garnish
INSTRUCTIONS
To make blackberry syrup, stir together blackberries, 3 tablespoons water and cane sugar in small saucepan. Smash blackberries with potato masher. Bring mixture to low boil over medium-low heat. Continue stirring at low boil for 5 minutes, until sugar dissolves.
Remove blackberry syrup from heat and press blackberry mixture through fine mesh sieve, removing seeds and pulp. Allow to cool completely.
To assemble floats, pour 1 1/2 cups chilled sparkling water into each glass. Stir in 1-2 tablespoons blackberry syrup. Add 2 scoops berry coconut milk ice cream and top with additional blackberries. Enjoy!
Be sure to check out the Free Snackable Ebook from Go Dairy Free. So many great recipes!