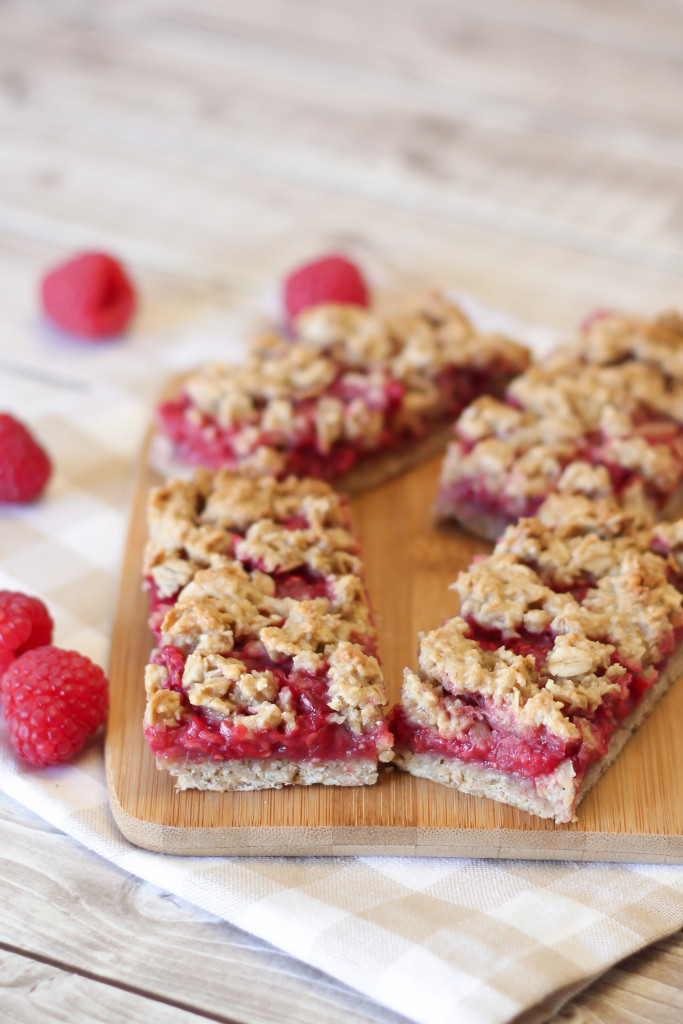 School is in session. Henceforth the crazy mornings. I now have 2 kids to get ready and out the door by 7:45 in the morning. Yikes! This mama has to be on her game with lunches made, homework in the backpacks, snacks packed for my gluten free little man. Oh, and I guess making sure everyone is dressed with teeth and hair brushed is important too. On a side note…I always lay out their clothes the night before. Life saver
Both of my kids take forever deciding on what they want for breakfast. It's more like what they don't want. I usually give them a few options. Oatmeal, yogurt, cereal, eggs, fruit or toast. Simple, quick, easy. Really the only way I do breakfast when it comes to school mornings.
Every once in awhile I will plan ahead (meaning make something BEFORE the craziness). Sometimes I will hard boil eggs or bake a batch of muffins. I recently tried out this new recipe for raspberry oat breakfast bars. Think of oatmeal on the go, filled with a fresh fruit. So good! High fiber, low fat and overflowing with raspberries. My kids gave them 2 thumbs up. Now I've got an individually wrapped breakfast that's ready to go. Feeling like a super cool mom with my homemade raspberry oat breakfast bars!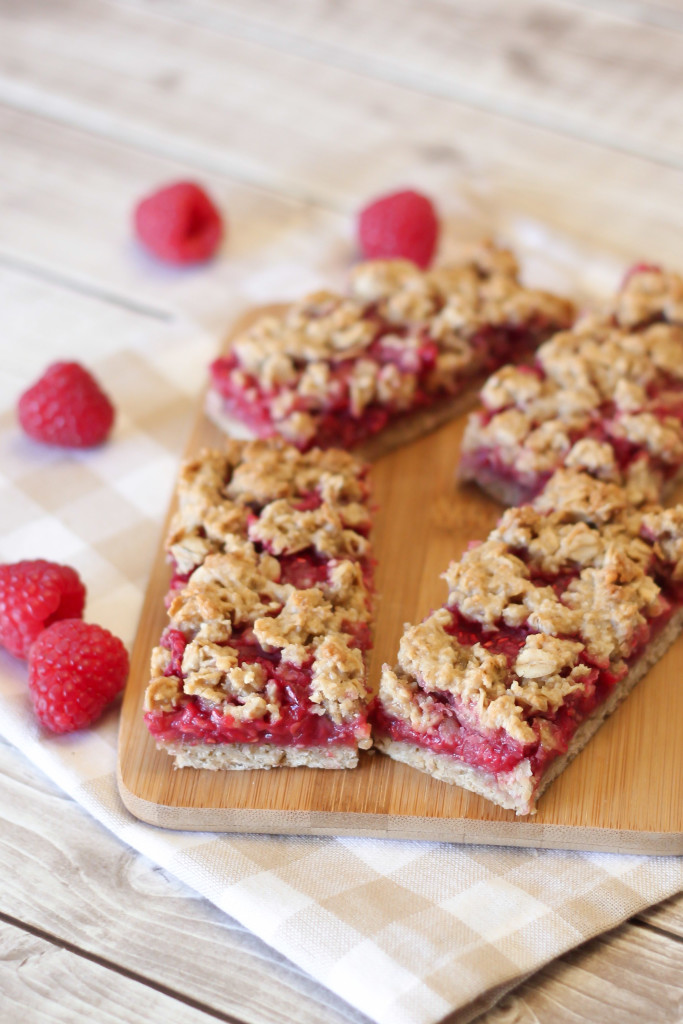 gluten free vegan raspberry oat breakfast bars
AUTHOR:
Sarah Bakes Gluten Free
INGREDIENTS
raspberry filling
2 cups fresh raspberries
2 tablespoons cane sugar or pure maple syrup
4 teaspoons cornstarch or tapioca starch
crust/oat topping
1 cup certified gluten free rolled oats
1/2 cup Sarah's gluten free flour blend
1/2 cup certified gluten free oat flour*
1/4 cup Bob's Red Mill almond flour
3 tablespoons brown sugar
3 tablespoons cane sugar
1/2 teaspoon sea salt
2 tablespoons coconut oil
3 tablespoons unsweetened applesauce
2 tablespoons pure maple syrup
2 tablespoons So Delicious unsweetened coconut milk
INSTRUCTIONS
Preheat oven to 375 degrees. Prepare 8×8-inch baking pan by lining with parchment paper or spraying with nonstick cooking spray.
In medium bowl, stir together raspberries, sugar and cornstarch. Mix until evenly coated. Mash raspberries slightly with fork. Set aside.
For crumb crust/topping, sift together oats, flour, oat flour, almond flour, brown sugar, sugar and salt. Add coconut oil and blend with fork until ingredients are well mixed. Pour in applesauce, maple syrup and coconut milk. Stir until just combined.
Spread 1/2 of oat mixture into prepared pan. Press evenly into bottom of pan (dough will be sticky). Top with even layer of raspberry mixture. Sprinkle remaining oat topping over raspberries.
Bake for 40-45 minutes or until crumble is golden brown. Allow to cool in pan. Slice and serve.
Store bars in airtight container.
NOTES
*To make oat flour, place 3/4 cup certified gluten free oats in blender. Blend on high 1-2 minutes or until oats turn into flour.