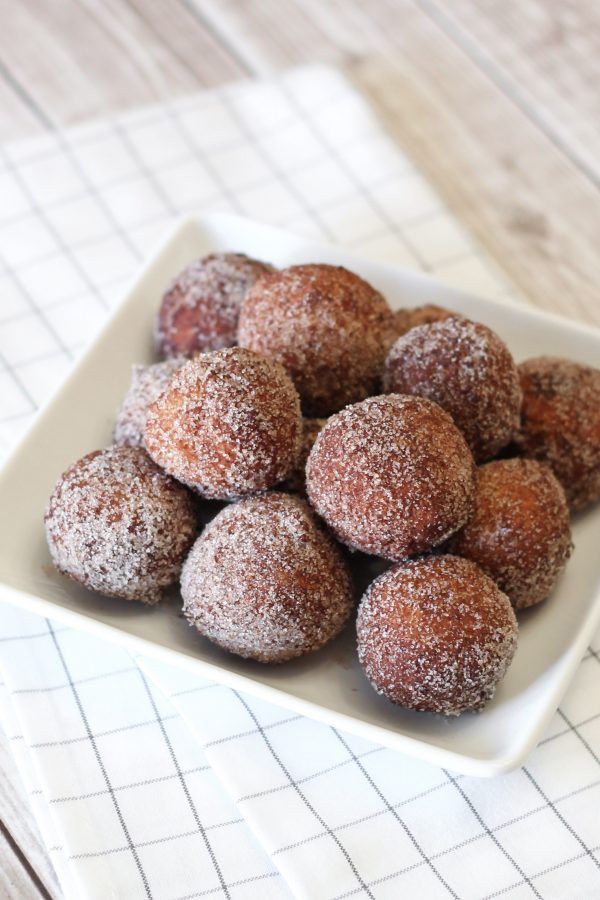 Donuts! Well, donut holes at least. The fried kind. Not the baked donuts (which I do adore). I have been craving a fried donut for months. It's not easy finding one that is gluten, dairy and egg free. I knew I would have to make them myself. As much as I hate deep frying anything, it was time to give into my donut desires
I give you my first ever, quite successful, gluten free vegan donut holes! Crispy on the outside, soft and light on the inside. Showered with cinnamon and sugar. I may have done a little happy dance in the kitchen after the first bite. Donuts are totally dance worthy.
Some of you may be thinking, "but they are fried!" Yep. They are. They are also a treat and something that should be eaten in moderation. Meaning, they should be shared with a friend or two. Your kids will also love them! My son thought it was pretty cool to shake the donut holes in the bag of cinnamon and sugar. If you're gonna cheat, cheat with these donut holes and while you're at it, do a little cinnamon sugar shimmy shake!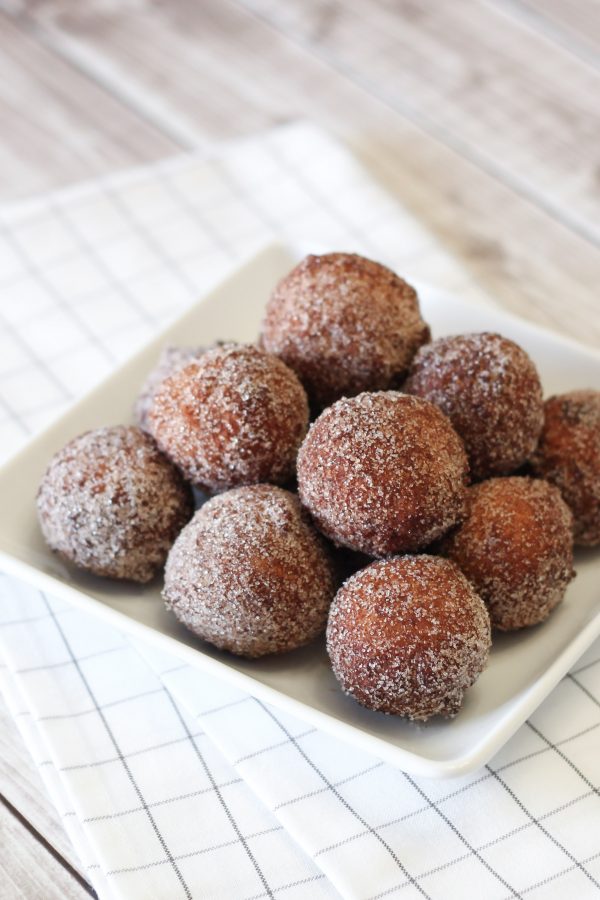 gluten free vegan cinnamon sugar donut holes
AUTHOR:
Sarah Bakes Gluten Free
INGREDIENTS
donut holes
3 tablespoons cane sugar
2 teaspoons baking powder
1/4 teaspoon sea salt
1/2 cup So Delicious unsweetened coconut or almond milk
2 tablespoons organic non hydrogenated shortening, melted
oil for frying*
cinnamon sugar coating
1/4 cup cane sugar
1 teaspoon ground cinnamon
INSTRUCTIONS
In heavy pot or saucepan, heat 2 inches of oil over medium-high heat until oil reaches 350 degrees.
Mix together sugar and cinnamon in brown paper lunch bag. Set aside.
While oil is heating, prepare donut dough by sifting together flour, sugar, baking powder and salt in mixing bowl. Add coconut milk and melted shortening. Stir just until dough comes together.
Using small cookie scoop, make balls of dough and gently drop 4-5 into heated oil. Cook on each side 1-2 minutes, until golden brown.
Remove donut holes from oil using tongs and allow to drain on paper towel lined plate.
Immediately place donut holes into brown paper bag with cinnamon sugar mixture. Fold over top to secure and shake to coat.
Repeat with remaining dough until donut holes are complete. Best served warm.
NOTES
*I used coconut oil for frying, but canola oil or any light flavored oil would work as well.