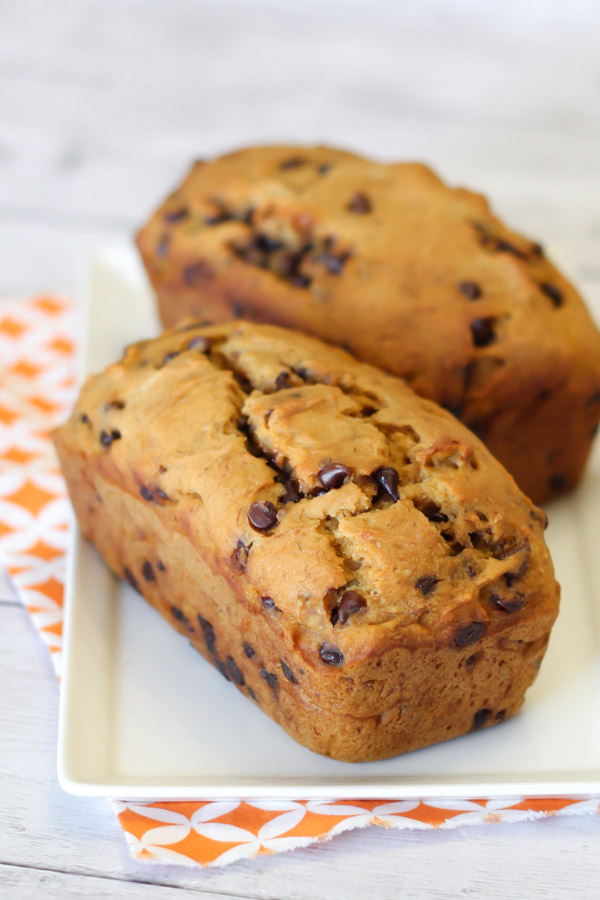 I was doing some recipe creating the other day and knew I wanted to make a quick bread. Mini loaves of quick bread. I had some ripe bananas and canned pumpkin. Pumpkin always seems to be calling my name. Throw a little dark chocolate in the mix with mini chocolate chips. Yeah, I can do that.
What do you say to a slice of chocolate chip pumpkin banana bread? Well, my son said, "mom, you need to make this bread every day!" Thanks, buddy. It can be both good and bad having kid taste-testers in the house. They tell you like it is. Now I leave it to you to give this recipe a try and you can tell me what you think. If you try any of my recipes and share them on instagram, be sure to tag me with #sarahbakesgfree!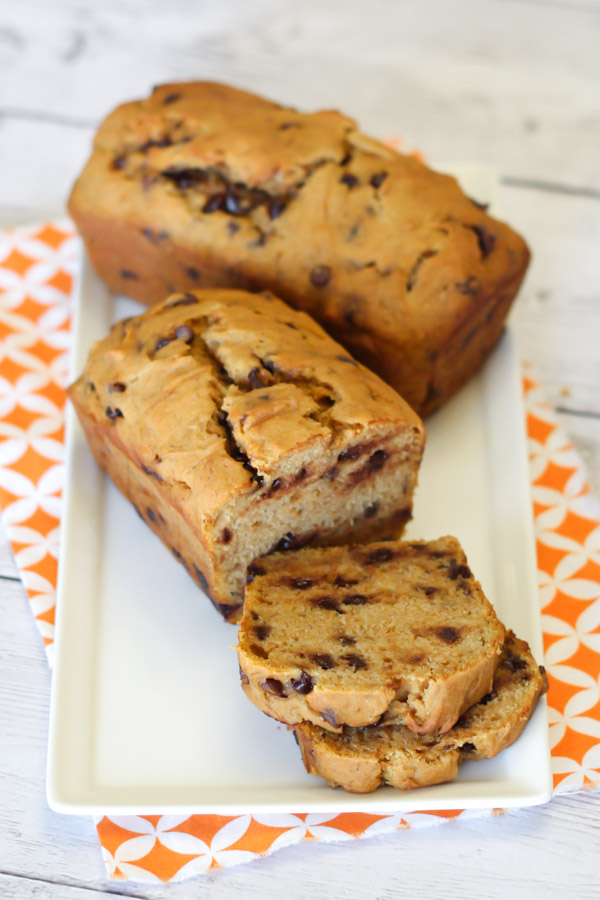 gluten free vegan chocolate chip pumpkin banana bread
AUTHOR:
Sarah Bakes Gluten Free
INGREDIENTS
1 3/4 cups Sarah's gluten free flour blend
1 teaspoon baking powder
1/2 teaspoon baking soda
1/2 teaspoon sea salt
2 ripe bananas, mashed
3/4 cup pumpkin puree
1/2 cup So Delicious unsweetened coconut or almond milk
1/4 cup grape seed or sunflower seed oil
1/3 cup coconut sugar or brown sugar
3 tablespoons pure maple syrup
1 teaspoon pure vanilla extract
3/4 cup dairy free mini chocolate chips
INSTRUCTIONS
Preheat oven to 350 degrees. Spray mini loaf pan* with nonstick cooking spray.
Sift together flour, baking powder, baking soda and salt. Set aside.
In large mixing bowl, mix together mashed bananas, pumpkin puree, coconut milk, oil, coconut sugar, maple syrup and vanilla. Add flour mixture. Stir until combined. Fold in mini chocolate chips.
Pour batter into prepared mini loaf pan. Bake bread 30-35 minutes, or until toothpick inserted in center comes out clean.
Allow bread to cool in pan 10 minutes. Remove from pan and cool completely on cooling rack. Slice and serve.
NOTES
*You can also use 9x13 baking pan. Increase baking time to 45-50 minutes.