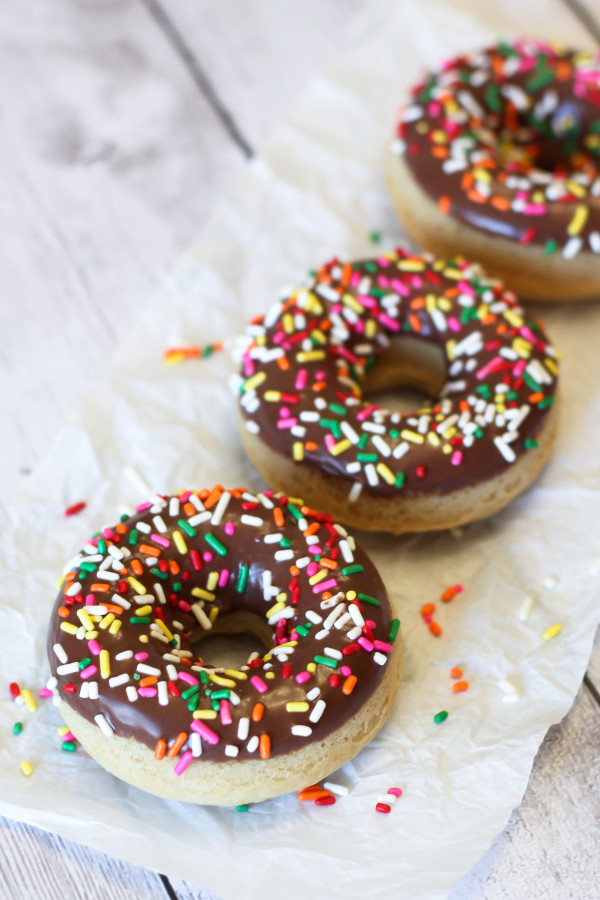 Birthdays are very much celebrated in our house. The party starts when you wake up. First on the agenda…birthday breakfast! My husband goes for the waffles (always). My kids will usually choose pancakes or baked donuts. If sprinkles are involved, even better. Cause who can resist a chocolate frosted, sprinkled covered donut?
The first recipe I actually shared on my blog was a recipe for baked chocolate donuts, back in 2012. Have I really had this blog now for 3 years?! Woah. I originally started out by posting recipes that were gluten free, but not dairy and egg free. After realizing my additional food sensitivities, I transitioned over to sharing recipes that were gluten, dairy and egg free. All of my vegan followers were super happy!
Fast forward to today. These chocolate frosted baked donuts are gluten free, vegan and flip-fantastic! I didn't make these for any special occasion, other than to say, "Yay! It's summer!" My kids are home and breakfast goodies are more often requested. I'm ok with that. Sprinkled donuts make me happy, my kids happy and are a fun way to start a summer day!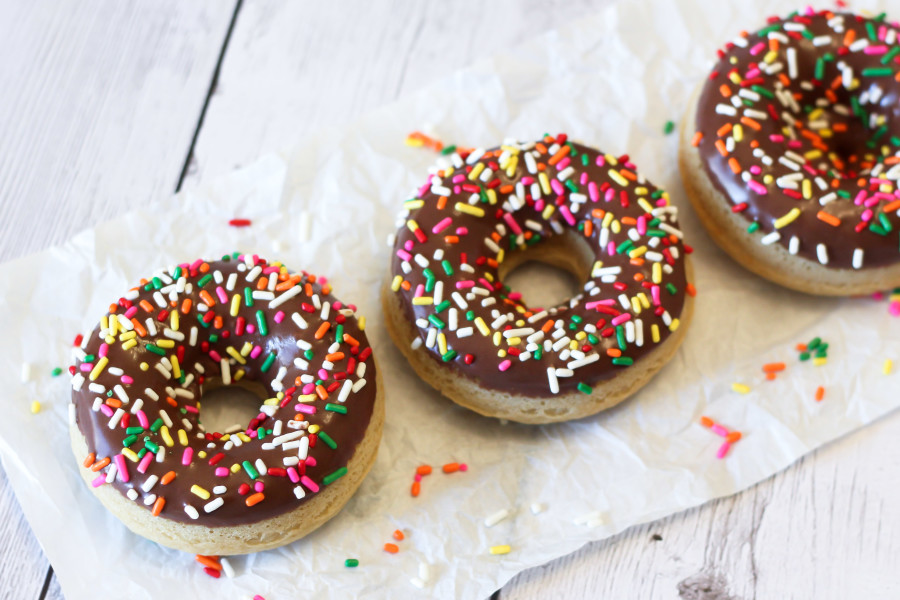 gluten free vegan chocolate frosted baked donuts
AUTHOR:
Sarah Bakes Gluten Free
INGREDIENTS
vanilla cake donuts
1 1/2 teaspoons baking powder
1/4 teaspoon baking soda
1/4 teaspoon salt
1/2 cup So Delicious unsweetened almond or coconut milk
1 teaspoon white or apple cider vinegar
1/3 cup cane sugar
3 tablespoons Earth Balance vegan butter, melted
1 teaspoon pure vanilla extract
!chocolate frosting
1 cup powdered sugar
1/4 cup cocoa powder
1 tablespoon vegan butter, melted
1-2 tablespoons So Delicious coconut milk coffee creamer
1/2 teaspoon pure vanilla extract
gluten free colored sprinkles (optional)
INSTRUCTIONS
Preheat oven to 400 degrees. Spray standard-size donut pan with nonstick cooking spray.
Sift together flour, baking powder, baking soda and salt. In mixing bowl, mix together coconut milk and vinegar, stirring until curdled. Add sugar, melted butter and vanilla. Stir in flour mixture until just combined.
Spoon batter into ziploc bag (or piping bag) and cut tip. Pipe batter into prepared donut pan.
Bake donuts for 16-18 minutes, until golden brown and baked through. Turn out onto cooling rack.
To make chocolate frosting, whisk together powdered sugar and cocoa powder. Add melted butter, coffee creamer and vanilla. Stir until smooth and creamy.
When donuts are mostly cool, dip tops into glaze to coat and sprinkle on colored sprinkles. Let set for 10-15 minutes. Donuts are best served right away or same day.