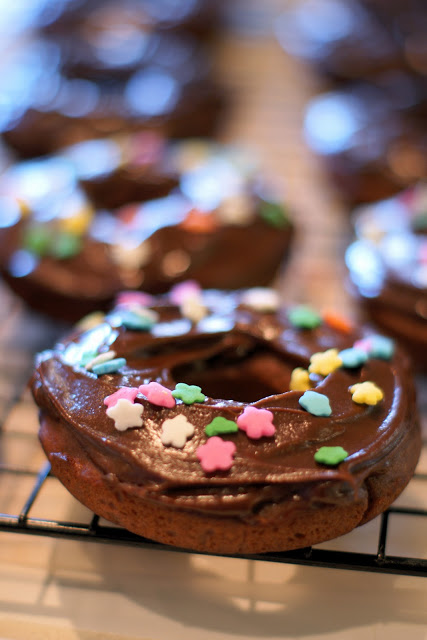 I thought I would never eat another donut again. Donut shops don't exactly have many options for us gluten free folks. So I went out and bought myself a donut baking pan and made myself (well, my family too) a batch of gluten free chocolate donuts. Not only are they baked, but they are chocolaty goodness at it's finest! Hot out of the oven and oh so crispy on the outside. Smothered in a chocolate ganache that is to die for. Don't wait for breakfast tomorrow. Please go in your kitchen and make these now!
gluten free baked chocolate donuts
makes 10-12 donuts
3/4 cup Sarah's gluten free flour blend
1/4 cup cocoa powder
1/2 cup sugar
2 teaspoons baking powder
1/4 teaspoon salt
1 egg
1/2 cup milk (you can also use coconut, almond or soy milk)
1 tsp. vanilla
4 tablespoons canola oil
chocolate ganache (recipe below)
sprinkles (optional)
Preheat your oven to 450 degrees. Spray a donut pan liberally with cooking spray. Mix together the flour blend, cocoa powder, sugar, baking powder and salt. Add the egg, vanilla and milk. Mix until well blended. Slowly add the oil, as you continue to mix. Stir until combined. Place the mixture in a large plastic ziploc bag and seal.
Cut off a corner of the bag and pipe into each donut cavity, 2/3 full. Bake for 8-10 minutes or until donuts spring back when touched. Cool on wire rack. If you need to, let the pan cool and bake another batch. Wait until cooled before icing. Enjoy!
chocolate ganache
1 cup semisweet chocolate chips
1/4 cup butter
2 tablespoon corn syrup
3 tablespoons milk
1/4 teaspoon vanilla extract
Melt the chocolate chips and butter over double boiler or in microwave until almost melted. Take off of heat and stir until melted. Add remaining ingredients. Stir and frost those donuts immediately. Don't wait!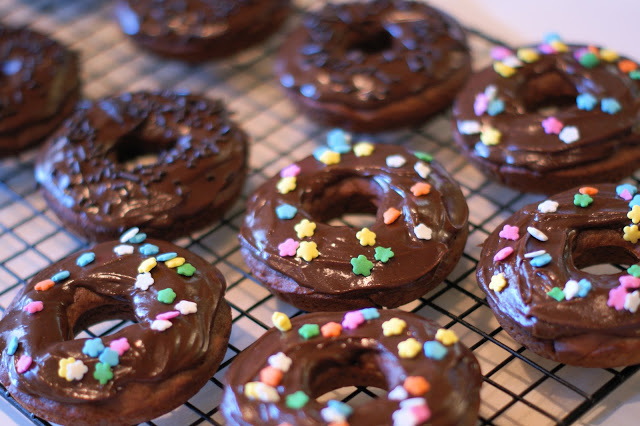 recipe adapted from Milk & Honey