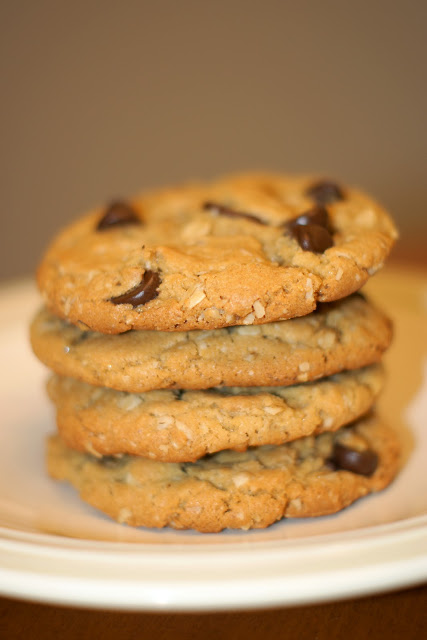 Baking gluten free cookies has been quite the feat. I can't even tell you how many batches have been a big, fat flop. They would just melt into one big crusty mess or crumble when I would pick them up. So disappointing. Cookies are one of my favorite things to make so I was not about to give up!
I began taking recipes I love and using my gluten free flour blend. I can proudly say I have had countless cookie victories! There are a few recipes that without that gluten, they don't hold up quite as well. Sugar cookies are one I'm still trying to master. These cookies, the ones you are drooling over right now…oh my, they are so good! The perfect combo of peanut butter, oats, and chocolate chips. Gooey. Chewy. My husband doesn't care for oatmeal cookies and even he loved these! Be careful though, you may not be able to eat just one.
gluten free peanut butter oatmeal chocolate chip cookies
makes 18-20 cookies
1 teaspoon baking soda
1/4 teaspoon salt
1/2 cup (1 stick) unsalted butter, at room temperature
1/2 cup creamy peanut butter (I used natural peanut butter)
1/2 cup sugar
1/3 cup brown sugar
1/2 teaspoon vanilla extract
1 egg
3/4 cup certified gluten free rolled oats, ground to course meal*
1 cup chocolate chips
In a medium bowl, mix together the flour, baking soda, and salt. Cream together butter, peanut butter, sugar, brown sugar and vanilla. Mix for about 3 minutes. Add the egg and beat until combined. Slowly add the flour mixture. Stir in course-ground oats and the chocolate chips. Refrigerate dough for at least 2 hours.
Preheat oven to 350 degrees. Line two baking sheets with parchment paper. Use a large cookie scoop and drop dough onto cookie sheet, about 2 inches apart. Bake for 10-12 minutes, or until lightly golden brown. Cool on baking sheet for 5 minutes. Transfer cookies to cooling rack. Best served when warm and gooey!
*I processed my oats in the food processor until they were a course meal texture.
Recipe adapted from Kristene's Kitchen