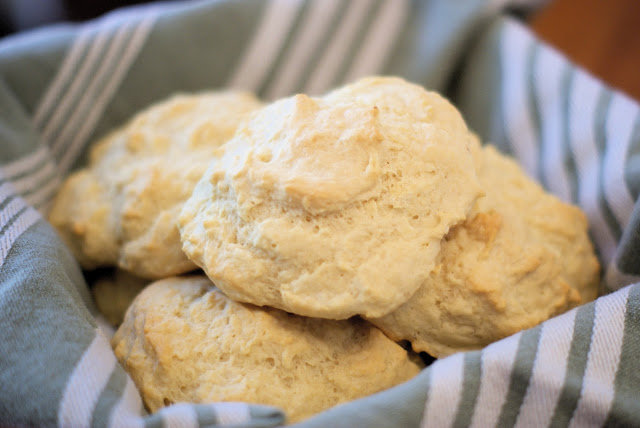 My heart longs for fresh rolls, light biscuits, gooey cinnamon rolls, and moist quick breads. I love the process in making them and I love the process of eating them. My family gets really excited when they see a basket of cheesy rolls on the table at dinnertime. Bread, oh sweet bread. It really is the perfect compliment to any meal. Doesn't it feel good to sink your teeth into a big slice of warm banana bread, slathered with butter?
One thing I love about these gluten free drop biscuits…they are so easy! They mix together in minutes and bake up in no time. They are perfect served with butter and jam at breakfast. You can even mix in some shredded cheddar cheese and herbs for a savory biscuit, enjoyed alongside a nice bowl of pasta (gluten free, of course). They may not be the biscuits out of a can, but who would want those when you can have these babies!
gluten free drop biscuits
makes 12-14 biscuits
1 cup brown rice flour
1 cup corn starch
4 teaspoons baking powder
1/2 teaspoon baking soda
1 teaspoon xanthan gum
1 teaspoon salt
1 cup milk
1 teaspoon apple cider vinegar
2 egg whites
2 tablespoons plain Greek yogurt
4 tablespoons butter, melted
Preheat oven to 400 degrees. In a large bowl, combine brown rice flour, corn starch, baking powder, baking soda, xanthan gum, and salt. Add vinegar to milk in a small bowl and allow to sit for 5 minutes. Whisk in two egg whites and Greek yogurt. Add the milk mixture to the flour mixture and stir until just combined. Gently stir in the melted butter. Drop large spoonfuls of dough onto greased baking sheet. Bake for 15-18 minutes or until they turn golden on top. Serve warm.