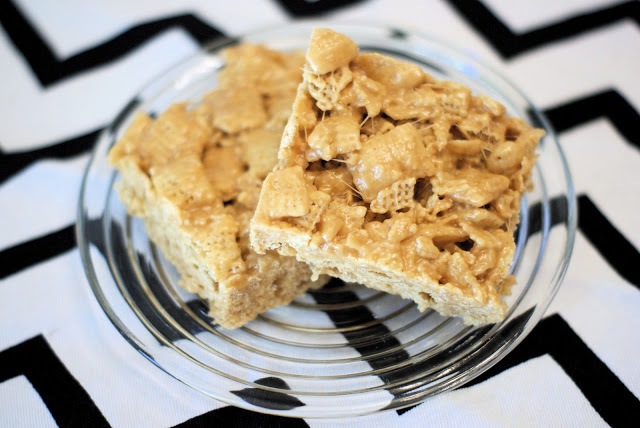 Our family loves Chex cereal! Most of them are certified gluten free, which makes this mom happy. We seem to always have a box in our pantry. Rice Chex, Corn Chex, or my husband's favorite…Cinnamon Chex! Last summer, I discovered that I could use chex to make marshmallow treats. They have more crunch than the traditional rice crispy treats. Now I'm wondering why I never thought to add peanut
butter to them? I'm a big fan of any dessert
that involves peanut butter. It's just so. so. good.
Gooey, chewy goodness. That's what these peanut butter chex treats are all about! This a great go-to dessert because it takes minutes to put together…and there is no baking! I despise turning on my oven in the hot summer months and heating up my whole kitchen. These are a perfect treat to bring to those summer barbecues or pot-lucks. Your friends will thank you. When I made these, I might have kept the knife in the pan and cut myself piece after piece throughout the day. Don't judge. You make a batch and try to eat just one!
gluten free peanut butter chex treats
makes 12 treats
3 tablespoons butter
10 oz. bag regular marshmallows
1/2 cup peanut butter (I used natural salted peanut butter)
6 cups Rice Chex
Over low heat, melt butter in large saucepan. Add marshmallows and
stir until completely melted. Add peanut butter and continue to stir until melted. Remove from heat. Add rice chex and stir until well coated. Sray 9×13 pan with cooking spray. Press mixture into pan. Cool. Best if served the same day.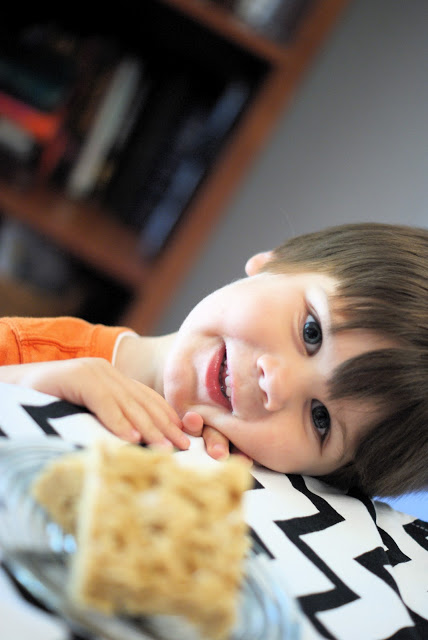 my little man wanted to be in the picture too.