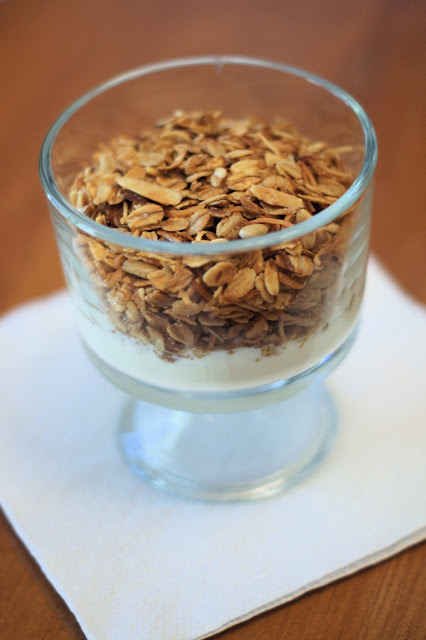 Let's talk about oats.  If you have celiac disease, you can't just go out and buy the standard rolled oats.  You see, just about all oats are manufactured alongside wheat and so there is pretty much a guarantee that there is cross-contamination.  When oats are grown in the field, they don't contain any gluten…it just gets mixed in when they are processed.  Big bummer.  So in our house, we only cook with certified gluten free oats.  They do cost a bit more, but we sure can't live without steal cut oatmeal on cold winter mornings, fresh baked oatmeal cookies, or crunchy, nutty granola!
I have bought a couple different brands of gluten free granola.  Not only are they super pricey, they don't come close to this delicious gluten free granola recipe.  Full of flavor, textures, and oh yeah…crunch!  I mix up rolled oats with a few other essential ingredients, bake, and you have the perfect granola.  Now, if you don't need to worry about making your granola gluten free, go ahead and use regular rolled oats.  I like my granola over Greek yogurt and my husband likes his with milk.  Healthy and a perfect way to start your day!
gluten free nutty granola
5 cups certified gluten free rolled oats (I like Trader Joe's gluten free oats)
1/2 cup sliced almonds
1/2 cup unsalted sunflower seeds
1/2 cup unsweetened shredded coconut
1/4 cup brown sugar
1 teaspoon salt
1/3 cup canola oil
1/4 cup pure maple syrup
1/4 cup honey
1 teaspoon vanilla extract
1 teaspoon almond extract
Preheat oven to 300 degrees.  Line large baking sheet with parchment paper.  Mix oats, almonds, sunflower seeds, coconut, brown sugar and salt in large bowl.  In seperate small bowl, combine oil,  maple syrup, honey, vanilla and almond extract.  Pour over oat mixture and mix together with rubber spatula.  Spread on prepared baking sheet.  Bake 30 minutes, stirring every 10 minutes.  Remove from oven when golden brown.  Cool completely and store in airtight container.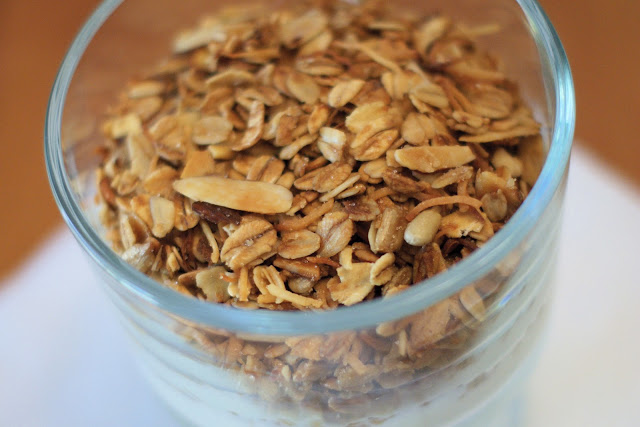 Recipe adapted from my dear friend, Carmen.