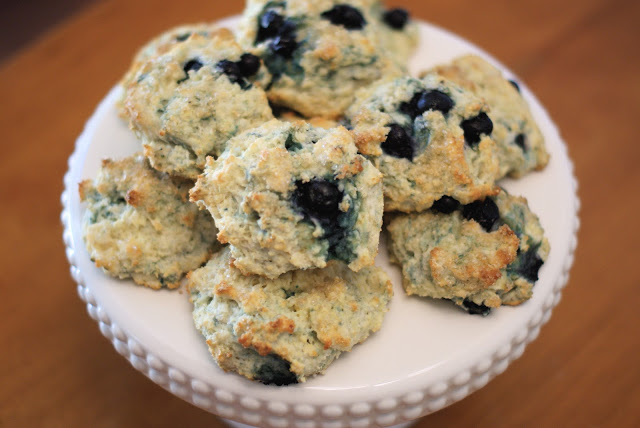 There is something so comforting about smelling freshly baked treats in the morning. Muffins, biscuits, scones. I would have a hard time choosing which is my favorite. It's probably a close tie between banana muffins and blueberry scones. I just love baking in the morning for my family. I don't have many opportunities with school and my husband's work schedule. So when I can, I will usually make cheesy scrambled eggs, a fresh fruit salad, and bake up a pan of delicious gluten free scones!
These blueberry scones are fun to eat…they're mini! Just pick them up and enjoy. Perfect for tiny hands or to serve at a brunch with friends. They get their tenderness from the Greek yogurt, which is one of my favorite ingredients (I'm always trying to sneak it in!) and the crunch on top form the raw sugar, which also adds an extra sweetness. Next time you need something new to bake on Saturday mornings, try a batch of these!

gluten free mini blueberry scones
makes 24 mini scones
1 tablespoon baking powder
1/2 teaspoon baking soda
1/4 cup granulated sugar
1/2 teaspoon salt
6 tablespoons cold unsalted butter, cut into cubes
1 cup frozen or fresh bluerries
1 large egg
3/4 cup plain non-fat Greek yogurt
1/4 cup milk
1 teaspoon vanilla extract
1/2 teaspoon almond extract
2 tablespoons raw turbinado sugar
Preheat oven to 400 degrees. Line two baking sheets with parchment paper. Whisk together the gluten free flour, baking powder, baking soda, sugar and salt in a large mixing bowl. Cut the butter into the flour with a pastry cutter or fingertips until pea-size pieces remain. Add blueberries to coat in flour mixture. In a small bowl, whisk together the egg, yogurt, milk, vanilla and almond extract. Use a spatula to gently combine the two mixtures together. Mix until just combined.
Use a medium spoon to scoop out 1/4 dough and drop onto the
baking sheets, about an inch apart. Gently pat the scones and sprinkle on the raw sugar. Bake for 12-15 minutes, until the scones are firm to the touch and golden on top. Place on cooling rack. Best served warm.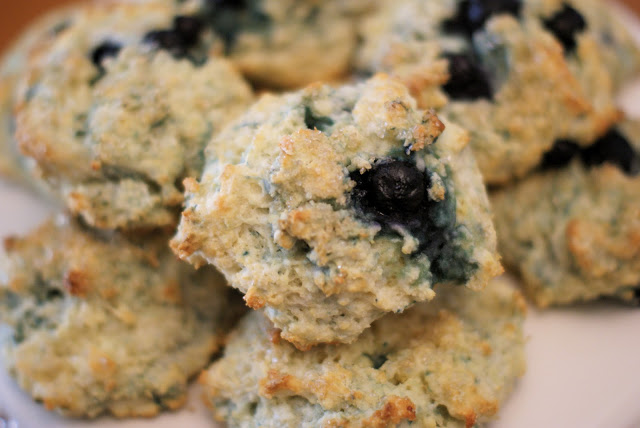 Recipe adapted from theKitchn