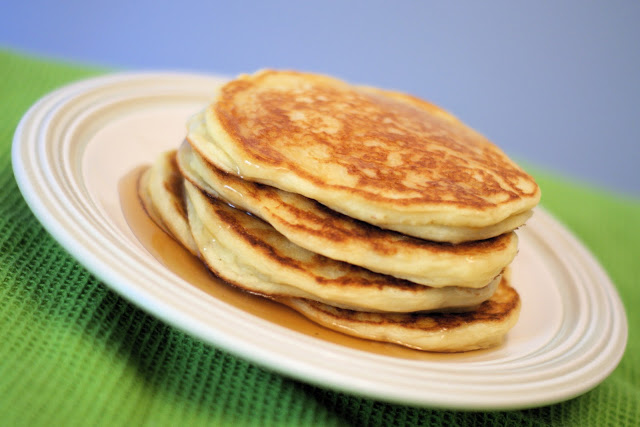 Finding the perfect gluten free pancake recipe….has not been an easy task. I have tried numerous recipes and they are almost always either dry and crumbly or in no way fluffy. Such a bummer when you have this expectation of what they should taste like. I'm all about the texture, so I was on the search for a fluffy, yet chewy pancake. Kyri and Kaden LOVE pancakes so this was a must!
I came across this recipe on
pinterest
and thought I would give it a try, using my
gluten free flour blend
. I tweaked the recipe a bit (which I usually do) and came up with these. To my surprise, they were perfect! It calls for quite a bit of Greek yogurt, but it totally works. They are my idea of the best pancake…and they are full of protein too! You can add chocolate chips or blueberries to the batter to mix it up. In my opinion, there really is no other way to serve these than with butter and real maple syrup. I will promise that they will satisfy your pancake craving and your family will devour them as fast as you can make them!
gluten free yogurt pancakes
makes 12 pancakes
2 cups Sarah's gluten free flour
1/2 teaspoon baking soda
1 tablespoon granulated sugar
1/2 teaspoon salt
2 large eggs
1 1/2 cups 0% Greek yogurt (I like to use Fage Total 0%)
1 1/4 cups milk
1 tablespoon canola oil
1 1/2 teaspoon pure vanilla extract
In large bowl, whisk together flour, baking soda, sugar and salt. In a separate bowl, mix eggs, yogurt, milk, oil, and vanilla. Add the wet mixture to the dry and stir until just blended. Batter will be thick.
Heat large skillet over medium low heat. Spray with cooking spray. Add 1/4 scoop of batter to the pan and slightly smooth out. Flip pancake when lightly browned on the underside and can easily be lifted. They will puff up as they cook. Remove from skillet and serve immediately.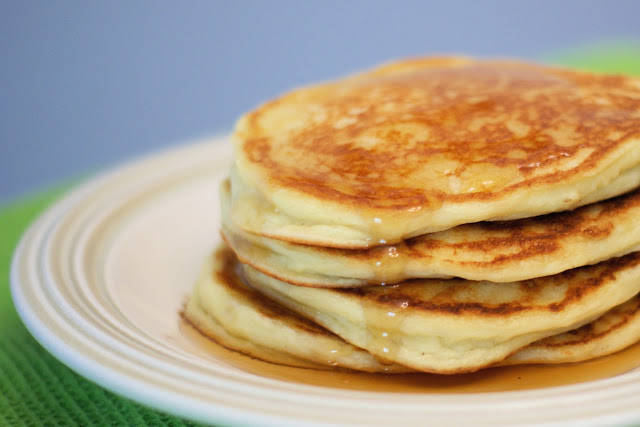 Recipe adapted from Weekly Greens