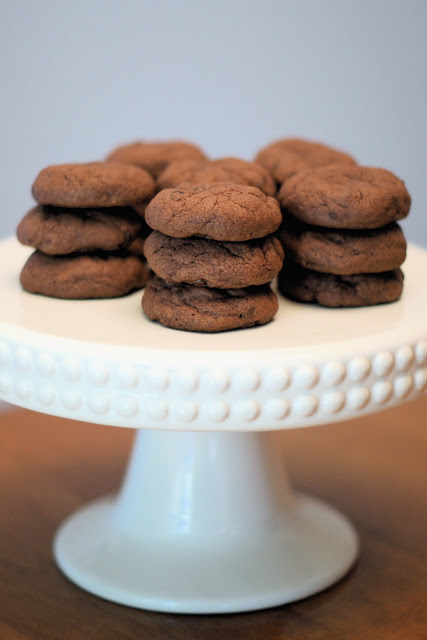 When I first saw this recipe, I was a little curious about one of the ingredients…instant chocolate pudding mix. I don't actually use pudding mix all that much, but I happen to have a box in my pantry. I was up for giving them a try! With all of the gluten free cookies that I have baked, I still didn't have my favorite chocolate cookie recipe. They would usually end up a bit too crunchy. I'm not sure many people prefer a hard cookie over a soft, chewy one. Not me.
So I thought to myself, "maybe adding the pudding mix to the cookie dough, I would achieve that perfect cookie texture!" After I tested the recipe, I was hooked. They were exactly how I had imagined! Perfectly perfect in every way. I like my cookies to still be soft in the middle and a bit gooey from the melted chocolate chips. These cookies were the perfect amount of chocolate. In the photo above, you will notice the cookies are on the small side. I made them mini double chocolate chip cookies, using mini chocolate chips. Just the right size for tiny hands. You can make them big or small. Either way, these cookies are just right!
gluten free double chocolate chip cookies
makes 24 regular-size cookies or 48 mini cookies
2 1/4 cups Sarah's gluten free flour blend*
1 3.9 oz package instant chocolate pudding (I like to use the chocolate fudge)
1 teaspoon baking soda
1/2 teaspoon salt
3/4 cup butter, softened
1/4 cup sugar
3/4 cup brown sugar
2 eggs
1 teaspoon vanilla
1 cup semi-sweet chocolate chips (try the mini size too!)
Preheat oven to 375 degrees. Line baking sheet with parchment paper. Whisk together flour blend, pudding mix, baking soda, and salt. Set aside. In large bowl, beat butter, sugar, brown sugar, and vanilla. Add eggs. Slowly mix in flour mixture. Stir in chocolate chips. Drop 2-tablespoon scoops of dough onto prepared cookie sheet (1 tablespoon for mini cookies). Bake for 8-10 minutes, an additional 1-2 minutes for regular-size cookies. Be sure to not overbake. Remove from pan and cool on wire rack. Now let the cookie enjoyment begin!

*If you do not need to make these cookies gluten free, you can use 2 1/4 cup all-purpose flour.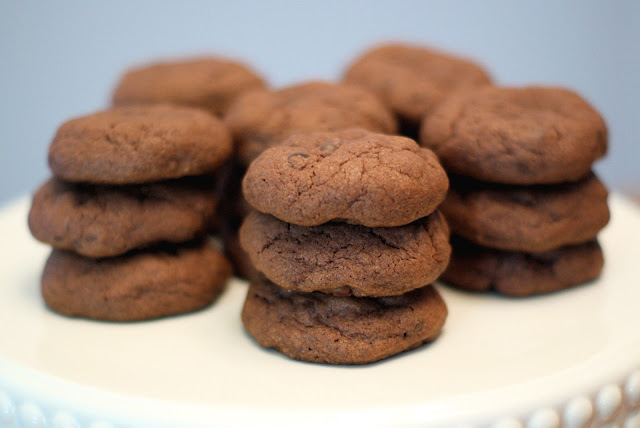 Recipe adapted from The Small Things Blog