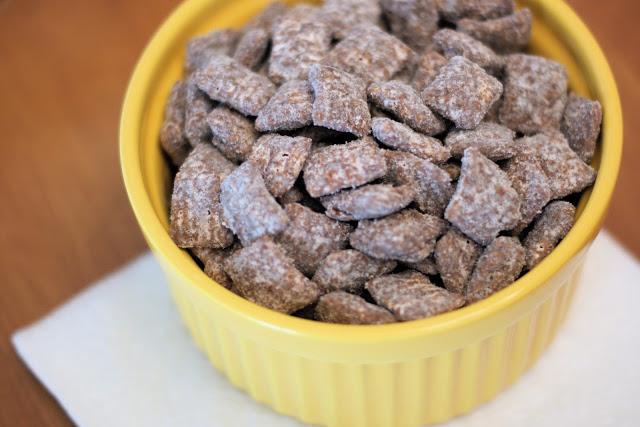 If you've never had muddy buddies, then you are missing out! The name really doesn't say much and I have no idea where it came from…but who cares, it's chocolate and peanut butter! It's the easiest sweet and crunchy snack. A little melting, mixing and shaking. This would be a great recipe to make with your kids. Simple and fun to make!
Muddy buddies are made with ingredients you most likely already have in your pantry. Makes them very convenient! Rice Chex cereal is a great gluten free cereal that I almost always have on hand. If you haven't tried my other favorite recipe using Rice Chex, be sure to check out the super yummy peanut butter chex treats. These quite addictive muddy buddies are perfect for any party or to enjoy at your next family movie night. Get your kids in the kitchen and make some this afternoon!
muddy buddies
makes 18 servings
9 cups Rice Chex cereal
1 cup semisweet chocolate chips
1/2 cup peanut butter (natural smooth peanut butter is what I used)
1/4 cup butter
1 teaspoon vanilla
1 1/2 cups powdered sugar
In large bowl, add cereal and set aside. Melt chocolate chips, peanut butter and butter in microwave safe bowl on High for 1 minute. Stir and microwave for 30 seconds more, or until stirred smooth. Add vanilla. Pour chocolate mixture over cereal. Stir until evenly coated.
Pour half of mixture into a gallon resealable plastic bag. Add half the powdered sugar and seal. Shake until well coated. Spread onto waxed paper. Repeat with remaining chex mixture. Cool completely. Store in airtight container.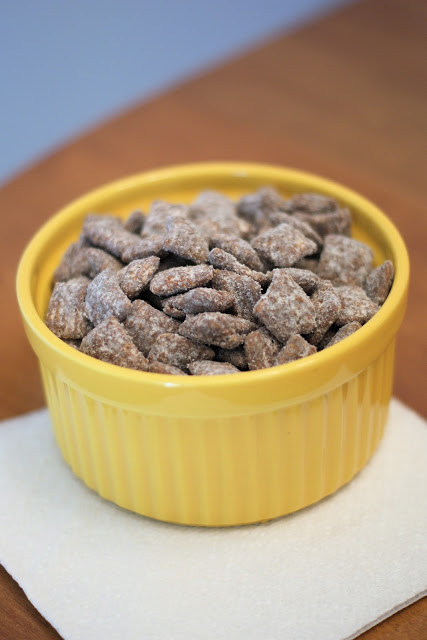 Recipe adapted from Betty Crocker