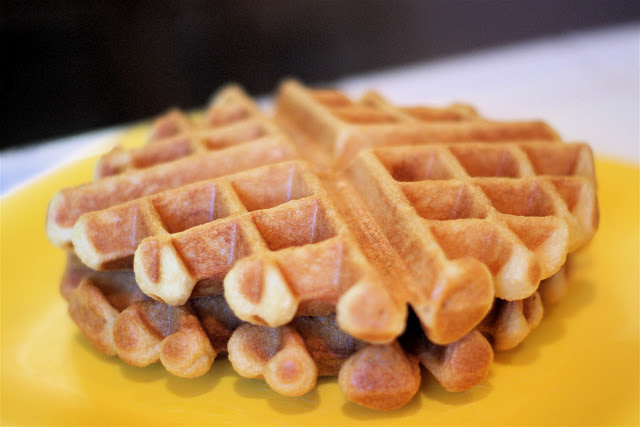 Waffles for breakfast. Waffles for dinner. I love making breakfast for dinner. Don't you? We recently bought a super awesome waffle maker, our first one since going gluten free. It's a Waring Pro Rotary Waffle Maker and suites our family quite well. Seriously, the best waffle maker out there. Deep pockets for pools of maple syrup. Yes, pools. My husband is now asking for waffles every Friday morning (his day off). It's hard to say no when they are ready to eat in just a few, short minutes!
I've been told about Martha Stewart's buttermilk waffle recipe for some time now. I had never tried it because we didn't own a waffle maker. Well, now we do so I knew I HAD to try her recipe, using my gluten free flour blend. There isn't much to say except…it's the best buttermilk waffle recipe! Hands down. I did make a few minor changes, but that's just how I roll. These waffles are chewy in the center and crispy on the outside, which keeps them from getting soggy from the maple syrup. Our favorite way to eat waffles is with good ol' butter and Kirkland Signature 100% Maple Syrup. Oh heavens! These are good. Real good.
gluten free buttermilk waffles
makes 5-6 waffles
2 tablespoons brown sugar

2 teaspoons baking powder

1 teaspoon baking soda

1/2 teaspoon salt

2 cups low-fat buttermilk*

6 tablespoons unsalted butter, melted

2 large eggs

1 teaspoon vanilla extract
Cooking spray for waffle iron

Whisk together flour, sugar, baking powder, baking soda, and salt. Set aside flour mixture. In a large bowl, mix together buttermilk, butter, and eggs. Add flour mixture and stir until just combined. Please don't over mix!
Heat your waffle iron. Spray with cooking spray and pour batter into waffle maker (amount varies by iron). Leave a 1/2-inch border on all sides. Close iron. Cook until waffles are crispy and golden brown, 3-5 minutes. Repeat with remaining batter. Serve nice and hot!
*If you don't have buttermilk, don't fret! Just add 2 tablespoon of apple cider vinegar to 2-cup measuring cup. Add enough milk to make 2 cups (soy, coconut, or almond milk work too) and let sit for 5 minutes.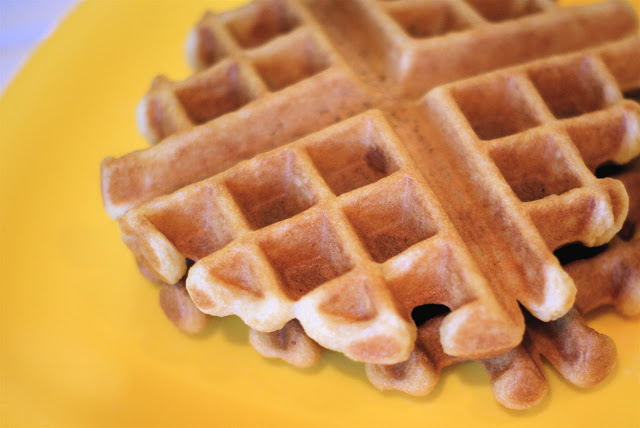 Recipe adapted from Martha Stewart