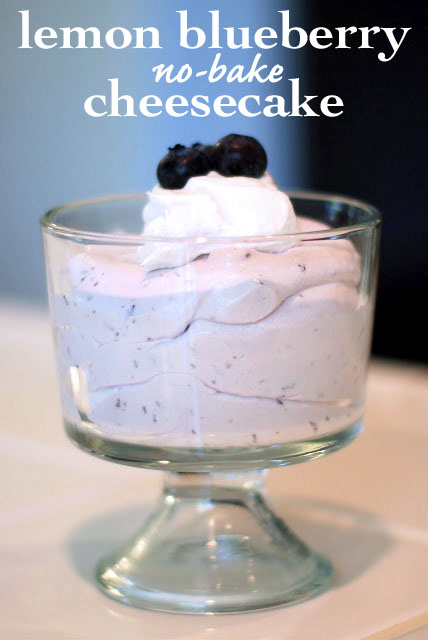 Do you ever get that late night longing for something sweet? It's 10:00 at night and you don't want something too heavy or too rich. Just a dessert that will satisfy your sugar craving. I pretty much NEED a treat every night. I try to be good and only have something small, to hold me over. However, my problem is that after I finish my dessert, I always want something salty. My husband likes to make fun of me.
This my friends, is one of my new favorite desserts! Light, fluffy, and not too sweet. It only takes a few ingredients to whip up these individual lemon blueberry no-bake cheesecakes. There is no crust (which saves on calories and makes them gluten free). I love the mix of fresh blueberries and lemon zest…one of my favorite combos. These are a great dessert for summer time. Cool and oh so refreshing. Make these cheesecakes for your next picnic at the park!
lemon blueberry no-bake cheesecake
makes 6 servings
2/3 cup sugar
zest of 1 lemon
1 (8 ounce) package light cream cheese, softened
1 tablespoon fresh lemon juice
1 (8 ounce) tub non-dairy whipped topping (I use Trader Joe's all-natural House Whip)
1 cup fresh blueberries*
additional blueberries to garnish
In blender or food processor, add
sugar, lemon zest, cream cheese, and lemon juice. Mix until smooth.
Add blueberries and blend until you can still see specks of the
blueberries. Pour blueberry mixture into large mixing bowl. Gently
fold in the whipped topping using a rubber spatula, just until blended
(reserve a bit of the topping if you would like, for garnish). Spoon
into 6 single-serving dessert cups. Cover with plastic wrap and
refrigerate for at least 2 hours. To serve, garnish with whipped
topping and fresh blueberries.
*I have also made this dessert with fresh raspberries. Delicious! You could even try fresh strawberries or blackberries!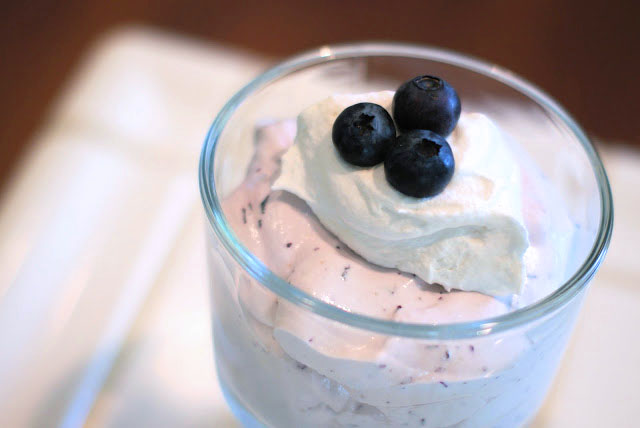 Recipe adapted from My Baking Addiction