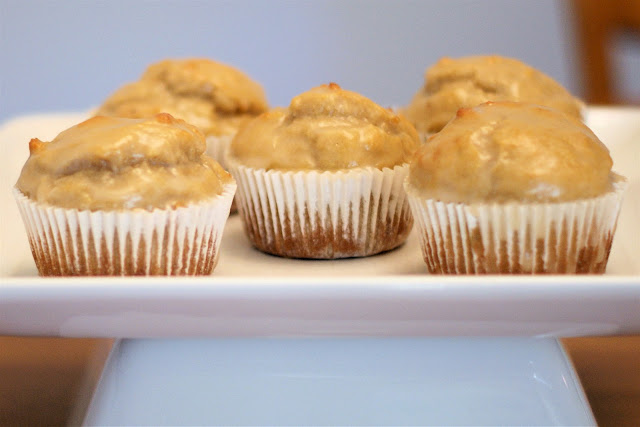 If you asked me what some of my favorite treats are to bake, muffins would one of my top contenders! They are so versatile. They aren't overly sweet. They can go with any meal. They are a great snack. Oh…and you can make them quite healthy too! I love to mix up combinations and try different varieties for my family. I have quite a few that I make over and over (which I can't wait to share those recipes with you), but I just had to try these when I saw the words "donut" and "muffins" put together!
I must say, these really do taste like an old-fashioned glazed donut. The subtle spice flavors with a thin layer of glaze on top. Those were always my favorite donuts because they had more of a cake-like texture and I'm a big fan of cake! I replaced the butter in this recipe with Greek yogurt (the magic ingredient!) and used less sugar. The addition of pure maple syrup to the glaze is perfect. The only thing that wasn't just right…they sort of stuck to the paper wrappers. Don't worry, that didn't stop us from enjoying every last one! I will remember to use using non-stick wrappers or spraying the pan with cooking spray next time. You better believe there will be a next time, my family loved these glazed donut muffins!
gluten free glazed donut muffins
makes 12-14
1/4 cup 0% Greek yogurt (I like Fage Total 0%)
1/3 cup canola oil
2/3 cup brown sugar
2 large eggs
1 cup milk (I used organic soy milk)
1 teaspoon pure vanilla extract
1 1/2 teaspoons baking powder
1/2 teaspoon baking soda
1 teaspoon ground nutmeg
1 teaspoon cinnamon
3/4 teaspoon salt
2 2/3 cups Sarah's gluten free flour blend
simple glaze
1 1/2 cups powdered sugar
1 teaspoon pure vanilla extract
2 tablespoons pure maple syrup
3 tablespoons hot water
Preheat oven to 425° degrees. Spray muffin tin with cooking spray or line with non-stick cupcake liners. In medium bowl, mix together yogurt, oil, and brown sugar. Add eggs and milk. Stir until combined. Add vanilla, baking powder, baking soda, nutmeg, cinnamon and salt. Mix well. Slowly incorporate flour blend, making sure thoroughly combined.
Spoon batter into prepared muffin tin. Fill cups nearly full. Bake muffins for 16-18 minutes, or until lightly golden brown. Remove from pan and cool on wire rack. While cooling, make the simple glaze by whisking together powdered sugar, vanilla, maple syrup, and hot water. Dip tops of cooled muffins in glaze. Allow glaze to harden. Best served the same day.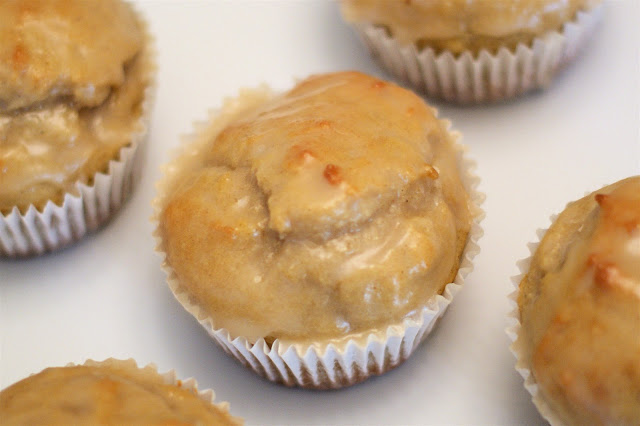 Recipe adapted from My Baking Addiction