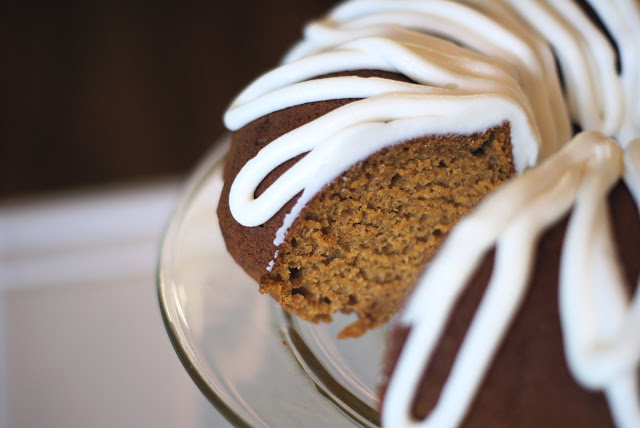 I know the leaves outside aren't changing colors, but who says you can only eat pumpkin desserts in the Fall? You will soon notice that I am quite in love with ALL pumpkin desserts. Pumpkin pie, cake pops, cookies, cheesecake, ice cream, and cake. When you add pumpkin puree to a cake, it makes it so moist and gives it a very tender crumb, something I'm always looking for in a good cake recipe. That big, orange vegetable is also a super food, full of fiber, anti-oxidant and vitamins! Try sneaking in a little pumpkin in your treats…your kids will never know!
Father's Day was approaching and I was trying to think of a special dessert to make for Kevin. I had some pumpkin puree in the fridge and I knew he would be very happy to see a pumpkin cake on the counter, waiting for him to taste. Yes, he was a happy man! This cake is actually a variation of an apple spice cake recipe that is a family-favorite (recipe coming soon!). I just replaced the shredded apples with pumpkin puree and it was love at first bite. Don't wait until Thanksgiving to make this pumpkin bundt cake. It's great as a midnight snack or a perfect pair to your morning coffee. Enjoy, my gluten free friends!
gluten free pumpkin bundt cake
makes 12 servings
1/2 cup canola oil
1/2 cup unsweetened applesauce
1 cup pumpkin puree
1 cup brown sugar
1/4 cup pure maple syrup
3 eggs
1 teaspoon vanilla
1/4 teaspoon ground nutmeg
1 1/2 teaspoons cinnamon
2 cups Sarah's gluten free baking blend
1 teaspoon salt
1 teaspoon baking soda
vanilla glaze
3 cups powdered sugar
4 tablespoons butter, melted
3-4 tablespoons milk
1 teaspoon pure vanilla extract
Preheat oven to 350 degrees and spray bundt pan with no-stick cooking spray. In large mixing bowl, mix together oil, applesauce, pumpkin puree, brown sugar, and maple syrup. Stir in eggs and vanilla. Add baking soda, salt, and flour blend. Mix until well combined.
Pour batter into greased bundt pan. Bake for 40-45 minutes until toothpick comes out clean. Cool in pan for 10 minutes. Flip out of pan and continue to cool completely on cooling rack. To make glaze, mix together powdered sugar, butter, milk, and vanilla. Whisk until light and creamy. Add an additional tablespoon milk to get the consistency you desire. Drizzle vanilla glaze on cooled cake.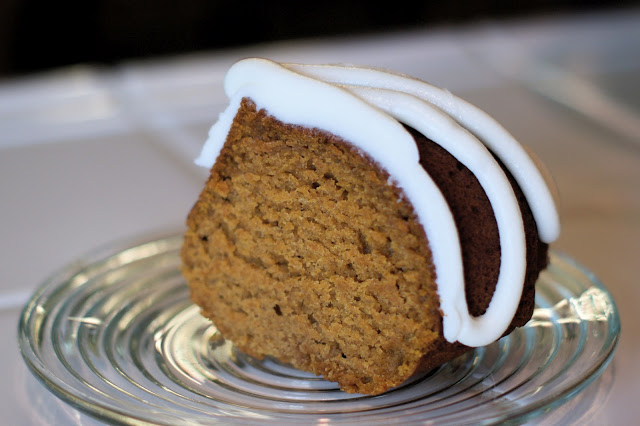 Recipe adapted from The Long Road to China