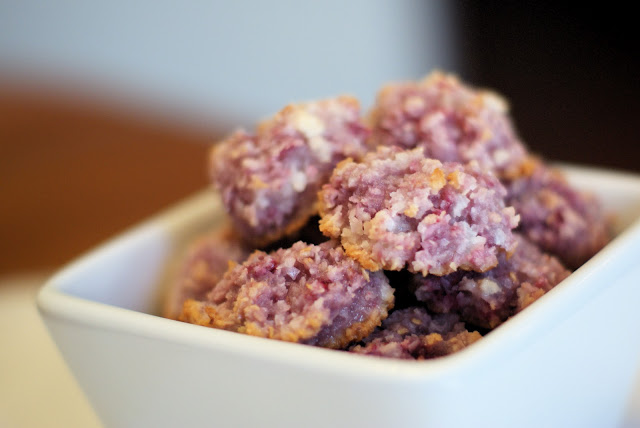 My sister is getting married in August and it was time for us to plan her bridal shower. I offered to make the party favors, as well as the cupcakes, which I will share the recipe with you soon. It's a good one…lemon cupcakes with raspberry buttercream. My sister LOVES coconut so I knew macaroons were a good choice for the favors. However, I didn't want just plain coconut macaroons. Don't get me wrong, those are delicious, but I wanted a recipe with a fun twist. Oh, and I wanted them pink, to match the shower color scheme. When I saw these coconut raspberry macaroons, the hunt was over. Smitten Kitchen and another one of her gorgeous recipes came to the rescue once again!
I also love anything coconut so I was super excited to try these! I knew my husband wouldn't dare taste them, he is not a fan of coconut. It's a texture thing. I don't understand, the texture is what I love! Chewy, creamy coconut. So good and so good for you. I have never made a macaroon quite like these, with fresh fruit. The combination of the delicate, sweet coconut mixed with the juicy, tart raspberries is a match made in heaven. The addition of almond extract is pretty genius too. These macaroons are divine. Believe me. Aren't they so beautiful too?
coconut raspberry macaroons
makes 45-50 macaroons
14 ounces sweetened, flaked coconut
2/3 cup sugar
3 large egg whites
1/4 teaspoon sea salt
1/2 teaspoon almond extract
1 1/4 cups fresh raspberries washed and patted very dry
Preheat oven to 325° degrees. Line two large baking sheets with parchment paper. In food processor, blend the coconut for one minute. Pour in sugar and blend another minute. Add egg whites, salt and almond extract. Blend for
an additional minute. Add raspberries and pulse on and off until mostly, but not all the way broken down. Some large raspberry pieces will be visible, and that's great! Pour into large bowl to make scooping easier. Resist the temptation to fully mix the coconut with the raspberries. You want it to be swirly, white and pink!
With a tablespoon, scoop
batter into 1-inch mounds. Place cookies on lined baking sheet. You can place close together, they won't spread. Bake macaroons for 25-30 minutes, or until slightly toasted. Allow to cool on baking sheet for 10 minutes. Place on cooling rack. Best enjoyed the first day or will stay fresh up to 4-5 days in air-tight container.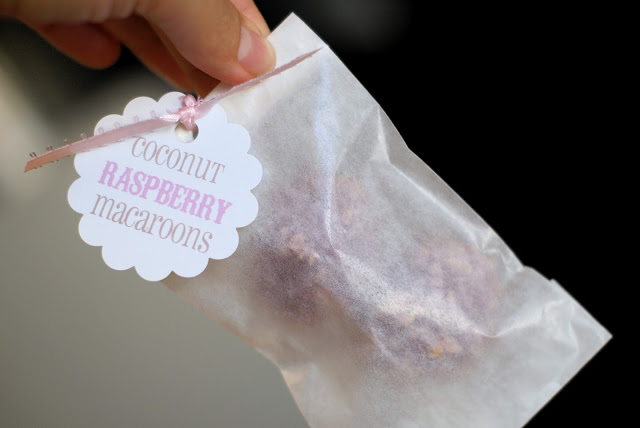 bridal shower favors.
I can't help it. I just have to make everything cute!
Tiny glassine treat bags purchased at
Cute Tape