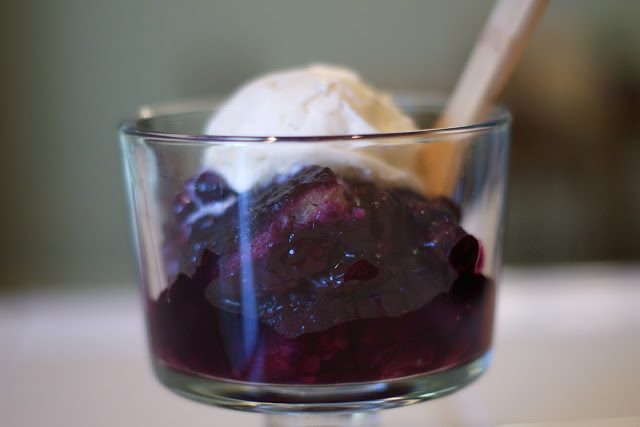 One of the many reasons I love summer…all of the fresh fruit! The berries are perfectly ripe, the watermelon is extra juicy, and the peaches are super sweet. There are so many yummy desserts to make with summer fruit, but my favorite is a good crisp or cobbler! They come together quickly and are full of natural sweetness from the beautiful fruit.
I have made many berry crisps in my life, but I wanted to come up with my own recipe. The kids and I made this berry crisp the other day and it is a winner! I prefer there to be more fruit than the topping. Don't get me wrong, I love that chewy, crisp topping…but the fruit has got to be the star! I used a mixture of frozen berries and some fresh blueberries that I had in the fridge. If you use frozen, just be sure to thaw them and drain. This will ensure even cooking. Use a combo of your favorite berries and I promise it will be divine! Promise me you won't even think about eating this crisp without a scoop of vanilla ice cream. Is there any other way to enjoy a warm, berry crisp?
gluten free berry crisp
serves 8
5 cups mixed berries, fresh or frozen (thawed and drained)*
1/4 cup sugar
2 tablespoons cornstarch
1/2 cup certified gluten free rolled oats
3 tablespoons milk (I used coconut milk)
1/4 cup pure maple syrup
1/4 cup brown sugar
1/4 cup coconut oil, melted
1/2 cup Sarah's gluten free flour blend
1/2 teaspoon cinnamon
Preheat oven to 375 degrees. In large mixing bowl, gently toss berries with sugar and cornstarch. Pour into 8×8 inch square baking dish and set aside. In medium mixing bowl, combine oats and milk. Allow to sit for 5 minutes to soften. Add maple syrup, brown sugar and coconut oil to oats. Stir to combine. Add the flour blend and cinnamon. Mix together and spread over the top of berries. Bake for 40-45 minutes until bubbly and topping is golden brown. Best served warm.
*I used a mixture of blueberries, raspberries, and blackberries.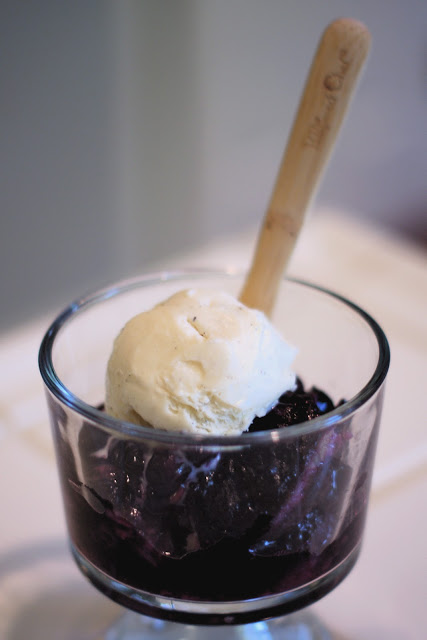 you know you want to dig in and take a bite!