gluten free vegan chocolate frosted baked donuts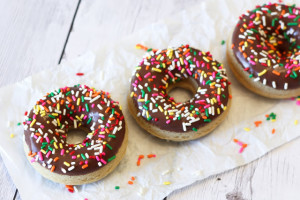 AUTHOR:
Sarah Bakes Gluten Free
1 1/2 teaspoons baking powder
1/4 teaspoon baking soda
1/4 teaspoon salt
1/2 cup So Delicious unsweetened almond or coconut milk
1 teaspoon white or apple cider vinegar
1/3 cup cane sugar
3 tablespoons Earth Balance vegan butter, melted
1 teaspoon pure vanilla extract
!chocolate frosting
1 cup powdered sugar
1/4 cup cocoa powder
1 tablespoon vegan butter, melted
1-2 tablespoons So Delicious coconut milk coffee creamer
1/2 teaspoon pure vanilla extract
gluten free colored sprinkles (optional)
Preheat oven to 400 degrees. Spray standard-size donut pan with nonstick cooking spray.
Sift together flour, baking powder, baking soda and salt. In mixing bowl, mix together coconut milk and vinegar, stirring until curdled. Add sugar, melted butter and vanilla. Stir in flour mixture until just combined.
Spoon batter into ziploc bag (or piping bag) and cut tip. Pipe batter into prepared donut pan.
Bake donuts for 16-18 minutes, until golden brown and baked through. Turn out onto cooling rack.
To make chocolate frosting, whisk together powdered sugar and cocoa powder. Add melted butter, coffee creamer and vanilla. Stir until smooth and creamy.
When donuts are mostly cool, dip tops into glaze to coat and sprinkle on colored sprinkles. Let set for 10-15 minutes. Donuts are best served right away or same day.
Recipe by
Sarah Bakes Gluten Free
at https://www.sarahbakesgfree.com/2015/06/gluten-free-vegan-chocolate-frosted.html