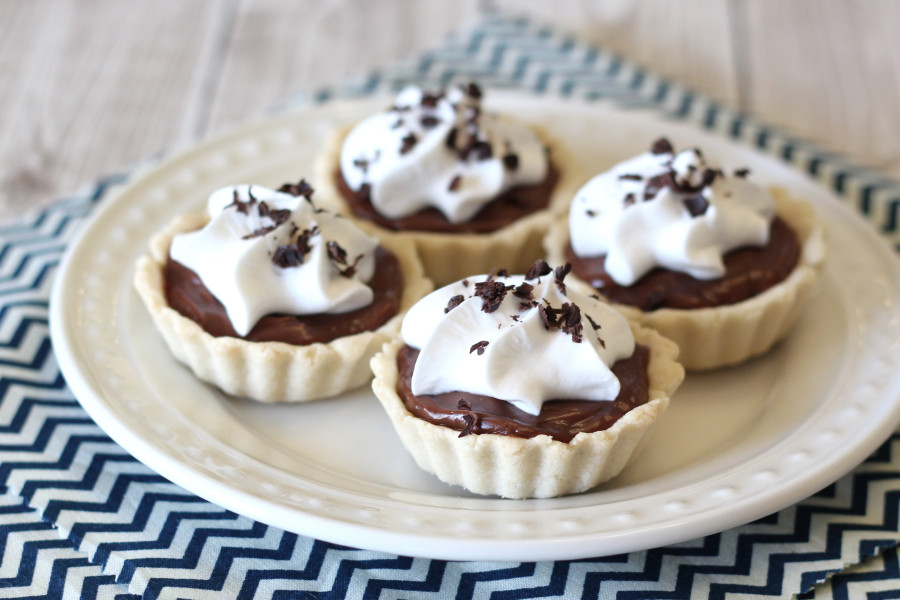 Hello there, adorable mini chocolate cream pies. Serious cuteness overload. There is a reason I can't resist mini desserts, especially mini pies. The ratio of crust to filling is perfect and I love the no-utensils-needed. If you think mini desserts are pretty fantastic too, then you'll go crazy for these gluten free vegan mini chocolate cream pies!
I started with a simple crust, baked in mini tart pans. Those cooled crusts get filled with a simple, creamy chocolate pudding, made with lite coconut milk. The big finale is that whipped coconut cream. Have you tried it yet? Make it and eat it. It's good on pretty much any dessert or over fresh berries. I used a piping bag to pipe on the whipped coconut cream. So fancy. A little sprinkle of shaved dark chocolate and you have a set of gorgeous mini pies.
Not only am I sharing a new recipe today, but I've got a giveaway from one of my favorite baking supply companies. Fat Daddio's. They're going to give one of you a set of 24 anodized aluminum mini tart pans and a cookie sheet too. Their baking tools are top of the line. With this giveaway, you'll be all set to make these mini chocolate cream pies. You won't be able to keep your hands off of these!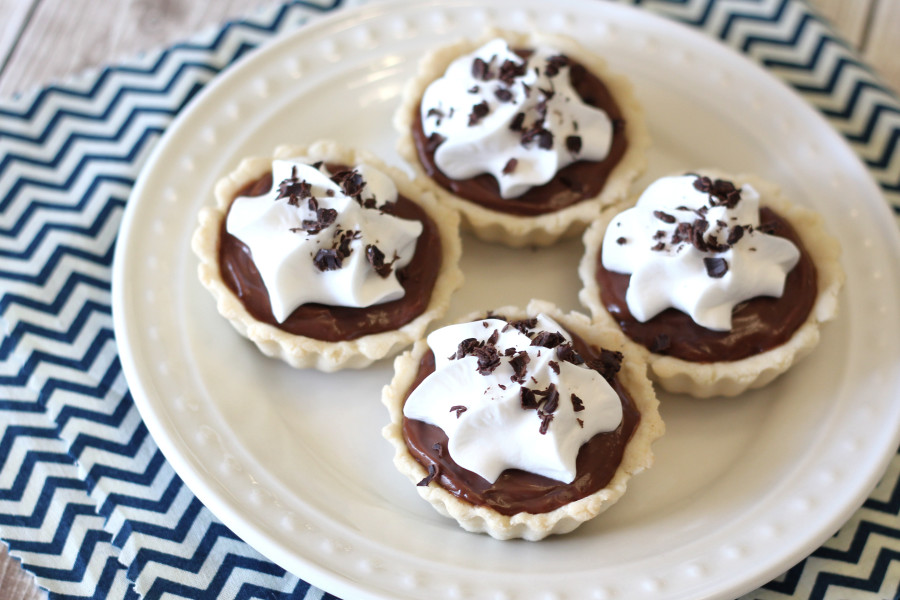 gluten free vegan mini chocolate cream pies
AUTHOR:
Sarah Bakes Gluten Free
INGREDIENTS
chocolate pudding
1/2 cup cane sugar
3 tablespoons good quality cocoa powder
2 tablespoons cornstarch
1/4 teaspoon salt
1 1/2 cups So Delicious lite culinary coconut milk*
1 teaspoon pure vanilla extract
pie crusts
whipped coconut cream
1 1/2 cups So Delicious original culinary coconut milk (full fat), refrigerated overnight*
1/4 cup powdered cane sugar
1/2 teaspoon pure vanilla extract
2 tablespoons dairy free dark chocolate shavings (optional)
INSTRUCTIONS
To make chocolate pudding, whisk together sugar, cocoa powder, cornstarch and salt in medium saucepan.
Over medium heat, whisk in coconut milk. While stirring constantly, cook until bubbly and thick (about 5 minutes). Remove from heat and stir in vanilla.
Pour pudding in bowl and cover with plastic wrap touching pudding. Refrigerate until chilled, 1-2 hours.
Preheat oven to 375 degrees. Prepare mini tart pans by spraying with nonstick cooking spray and placing on baking sheet.
Sift together flour, sugar, baking powder and salt. Add cold butter and use fork to blend butter into flour. Pour in coconut milk and vanilla. Continue to mix until dough comes together, adding additional coconut milk if needed.
Place tablespoon of dough into each tart pan and press into mold. Bake tart shells for 10-12 minutes. Allow to cool in pans 10 minutes. Remove from pans and cool completely on cooling rack.
To make whipped coconut cream, remove coconut milk from refrigerator. Open and scoop out only coconut cream. Strain off all coconut water and save for another use.
Place coconut cream and powdered sugar into large bowl of standing mixer. Whip on high for 3-5 minutes, until light and fluffy. Add vanilla and whip until combined.
Place whipped coconut cream in piping bag with large star tip and refrigerate until ready to use.
To assemble pies, fill each cooled tart shell with chilled chocolate pudding. Pipe whipped coconut cream on top of pudding. Sprinkle with chocolate shavings.
Serve mini pies immediately or chill in refrigerator.
NOTES
*If you are unable to find So Delicious culinary milk, you can substitute 14 oz. can lite and full-fat coconut milk.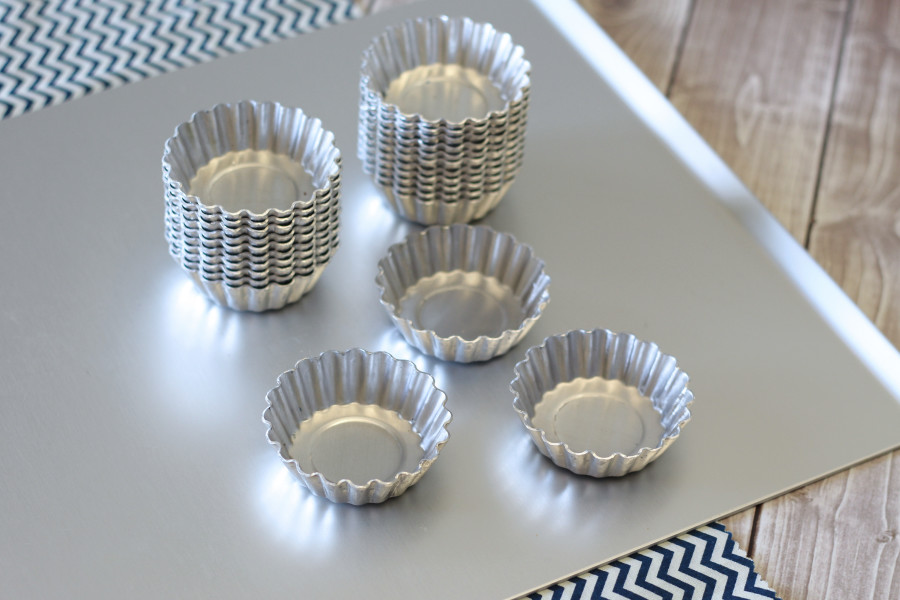 Thanks to Fat Daddio's, I'm giving away a standard anodized aluminum cookie sheet and a set of 24 mini tart pans. These tart pans are guarenteed to never rust, chip or peel. Always even heating too! Enter to win the cookie sheet and tart pans in the Rafflecopter widget below and tell me "what is your favorite cream pie recipe?" in your comment. You can receive extra entries by sharing this giveaway on instagram and pinterest, tweeting about the giveaway or by following Fat Daddio's on facebook. This giveaway ends on Tuesday, August 19. Winner will be notified on Wednesday and has 48 hours to claim their prize, before another winner is chosen. Fat Daddio's makes amazing baking products…you don't want to miss this giveaway!
THIS GIVEAWAY HAS ENDED.