gluten free vegan mini chocolate cream pies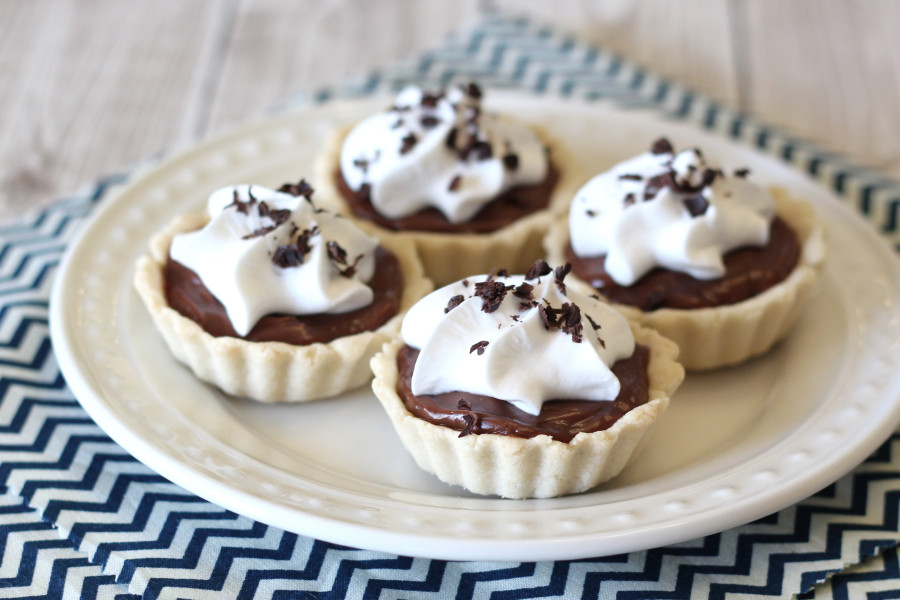 AUTHOR:
Sarah Bakes Gluten Free
1/2 cup cane sugar
3 tablespoons good quality cocoa powder
2 tablespoons cornstarch
1/4 teaspoon salt
1 1/2 cups So Delicious lite culinary coconut milk*
1 teaspoon pure vanilla extract
1 1/2 cups So Delicious original culinary coconut milk (full fat), refrigerated overnight*
1/4 cup powdered cane sugar
1/2 teaspoon pure vanilla extract
2 tablespoons dairy free dark chocolate shavings (optional)
To make chocolate pudding, whisk together sugar, cocoa powder, cornstarch and salt in medium saucepan.
Over medium heat, whisk in coconut milk. While stirring constantly, cook until bubbly and thick (about 5 minutes). Remove from heat and stir in vanilla.
Pour pudding in bowl and cover with plastic wrap touching pudding. Refrigerate until chilled, 1-2 hours.
Preheat oven to 375 degrees. Prepare mini tart pans by spraying with nonstick cooking spray and placing on baking sheet.
Sift together flour, sugar, baking powder and salt. Add cold butter and use fork to blend butter into flour. Pour in coconut milk and vanilla. Continue to mix until dough comes together, adding additional coconut milk if needed.
Place tablespoon of dough into each tart pan and press into mold. Bake tart shells for 10-12 minutes. Allow to cool in pans 10 minutes. Remove from pans and cool completely on cooling rack.
To make whipped coconut cream, remove coconut milk from refrigerator. Open and scoop out only coconut cream. Strain off all coconut water and save for another use.
Place coconut cream and powdered sugar into large bowl of standing mixer. Whip on high for 3-5 minutes, until light and fluffy. Add vanilla and whip until combined.
Place whipped coconut cream in piping bag with large star tip and refrigerate until ready to use.
To assemble pies, fill each cooled tart shell with chilled chocolate pudding. Pipe whipped coconut cream on top of pudding. Sprinkle with chocolate shavings.
Serve mini pies immediately or chill in refrigerator.
*If you are unable to find So Delicious culinary milk, you can substitute 14 oz. can lite and full-fat coconut milk.
Recipe by
Sarah Bakes Gluten Free
at https://www.sarahbakesgfree.com/2014/08/gluten-free-vegan-mini-chocolate-cream.html