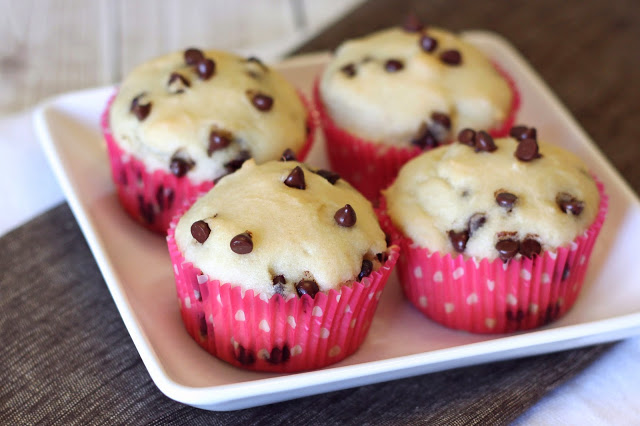 Summer break has come to an end. Sad. The kids are back in school and the carefree days are no more. Our mornings during the summer were always lazy, lazy. Late breakfasts and jammies until noon. Now we are up and getting ready to be out the door by 8:00. As much as I would love to make muffins or pancakes for my kids every school morning, it just doesn't happen unless this mom plans ahead…and has her cup of coffee too!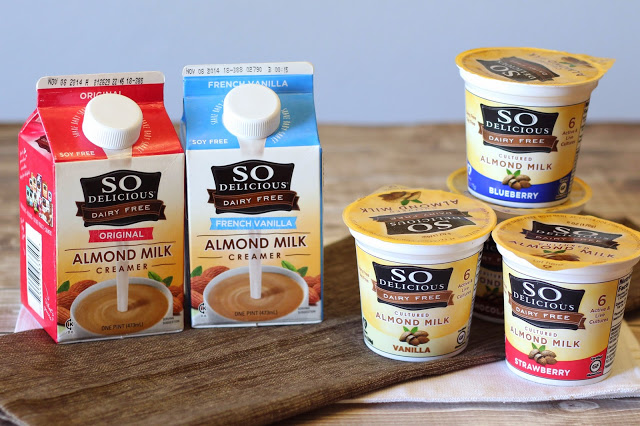 So Delicious recently sent me a fabulous package with some of their new almond milk products. I was most excited about the new almond milk coffee creamer. I'm already completely obsessed with the coconut milk coffee creamers, the french vanilla is my fave. Their new almond milk creamer is carrageenan free, which I know many people have to avoid. This creamer gets a big thumbs up. Love that their are so many dairy free options available. Thanks, So Delicious!
The cultured almond milk is new to me too, as I've never tried it. It was heavenly! Creamy and not too sweet. My daughter requested chocolate chip muffins and I gave them a spin by adding plain yogurt to them. You could easily either use the cultured almond or coconut milk. After making these muffins, I might be adding yogurt to all of my muffin recipes! Great texture and made them so moist. I love that it's a source of protein too. Muffins for breakfast. Muffins for a snack. Make ahead and you're good to go.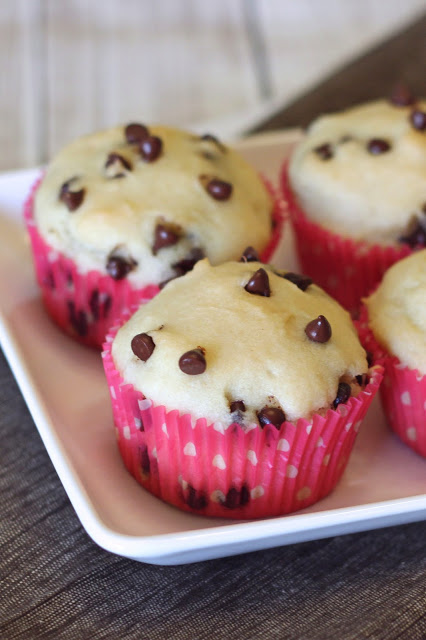 gluten free vegan chocolate chip yogurt muffins
makes 12 muffins
1 1/2 cups Sarah's gluten free flour blend*
1 teaspoon baking powder
1/2 teaspoon baking soda
1/2 teaspoon salt
3/4 cup So Delicious unsweetened coconut milk
1 tablespoon white vinegar
1/2 cup So Delicious plain cultured coconut or almond milk yogurt
1/2 cup cane sugar
1/4 cup sunflower seed or canola oil
1 1/2 teaspoons pure vanilla extract
1/2 cup dairy free mini chocolate chips
Preheat oven to 350 degrees. Line muffin pan with paper liners. Sift together flour blend, baking powder, baking soda, and salt. Set aside. In large mixing bowl, stir together coconut milk and vinegar, until curdled. Add yogurt, sugar, oil, and vanilla extract. Slowly whisk in flour mixture. Add chocolate chips and stir to combine. Scoop batter into prepared cupcake pan. Bake for 18-20 minutes, or until toothpick inserted in center of muffin comes out clean. Place muffins on cooling rack and cool completely. Store in airtight container.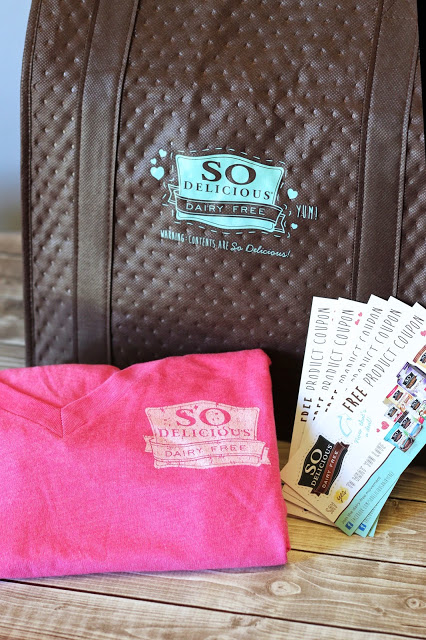 Who's ready for another So Delicious giveaway? I've got a super cool insulated cold tote bag, which is great for storing those cold items on the go. So Delicious makes the softest, coziest women's v-neck tees and I've got one of those for you too! You can choose from either pink or turquoise. I'm including 5 of the most-coveted FREE So Delicious product coupons. Take them to your local grocery store and pick out 5 of your favorite So Delicious products. You can even give the new almond milk coffee creamer a try! Everything you see here will be yours. In your package you will receive…
So Delicious insulated cold tote bag
So Delicious women's cozy v-neck tee (you choose color/size)
5 FREE So Delicious product coupons
Enter the giveaway in the Rafflecopter widget below and tell me "what is your favorite morning muffin?" in your comment. You can receive extra entries by sharing this giveaway on instagram, tweeting about the giveaway or by following So Delicious on facebook. This giveaway ends on Thursday, August 28. Winner will be notified on Friday and has 48 hours to claim their prize, before another winner is chosen. Don't miss out on this So Delicious Swag giveaway!