gluten free vegan pumpkin pecan pie bars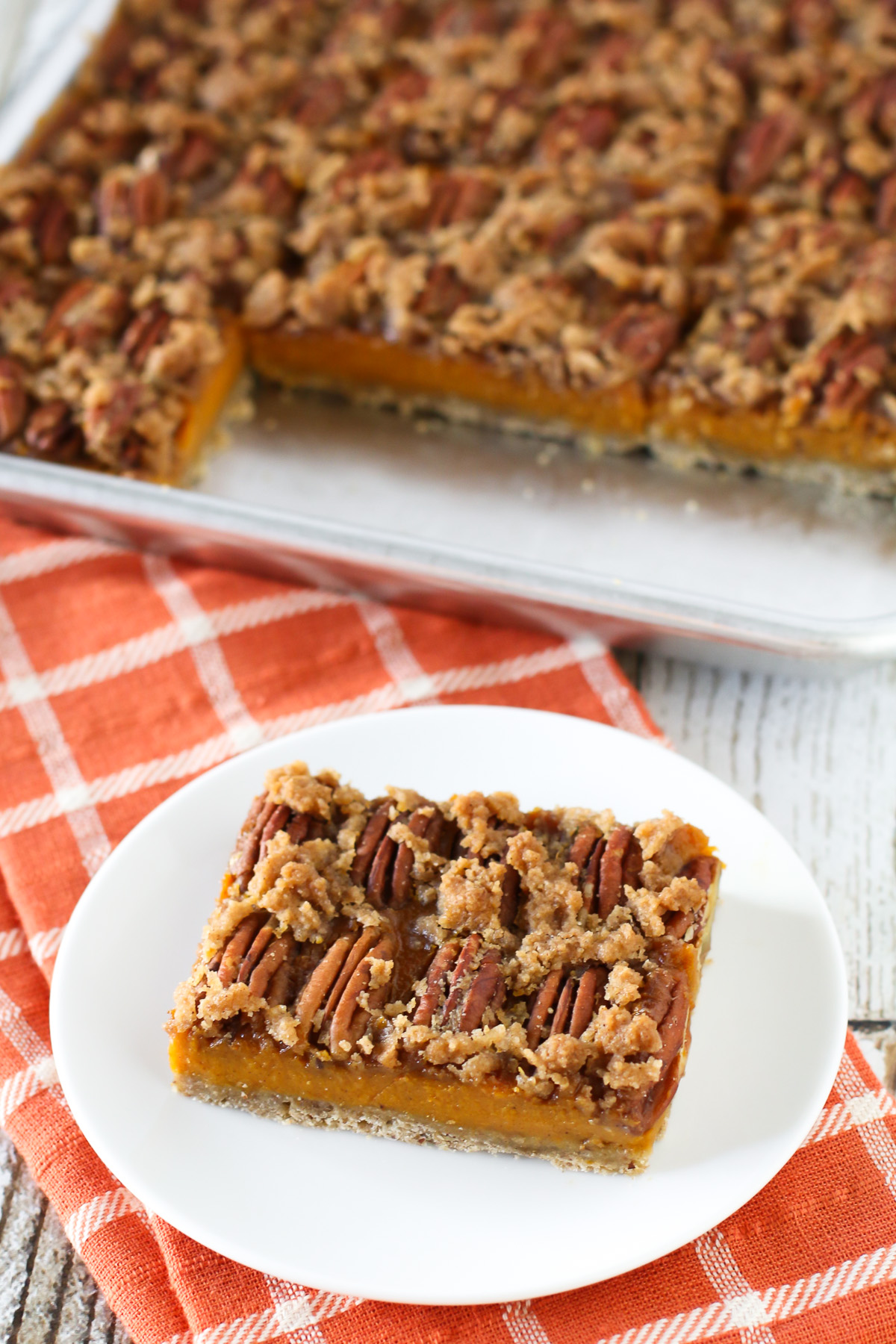 AUTHOR:
Sarah Bakes Gluten Free
RECIPE TYPE:
pies & tarts
1 cup Bob's Red Mill certified gluten free oat flour
1/2 cup raw pecans, ground
3 tablespoons coconut oil, melted
3 tablespoons pure maple syrup
pinch sea salt
2 cups pumpkin puree
1 cup full-fat coconut milk, stirred
1/2 cup cane sugar or coconut sugar
1/4 cup corn starch or tapioca starch
2 tablespoons pure maple syrup
1 teaspoon pure vanilla extract
1 teaspoons ground cinnamon
1/2 teaspoon ground ginger
1/4 teaspoon ground nutmeg
1 1/4 cups raw pecan halves
1/4 cup brown sugar or coconut sugar
3 tablespoons cane sugar
2 tablespoons Bob's Red Mill certified gluten free oat flour
2 tablespoons melted coconut oil
1 tablespoon pure maple syrup
1/2 teaspoon ground cinnamon
Preheat oven to 375 degrees. Spray 9x13 baking pan with nonstick cooking spray or line with parchment paper.
To make crust, mix together oat flour, ground pecans, melted coconut oil, pure maple syrup and salt. Press dough into bottom of prepared pan. Bake crust 15 minutes.
While crust is baking, make pumpkin filling. In large mixing bowl, add pumpkin puree, coconut milk, cane sugar, corn starch, maple syrup, vanilla, cinnamon, ginger and nutmeg. Whisk until smooth.
Pour pumpkin filling over pre-baked crust. Bake 15 minutes.
In small bowl, stir together brown sugar, sugar and oat flour for sugar topping. Add melted coconut oil, maple syrup and cinnamon. Mix until combined.
After 15 minutes of baking, remove pumpkin pie from oven. Carefully top with single layer of pecan halves. Sprinkle sugar mixture over pecans. Bake additional 20-25 minute or until set.
Place pumpkin pecan pie on cooling rack to cool completely. Serve chilled, if preferred.
You can also grind
certified gluten free oats
in the food processor or high-powered blender, if you are having a hard time finding the oat flour.
Recipe by
Sarah Bakes Gluten Free
at https://www.sarahbakesgfree.com/2016/11/gluten-free-vegan-pecan-pumpkin-pie-bars.html