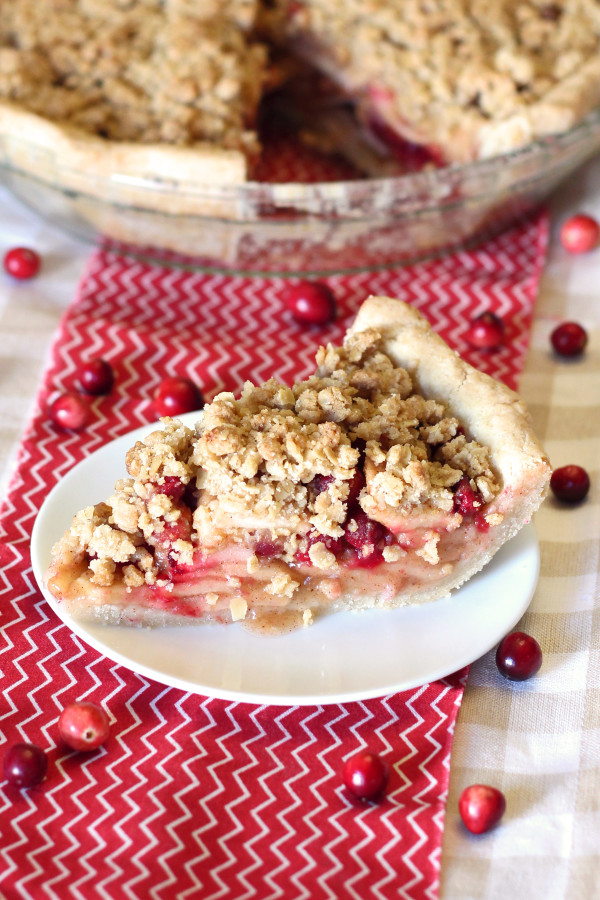 Let's just take a minute and gaze at the beauty of a slice of freshly-baked pie. Isn't it glorious? I just think pie is one of the most stunning desserts, imperfections and all. Rustic deliciousness at it's finest.
Now that Thanksgiving is only a few weeks away, I'm starting to plan my pie baking. This is serious business, people. It's not Thanksgiving without pie. Pumpkin pie is a must (of course). Some favor pecan pie, some go for coconut cream. I always go for the fresh fruit pie. Apple seems to be a favorite. You just can't go wrong with a homemade apple pie.
I've made the holidays a little brighter by adding cranberries to my apple pie! Gluten free pie crust (easy and dairy free too), filled with sweet apples and cheerful cranberries. Love those little sour berries. They give just the right pop next the sliced apples. A simple crumb topping is a great way to finish off this perfect-for-fall pie. Crunchy topping, tender apples, tart cranberries, flakey crust. What's not to love?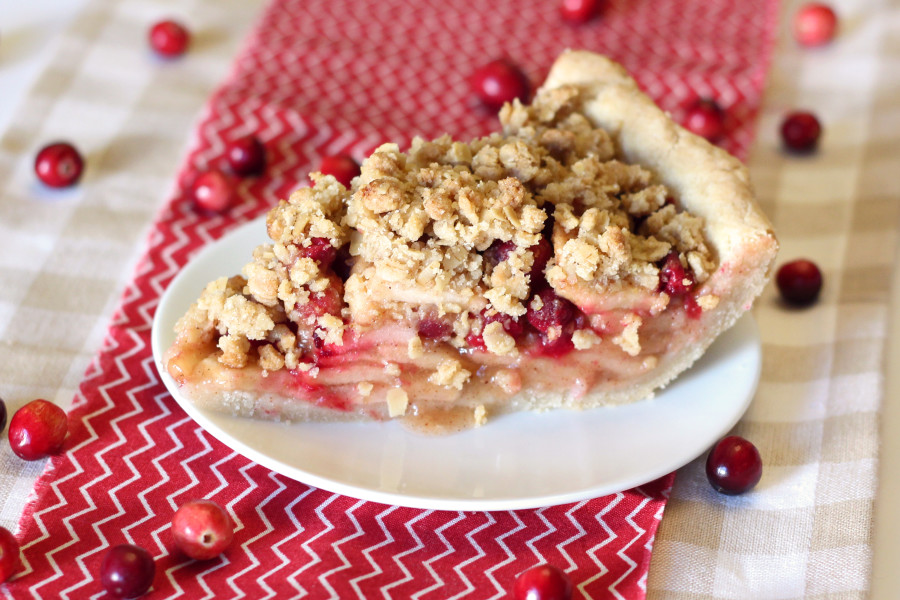 gluten free vegan apple cranberry pie
AUTHOR:
Sarah Bakes Gluten Free
RECIPE TYPE:
pies & tarts
INGREDIENTS
pie crust
1 1/2 cups Sarah's gluten free flour blend
2 tablespoon cane sugar
1/2 teaspoon salt
4 tablespoons vegan butter, cold
3 tablespoons organic non-hydrogenated shortening
4-6 tablespoons ice-cold water
1 teaspoon apple cider vinegar
apple cranberry filling
6 apples (such as granny smith or golden delicious), peeled, cored and sliced
2 cups fresh or frozen cranberries
1 tablespoon fresh lemon juice
1/3 cup cane sugar
2 tablespoons brown sugar
3 tablespoons Sarah's gluten free flour blend
1 teaspoon ground cinnamon
1/4 teaspoon ground nutmeg
crumb topping
1/2 cup certified gluten free oats
1/3 cup Sarah's gluten free flour blend
2 tablespoons cane sugar
2 tablespoons brown sugar
pinch sea salt
4 tablespoons vegan butter, melted
1 tablespoon pure maple syrup
INSTRUCTIONS
Sift together flour blend, sugar and salt. Add vegan butter and shortening. Using pastry cutter, combine ingredients until resembles a course meal.
Pour in 4 tablespoons cold water and vinegar. Continue to blend until dough comes together (add another tablespoon of water if needed).
Pat dough into round disc, wrap in plastic wrap and place in refrigerator for an hour or until ready to use.
Preheat oven to 350 degrees. Grease a 9-inch pie pan with extra shortening or cooking spray.
Place dough onto large piece of plastic wrap and top with another piece of plastic wrap. Roll out into 13-inch round with rolling pin.
Remove top piece of plastic wrap and place pie pan upside-down onto dough. Carefully flip pie pan, along with dough. Remove plastic wrap.
Press dough into pie pan, pressing together any cracks and crimp edges. Refrigerate while preparing filling and topping.
Peel, core and thinly slice apples. Place in large bowl, along with cranberries. Toss with lemon juice.
Sift together 1/3 cup sugar, 2 tablespoons brown sugar, 3 tablespoons flour, cinnamon and nutmeg. Sprinkle over apple mixture and stir gently to coat. Set aside.
To make crumb topping, mix together oats, flour, sugar, brown sugar and salt. Add melted vegan butter and maple syrup. Blend until crumb mixture comes together.
Remove pie crust from refrigerator. Fill pie with apple cranberry mixture, evenly spreading out apples and cranberries. Sprinkle crumb topping over fruit.
Bake pie for 45-55 minutes, until crust and crumb topping are golden brown. Allow pie to cool on cooling rack. Serve warm with vanilla coconut milk ice cream.