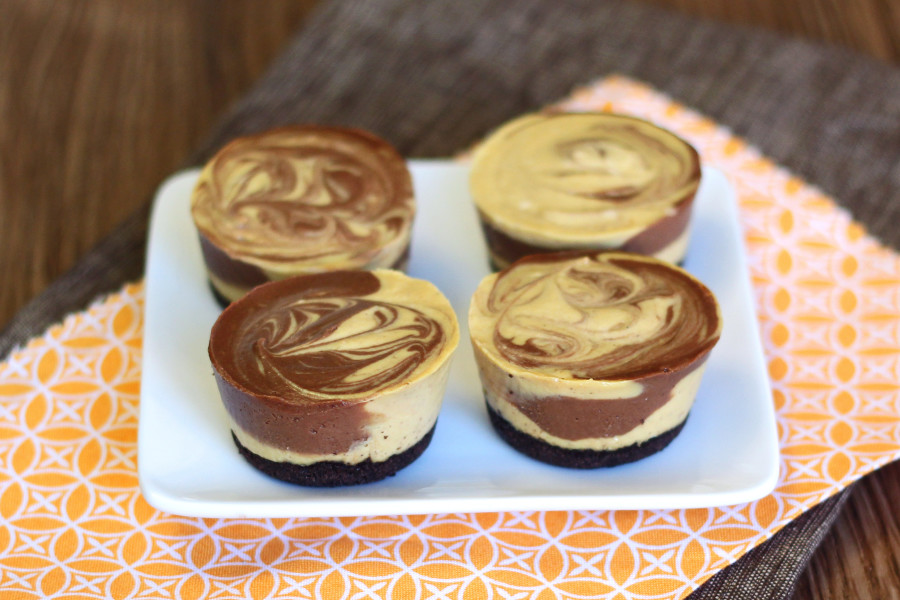 Mini chocolate pumpkin cheesecakes. Well, aren't you a sight for sore eyes? Gluten free chocolate cookie crust with a vegan chocolate-pumpkin swirl cheesecake filling. No baking. No dairy. It's just magical.
My mom came over the other day and I served her these little gems. She said to me, "Sara, this is the most amazing dessert EVER!" My mom may be my biggest fan, but she is quite smitten with my gluten free vegan cheesecakes. This recipe did not disappoint her in any way. The combination of chocolate and pumpkin is so right in so many ways!
For those of you who have not tried the cashew cheesecake recipes that I've shared on here, please don't wait any longer. I'm telling you, they will change your life. By far the most decadent cheesecakes you will ever put in your mouth. Cheese lovers and all will fall head over heals for these dairy free bites of deliciousness. Promise me you'll give these a try and be sure to post a comment below or share on instagram!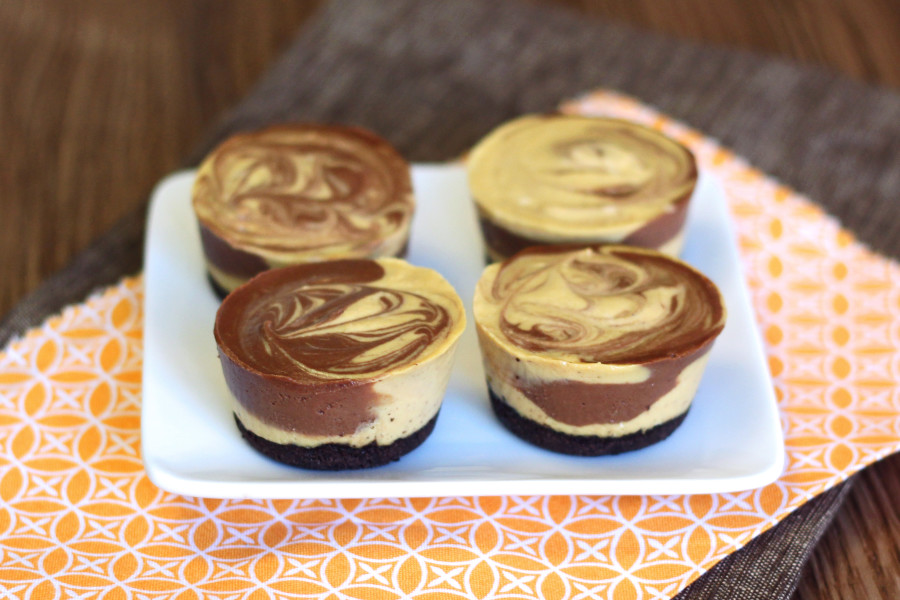 gluten free vegan mini chocolate pumpkin cheesecakes
AUTHOR:
Sarah Bakes Gluten Free
SERVES:
30 mini cheesecakes
INGREDIENTS
18 gluten free vegan chocolate sandwich cookies (such as
Glutino
)
2 tablespoons melted vegan butter
pumpkin filling
2 1/2 cups raw cashews, soaked
1 cup pure pumpkin puree
1/2 cup coconut oil, melted
1/2 cup coconut sugar or brown sugar
1/3 cup pure maple syrup
3 tablespoons So Deliciousunsweetened coconut milk
2 tablespoons fresh lemon juice
1 teaspoon pure vanilla extract
1 teaspoon ground cinnamon
1/2 teaspoon ground ginger
1/4 teaspoon ground nutmeg
chocolate filling
1 cup reserved pumpkin filling
1/4 cup cocoa powder
2 tablespoons pure maple syrup
INSTRUCTIONS
To make crusts, place chocolate sandwich cookies in food processor or high-powered blender. Blend on high for 1 minute. Add melted vegan butter and pulse until fine crumbs form. Divided crust evenly into greased mini-muffin pan or mini cheesecake pan (I used a non-stick silicone mold). Place in refrigerator to chill while you make filling.
Start by soaking raw cashews in very warm water for 30 minutes. Drain cashews and add to food processor or high-powered blender, along with pumpkin puree, coconut oil, brown sugar, maple syrup and coconut milk. Blend on high for 1-2 minutes, until smooth and creamy (scrape down sides with rubber spatula for even blending). Add lemon juice, vanilla, cinnamon, ginger and nutmeg. Blend an additional minute.
Remove 1 cup pumpkin filling and set aside. In small bowl, mix together cocoa powder and 2 tablespoons maple syrup. Add to 1 cup reserved pumpkin filling and stir to combine. Remove chilled crusts from refrigerator. Divide pumpkin filling and chocolate filling over each crust, by alternating between mixtures, starting with pumpkin mixture. Swirl gently with toothpick to create swirl in cheesecakes.
Cover with plastic wrap and carefully place cheesecakes in freezer for 2-3 hours to become firm. Remove cheesecakes from freezer when set and carefully remove each one from pan. Store in air-tight container in refrigerator. Serve chilled.