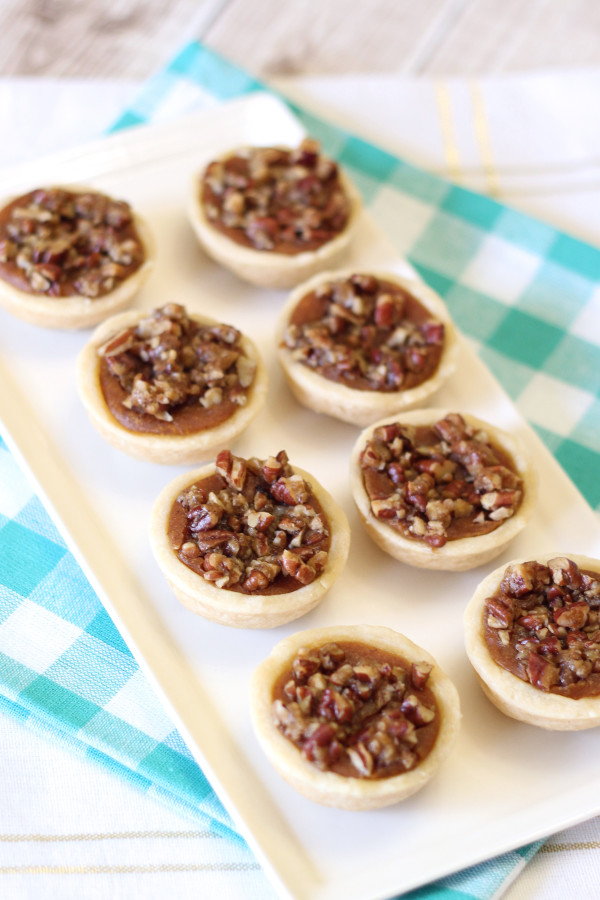 Hold me closer, tiny tartlets. You get me with your cuteness. Every. Single. Time. Pies may be gorgeous and rustic, but tartlets are irresistible. Two bites and you're done. Then you eat another one….and then another.
I received many requests for pecan pie this month. It's just that time of year! Pecan pie is a bit too sweet for me and I'm not a huge fan of the texture. Since I can't do eggs, I decided to use my pumpkin pie recipe as the base. I made tiny pumpkin pie tartlets, topping them with chopped, glazed pecans. Two pie favorites in one. I think it's winner, if you ask me (and my friend Stephanie).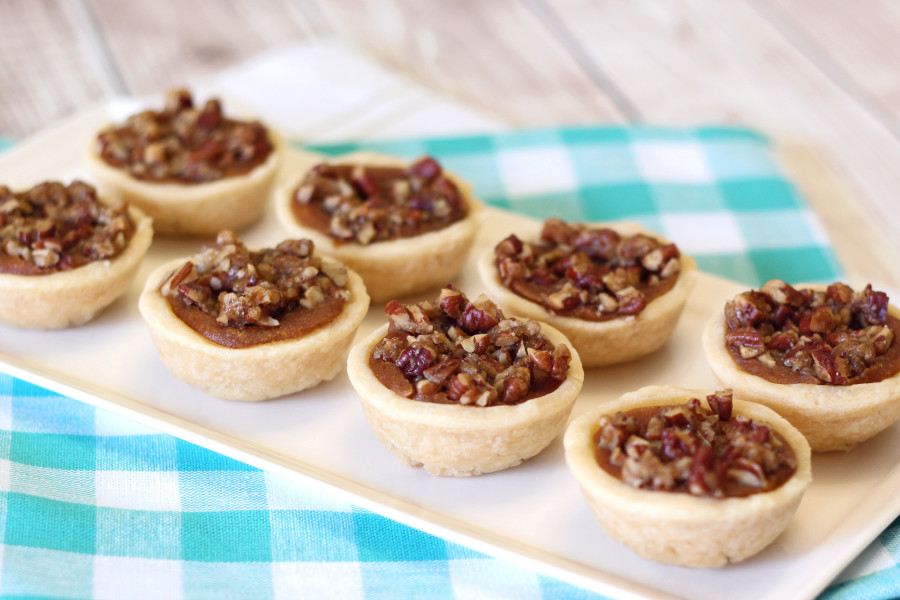 For this recipe, I'm featuring 
Bob's Red Mill Gluten Free Pie Crust Mix
. Have you given it a try yet? Great flour blend for pies! Works well for creating a flakey, tender crust. This pie crust mix is a fabulous addition to my gluten free baking. It's available at many grocery stores now, especially around the holidays. Bob's Red Mill is giving away a
4-pack of the pie crust mix
to one of you! Be sure to enter below. You can keep up with all of Bob's Red Mill happenings and new products by following them on 
facebook
, 
twitter 
or 
instagram
. Now let's move on to what's most important here, baking these gluten free vegan pumpkin pecan tartlets!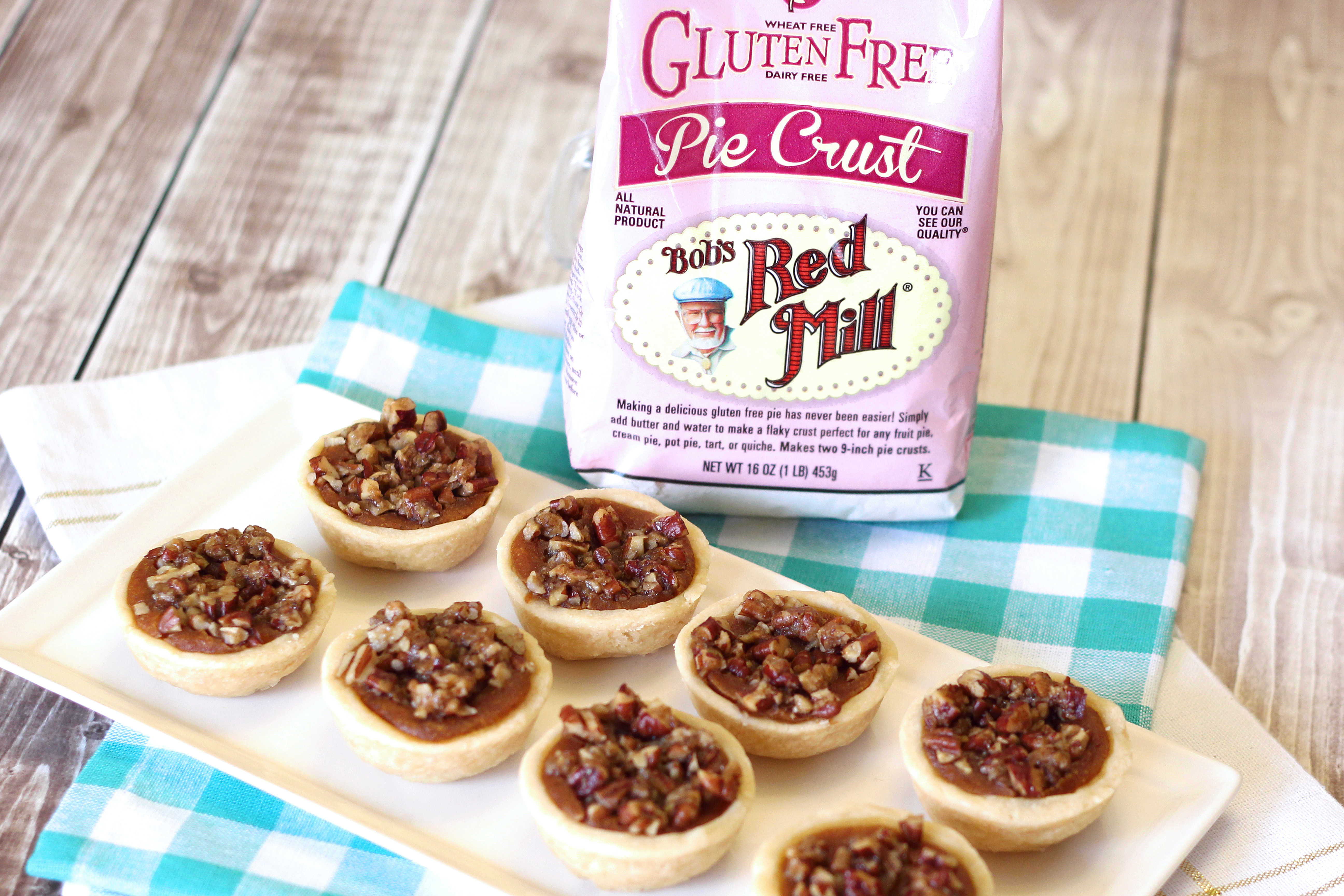 gluten free vegan pumpkin pecan tartlets
AUTHOR:
Sarah Bakes Gluten Free
RECIPE TYPE:
pies & tarts
INGREDIENTS
pie dough
pumpkin filling
1 cup pure pumpkin puree
1/2 cup So Delicious original culinary coconut milk, stirred
1/4 cup cane sugar
1 tablespoon pure maple syrup
1/2 teaspoon pure vanilla extract
2 tablespoons cornstarch or tapioca starch
1/2 teaspoon ground cinnamon
1/4 teaspoon ground ginger
dash ground nutmeg
pecan topping
1/3 cup chopped pecans
1 tablespoon Earth Balance vegan butter, melted
1 tablespoon brown sugar
INSTRUCTIONS
Sift together flour blend and salt in large mixing bowl. Add cold vegan butter and shortening. Using pastry cutter, combine until resembles a course meal and butter pieces are less than pea-size.
Pour in 4 tablespoons cold water. Continue to blend until dough comes together (add 1-2 tablespoons water if needed). Pat dough into round disc, wrap in plastic wrap and place in refrigerator for 30 minutes.
While dough chills, make pumpkin filling. Mix together pumpkin puree, coconut milk, sugar, maple syrup and vanilla. Add cornstarch, cinnamon, ginger and nutmeg. Whisk until smooth and well blended. Set aside.
To make pecan filling, stir together melted vegan butter and brown sugar until combined. Stir in pecans to coat.
Preheat oven to 350 degrees. Prepare mini muffin pan by spraying with non-stick cooking spray.
Remove dough from refrigerator. Place dough onto large piece of plastic wrap and top with another piece of plastic wrap. Roll into 1/4-inch thick. Cut dough into 2-inch rounds using circle cookie/biscuit cutter. Place rounds into prepared muffin tin. Gently press dough into bottom and up sides of cups.
Fill each pie shell with pumpkin filling, about 1 tablespoon. Top each with 1 teaspoon pecan topping.
Bake tartlets for 32-35 minutes or until center is set and crust is golden brown. Allow to cool in pan for 10 minutes. Carefully remove from pan and cool on cooling rack.
Store in air-tight container, chilled if you prefer.
NOTES
*If you are unable to find Bob's Red Mill gluten free pie crust mix, you can substitute by using my gluten free flour blend, plus 1 tablespoon cane sugar.
You know you want a chance to win a 4-pack of Bob's Red Mill Gluten Free Pie Crust. That means you could make 8 single-crust pies or enough tiny tartlets for all of your family and friends. Just in time for the holidays! Enter in the widget below and be sure to leave a comment. Tell me, "what is your most requested pie on Thanksgiving?" You can receive extra entries by liking Bob's Red Mill on facebook, tweeting about the giveaway or sharing on instagram. The last day to enter is Wednesday, November 20. I'll announce the winner on Thursday. Good luck, all you gluten free bakers!
THIS GIVEAWAY HAS ENDED.