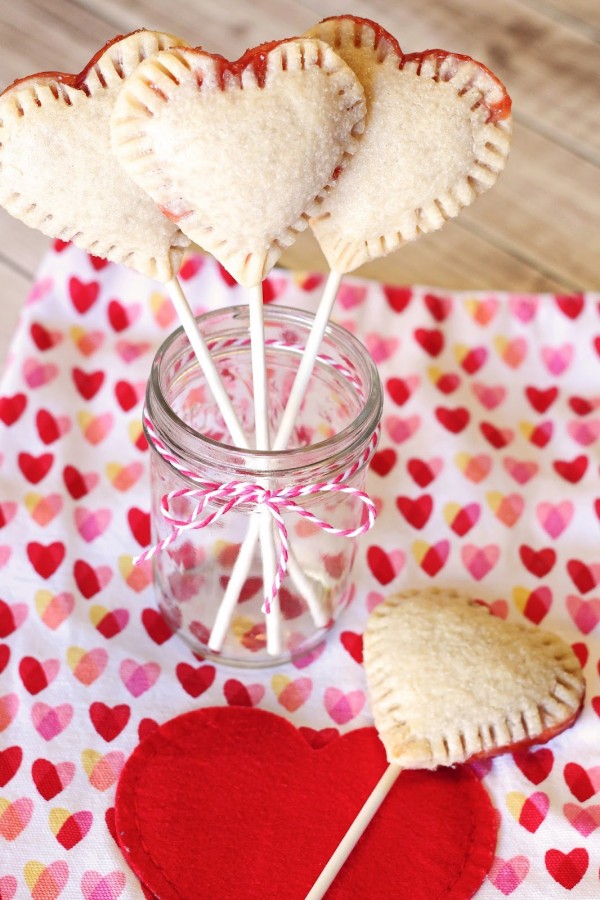 Love is in the air! It's February, the month of L.O.V.E. I know the haters are gonna hate, but I like to get all lovey-dovey and make cutesy gifts for my husband and kids. It's just a fun excuse to celebrate!
When it comes to making Valentine's, homemade is always best. Frosted sugar cookies, cake pops, mini chocolate chip cookies or how about something new? How about these ADORABLE heart pie pops? Just take your favorite gluten free pie crust pie crust, fill with your favorite berry jam (I used sweet strawberry), insert a lollipop stick and bake. Yes, they are that easy!
Little pie pops on a stick. I just can't get over the cuteness. These would be great to make for your kids to pass out to their friends. Cover pie pop with clear baggie, tie with twine or ribbon and attach a little paper tag. These little heart-shaped treats make my heart happy.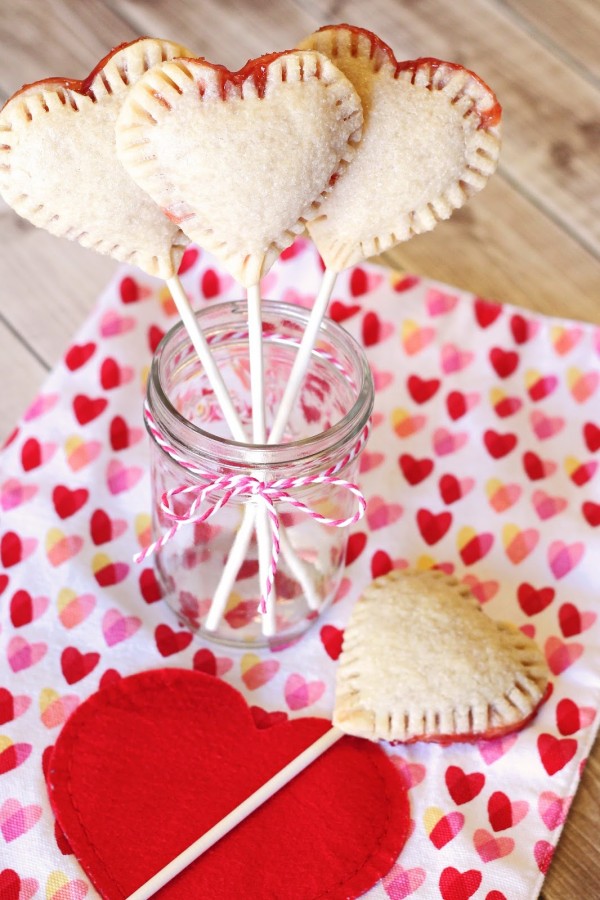 gluten free vegan heart pie pops
AUTHOR:
Sarah Bakes Gluten Free
RECIPE TYPE:
pies & tarts
INGREDIENTS
pie crust
pie filling
1/2 cup strawberry, raspberry or cherry jam
2 tablespoons So Delicious Dairy Free coconut milk or almond milk
2 tablespoons cane sugar
15 lollipop sticks
INSTRUCTIONS
Sift together flour blend, sugar and salt in large mixing bowl. Add vegan butter and shortening. Using pastry cutter, combine ingredients until resembles a course meal.
Pour in 4 tablespoons cold water. Continue to blend until dough comes together (add another tablespoon of water if needed).
Pat dough into round disc, wrap in plastic wrap and place in refrigerator for one hour or until ready to use.
Preheat oven to 350 degrees. Line two large baking sheets with parchment paper.
Place dough onto large piece of plastic wrap and top with another piece of plastic wrap. Roll out until 1/4-inch thick. Remove top piece of plastic wrap.
Using heart-shaped cookie cutter, cut out 24-30 hearts. Repeat with remaining dough if necessary.
Place half of hearts onto prepared cookies sheets, leaving room for lollipop sticks (I put 6 hearts on each pan). Fill each heart with about 2 teaspoons jam, leaving edges clean.
Press lollipop stick into bottom of jam-filled hearts. Top with additional heart. Crimp edges with fork.
Brush each heart with coconut milk and sprinkle with cane sugar.
Bake pie pops for 20-24 minutes, until edges are golden brown. Carefully place pie pops on cooling rack to cool completely.