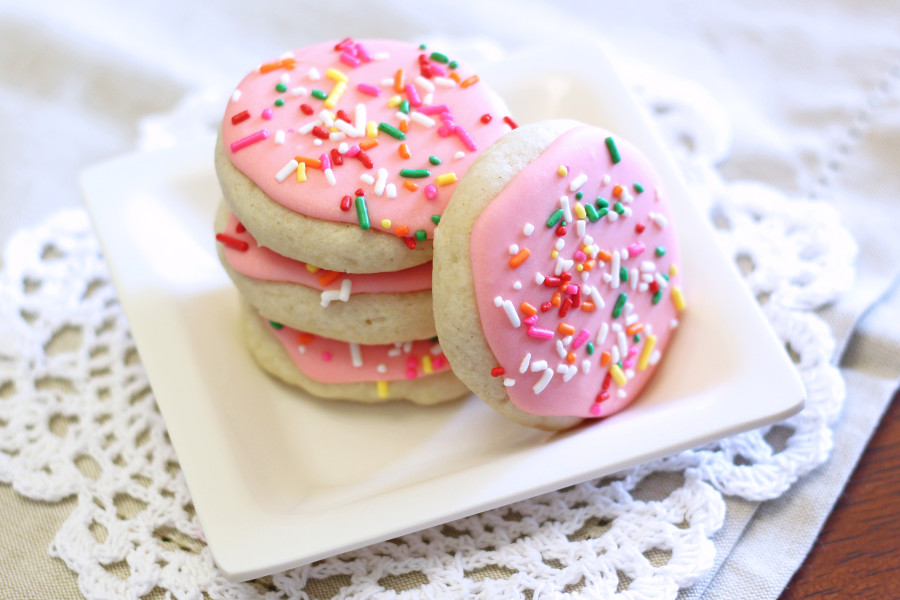 Soft, frosted sugar cookies. My weakness. I can't resist them nor do I want to. They are just so cute with their pink frosting (my favorite) and rainbow sprinkles. Who could deny such a simple, adorable cookie?
It was a no brainer that I needed to create a recipe for gluten, dairy and egg free version of my most favorite cookies. Once I created my cutout sugar cookies, I knew I had a good start. I changed the recipe a teeny-tiny bit and viola! They became soft, pillowy sugar cookie goodness. I frosted them with a simple vanilla frosting, topped with fun sprinkles and they were done. Complete. Perfection.
I try not to make these cookies too often because they are way too tempting. So tasty! That's why I make them for birthday parties or holiday celebrations, when there are lots of little taste testers. They are also really fun for the kids to decorate too. Mix and match the frosting and sprinkle colors. Everyone will love getting in on the soft sugar cookie frosting action!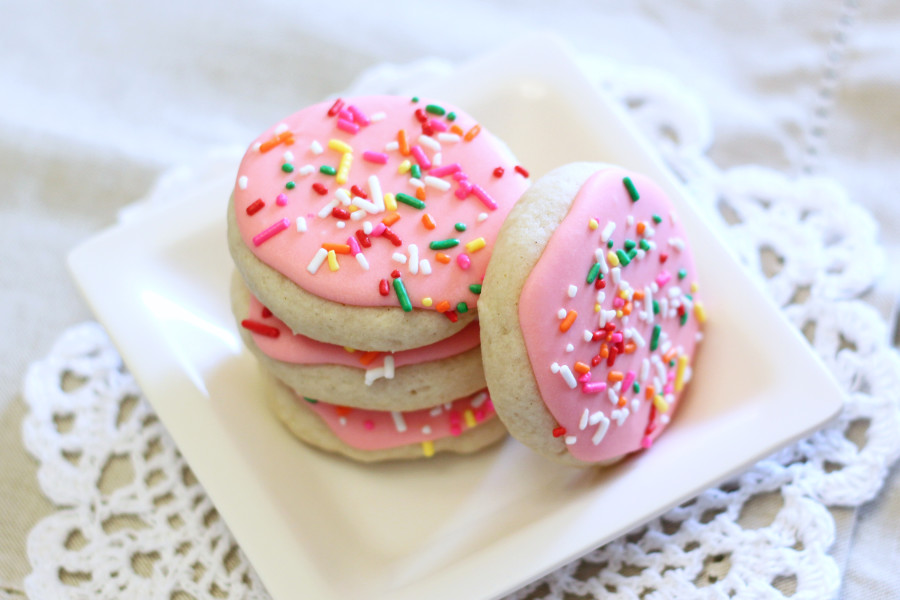 gluten free vegan soft frosted sugar cookies
AUTHOR:
Sarah Bakes Gluten Free
INGREDIENTS
sugar cookies
2 cups Sarah's gluten free flour blend*
1 teaspoon baking powder
1/2 teaspoon salt
1 1/2 cups organic powdered sugar
1/3 cup coconut oil, soft
1/2 cup So Delicious unsweetened coconut milk, room temperature
1 1/2 teaspoons vanilla extract
vanilla frosting
2 1/2 cups organic powdered sugar
3-4 tablespoons So Delicious unsweetened coconut milk, room temperature
2 tablespoons Earth Balance vegan butter, softened
1 teaspoon pure vanilla extract
food coloring (optional)
colored sprinkles (optional)
INSTRUCTIONS
Preheat oven to 350 degrees. Line baking sheets with parchment paper.
In medium bowl, sift together flour blend, baking powder and salt. Set aside.
In bowl of stand mixer, beat together powdered sugar, coconut oil, coconut milk and vanilla until creamy. Add flour mixture and continue to mix until combined. Dough will thicken as you stir.
Roll 2-tablespoon size scoops of dough into balls and place onto prepared baking sheet. Flatten slightly with fingers to 1/2-inch thick.
Bake cookies for 8-10 minutes. Do not over bake, as cookies won't turn golden brown. Remove cookies from oven and place on cooling rack to cool completely.
To make vanilla frosting, mix together powdered sugar, 3 tablespoons coconut milk, vegan butter and vanilla. Beat until smooth and creamy.
Add an additional 1-2 tablespoons of coconut milk to frosting, until desired consistency. Add a few drops of food coloring (if desired).
Frost cookies and sprinkle with colored sprinkles. Allow frosting to set before storing cookies.
NOTES
*For this recipe, I used my lighter flour blend by replacing the sorghum flour with white rice flour.