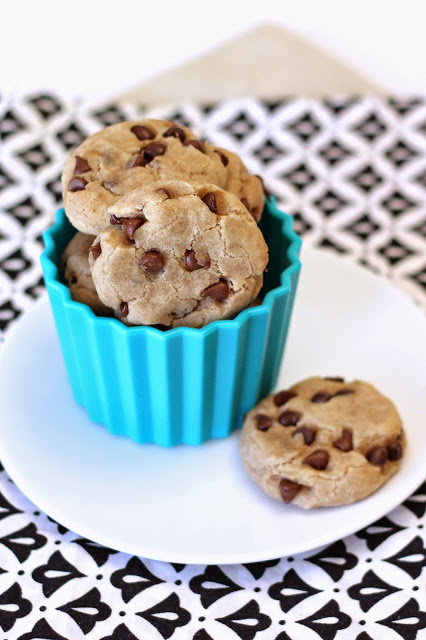 Mini chocolate chip cookies! Just about the cutest thing I ever did see. Makes me feel like a kid again.
Bite-size treats are my kind of treats. I like them, well, because they're cute. Of course. But I prefer them most of all because I don't feel too bad when I eat more than one (which is always). If you offered a child one regular size cookie or two mini cookies. Of course they would go for two mini's! One for each hand. Everybody knows two cookies is better than one.
I can't stop making this chocolate chip cookie dough. I've made countless batches of the cookies and then I discovered the beauty of it baked into bars. Now miniature form with mini chocolate chips. All irresistible. All chewy, gooey. All splendid served with a scoop of So Delicious vanilla coconut milk ice cream. How do you like to enjoy the perfect chocolate chip cookie?
gluten free vegan mini chocolate chip cookies
makes 48 mini cookies
2 1/3 cups Sarah's gluten free flour blend
1 teaspoon baking powder
1/2 teaspoon baking soda
1/2 teaspoon sea salt
3/4 cup organic brown sugar
1/2 cup organic cane sugar
1/2 cup coconut oil, softened
1/4 cup So Delicious unsweetened coconut milk, room temperature
2 tablespoons pure maple syrup, room temperature
2 teaspoons pure vanilla extract
1 cup dairy free mini chocolate chips (I used Enjoy Life)
Preheat oven to 350 degrees. Line baking sheets with parchment paper. In medium bowl, sift together flour blend, baking powder, baking soda and salt. Set aside. In large mixing bowl, cream together brown sugar, sugar and coconut oil. Add coconut milk, maple syrup, and vanilla. Mix until blended. Add flour mixture and chocolate chips. Stir until just combined.
Roll tablespoon size scoops of cookie dough into balls and place onto prepared baking sheet. Slightly flatten with fingers (cookies won't spread). Bake for 6-8 minutes. Be careful to not over bake. Cookies will be soft to the touch. Place cookies on cooling rack to cool completely. Store in air-tight container.