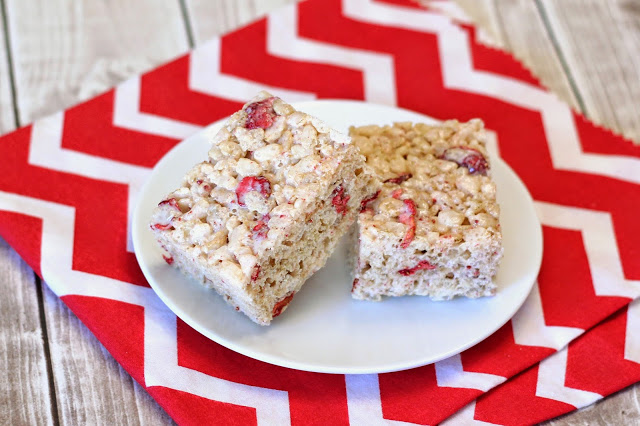 Happy Memorial Day! I'm sharing a quick, easy treat with you, perfect for this holiday weekend. As much as I love the classic rice crispy treats, I like the idea of changing the flavor to something fun and fruity. I had a bag of freeze-dried strawberries from Trader Joe's in the panty. Mixed them in and couldn't stop licking the bowl. So yummy!
Rice crispy treats are a favorite in our house. When this mom doesn't feel like turning on the oven (especially in the hot summer months) this is our go-to dessert. The kids like to help too. Are you a fan of no-bake treats? What are some of your favorites to make for your family?
gluten free strawberry rice crispy treats
makes 24 treats
3 tablespoons butter or Earth Balance dairy free butter
40 regular marshmallows or 4 cups miniature marshmallows
6 cups gluten free crispy rice cereal
1 teaspoon pure vanilla extract
1 oz. bag freeze-dried strawberries, slightly crushed (found at Target and Trader Joe's)
Prepare 11×17-inch or 2 8×8-inch square baking dishes by lining with parchment paper or spraying with nonstick cooking spray. Set aside. In large pot, melt butter and marshmallows over medium-low heat. When melted and smooth, remove from heat and add vanilla. Stir in crispy rice cereal and strawberries. Mix until evenly coated.