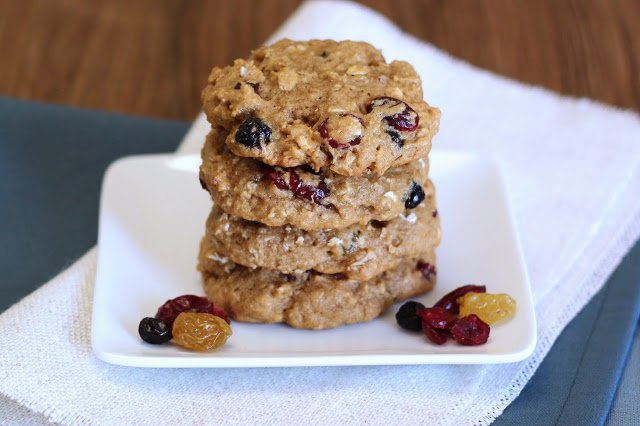 Oatmeal cookies. Probably my favorite. My husband, not so much. He is MY favorite, but oatmeal cookies are not his cookie of choice. I think it's a texture thing. I don't get it. That's what I love about them. However, when he ate one of these cookies off the cooling rack, he surprised me and said, "hey, these are really good!"
These mind-changing fruity oatmeal cookies are gluten, egg, dairy and refined sugar free. Yep. Sweetened with coconut sugar and pure maple syrup. If you haven't baked with coconut sugar, it's very similar to brown sugar. You can use it cup-for-cup in most recipes. The taste is rich and completely satisfying. It's also low glycemic and full of amino acids.
I mixed up my oatmeal cookies this time and instead of adding just raisins or chocolate chips, I did a medley of dried fruit. I found a yummy mix at Trader Joe's that had dried cranberries, dried cherries, dried blueberries and golden raisins. Sounded like the perfect mix for a batch of oatmeal cookies! You get a new fruity flavor with each bite. Go ahead. Make these healthy cookies and don't feel bad about eating two. Or maybe three.
gluten free vegan fruity oatmeal cookies
makes 24 cookies
1 1/2 cups Sarah's gluten free flour blend
1 cup certified gluten free rolled oats
1 teaspoon baking powder
1/2 teaspoon baking soda
1/2 teaspoon sea salt
1 cup coconut sugar or brown sugar
3 tablespoons coconut oil, softened
1/4 cup unsweetened applesauce
3 tablespoons pure maple syrup
2 tablespoons So Delicious unsweetened coconut milk
1 teaspoon pure vanilla extract
1 cup mixed dried fruit (dried cherries, cranberries, blueberries, raisins)
In medium bowl, sift together flour blend, oats, baking powder, baking soda and salt. Set aside. In large mixing bowl, cream together coconut sugar and coconut oil. Mix in applesauce, maple syrup, coconut milk and vanilla. Beat until smooth. Add the flour mixture and dried fruit. Stir until combined. Cover dough and refrigerate for 1-2 hours or overnight.
Preheat oven to 350 degrees. Line baking sheets with parchment paper. Drop heaping-tablespoon scoops of cookie dough onto prepared baking sheet. Slightly flatten with with fingers. Bake for 9-10 minutes or until just golden brown. Place cookies on cooling rack to cool completely. Store in air-tight container.