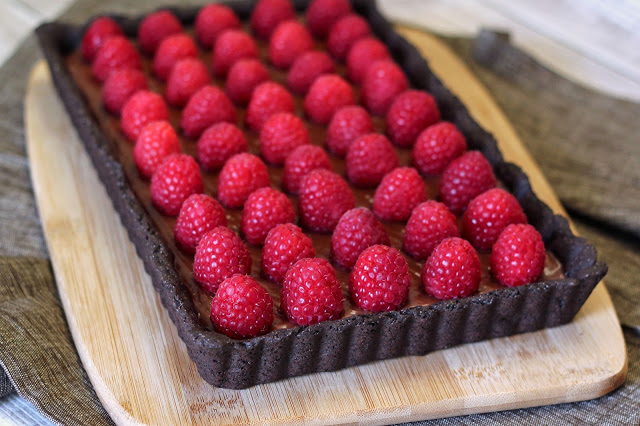 Hosting makes me happy. Whether it's having friends over for dinner, throwing a birthday celebration or coffee with a girlfriend. I just love being in the kitchen and preparing a meal for those that are a blessing in my life. It's my way of saying, "I'm so thankful for our friendship!"Whenever we do invite friends over to share a meal together, they know some type of gluten free goodies will be involved. I surely don't mind the expectation!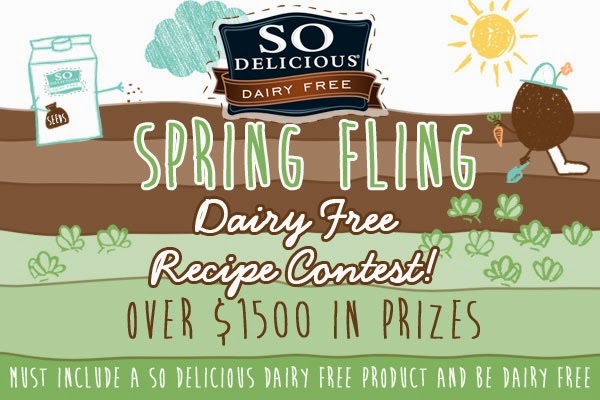 We recently had some friends over for lunch after church and I made this HEAVENLY gluten free vegan chocolate raspberry tart. I was still dreaming of about the fresh fruit tart I made a few weeks ago so I had to try out a chocolate version. Maybe that was a bad idea. This tart has a chocolate cookie crust (think Oreos), a smooth chocolate cream filling and is covered in fresh raspberries. Aren't raspberries one of the prettiest fruits? Gorgeous. It all comes together in a chocolatey chilled treat.
This is it! My final recipe entered into the Spring Fling Dairy Free Recipe Contest, put on by Go Dairy Free and So Delicious. I love these recipe contests! They are a challenge for me and when it comes to baking, I love a challenge. Getting in the kitchen to create something I've never attempted before. You can thank this contest for my 2 new tart recipes. They will be a great addition to your spring and summer recipes, perfect for a backyard barbecue with those you love!
gluten free vegan chocolate raspberry tart
serves 8-10
chocolate cookie crust
1/4 cup Dutch process cocoa powder
1/2 teaspoon baking powder
1/4 teaspoon salt
3 tablespoons Earth Balance vegan butter, cold
1/3 cup organic cane sugar
2 tablespoons So Delicious unsweetened coconut milk
1/2 teaspoon pure vanilla extract
chocolate cream
1/4 cup organic cane sugar
2 tablespoons cornstarch
1/4 teaspoon salt
11 oz. container So Delicious original culinary coconut milk, full fat*
3/4 cup dairy free chocolate chips
1 teaspoon pure vanilla extract
2 cups fresh raspberries
Sift together flour, cocoa powder, baking powder and salt. In large mixing bowl of standing mixer, cream together vegan butter and sugar for 1 minute. Add coconut milk and vanilla. While mixer is on low, slowly add flour mixture. Continue to beat on medium speed for 1-2 minutes, until dough comes together. Pat dough into round disc. Wrap in plastic wrap and refrigerate 1-2 hours or overnight.
Preheat oven to 350 degrees. Prepare 9-inch round or rectangle tart pan with removable base by spraying with nonstick cooking spray. Remove dough from refrigerator and place between 2 pieces of plastic wrap. Roll out to 12-inch circle or rectangle (depending on tart pan). Remove top sheet of plastic wrap and turn dough onto tart pan. Peel off plastic wrap. Fold overhanging dough and smooth out edges. Prick bottom of dough with fork. Bake for 15-17 minutes. Allow crust to cool completely on cooling rack.
While crust is cooling, make chocolate pudding. Whisk together sugar, cornstarch and salt in medium saucepan. Over medium heat, whisk in coconut milk. While stirring constantly, cook until bubbly and thick (about 5 minutes). Remove from heat and add chocolate chips and vanilla. Whisk until chocolate chips are completely melted. Pour warm pudding into cooled crust. Cover with plastic wrap touching pudding. Refrigerate until set, 1-2 hours or overnight. On day of serving tart, top with raspberries. Cover with plastic wrap and place back in refrigerator until ready to serve. Slice and serve tart chilled.
*If you are unable to find So Delicious culinary milk, you can substitute 14 oz. can full-fat coconut milk.