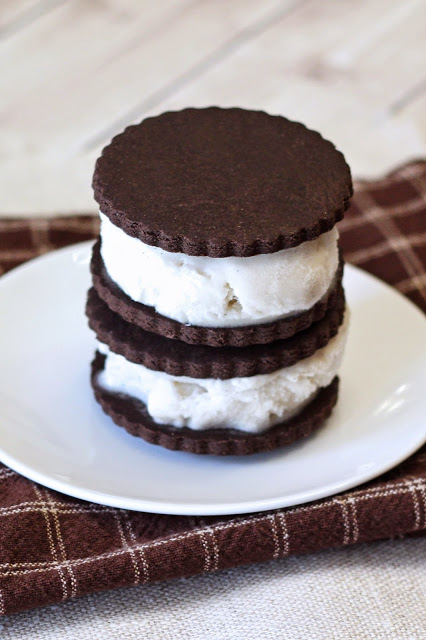 Summer is a comin'! That dreadful heat has already hit us here in California. The AC is on and shorts are making their appearance (whether my white legs like it or not). The kids are asking for popsicles and ice cream as their treat. I don't blame them. Anything to keep cool!
I became the coolest mom ever the other night when I tested out these ice cream sandwiches. I don't know if Kaden has ever had one since we cut gluten out of his diet. I've completely deprived my child! I guess I have made them with chocolate chip cookies, but never the classic chocolate cookie with vanilla ice cream. One of my most beloved ice cream bars as a kid. It was always my first choice.
Want to know why I love these gluten free vegan ice cream sandwiches so much? Well, other than they are crazy good. You make the sandwiches, wrap individually and then you have them in the freezer whenever you fancy an ice cream treat! Brilliant. These will surely be a staple in our house during the summer months. You can get creative and use any flavor of dairy free ice cream. My favorite is the So Delicious vanilla bean coconut milk ice cream. Classic. Perfection!
gluten free vegan ice cream sandwiches
makes 12-14 ice cream sandwiches
2 cups Sarah's gluten free flour blend*
1/2 cup Dutch-process cocoa powder**
1 teaspoon baking powder
1/2 teaspoon salt
1 1/2 cups organic powdered sugar
1/3 cup coconut oil, soft
1/3 cup So Delicious unsweetened coconut milk, room temperature
2 teaspoons vanilla extract
2 cartons So Delicious vanilla bean coconut milk ice cream
Preheat oven to 350 degrees. Line baking sheets with parchment paper. In medium bowl, sift together flour blend, cocoa powder, baking powder and salt. Set aside. In bowl of stand mixer, beat together powdered sugar, coconut oil, coconut milk and vanilla until creamy. Add flour mixture and continue to mix until combined, 1-2 minutes (add an additional tablespoon of coconut milk if needed). Form into patty and wrap in plastic wrap. Let dough chill in refridgerator for 10-15 minutes. If you would like to make dough in advance, store wrapped in refrigerator. Let rest on counter for 1-2 hours before ready to use.
On counter, lay out large piece of plastic wrap. Place cookie dough in the center and top with another piece of plastic wrap. Roll with rolling pin until dough is 1/4″ thick. Using cookie cutters, cut dough into circles or squares. Place cookies on prepared baking sheets. Bake for 7-8 minutes. Remove cookies from oven and place on cooling rack to cool completely.
To assemble ice cream sandwiches, allow coconut milk ice cream to soften until soft enough to easily scoop. Place ice cream scoop onto upside-down cookie. Place another cookie on top and gently press. Wrap with plastic wrap. Immediately place in freezer and repeat with remaining cookies and ice cream. Freeze until firm for easy eating.
*For this recipe, I used the lighter flour blend by replacing sorghum flour with white rice flour.
**Dutch-process cocoa powder gives you darker, almost black chocolate cookies. Regular cocoa powder will work just fine, it will just result in lighter cookie.