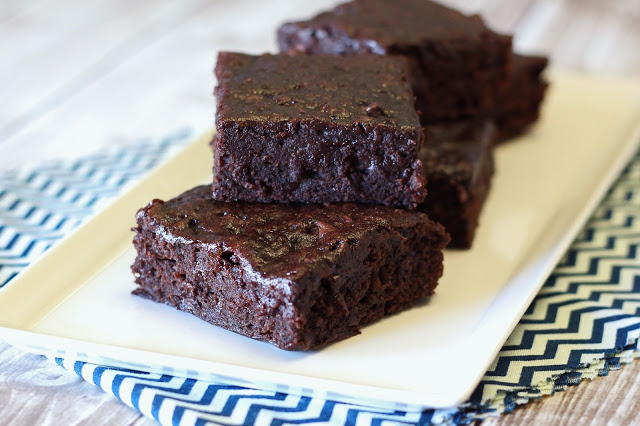 Ooey, gooey brownies comin' at ya! I can't tell you how many times I have made a batch of brownies and only wanting one thing. Fudgy brownies. No cakey. No dry brownies for this girl. I like them dense and oh so chocolatey!
These gluten free vegan brownies are double the chocolate and sink your teeth in delicious. I've made these brownies with coconut oil before, but for now I'm in favor of using the melted non-hydrogenated shortening. It gives just the right texture. I've made you the easiest, fudgiest brownies around. Little bits of mini chocolate chips throughout, just kicks that chocolate factor up a notch. My husband prefers these with a giant scoop of vanilla ice cream. I'm in full support of this combination.
Grab a big mixing bowl and turn that oven on. You're making the best fudgy brownies. It's time to get baking!
gluten free vegan fudgy brownies
makes 9-12 brownies
1/2 cup cocoa powder
1/2 brown sugar
1/2 cup cane sugar
1/2 teaspoon baking powder
1/2 teaspoon sea salt
3/4 cup hot water
1/3 cup Spectrum organic non-hydrogenated shortening, melted
2 teaspoons pure vanilla extract
1/2 cup dairy free mini chocolate chips
Preheat oven to 325 degrees. Prepare 8×8-inch baking dish by lining with parchment paper or spraying with cooking spray. In large mixing bowl, whisk together flour, cocoa powder, brown sugar, sugar, baking powder and salt. Add hot water, melted shortening and vanilla. Mix until just combined. Stir in chocolate chips.
Pour batter into prepared baking dish. Bake brownies for 26-28 minutes, until center is set. Allow to cool in pan for 15-20 minutes. Carefully lift brownies out of pan, using the parchment paper. Cut into squares. Store in air tight container.