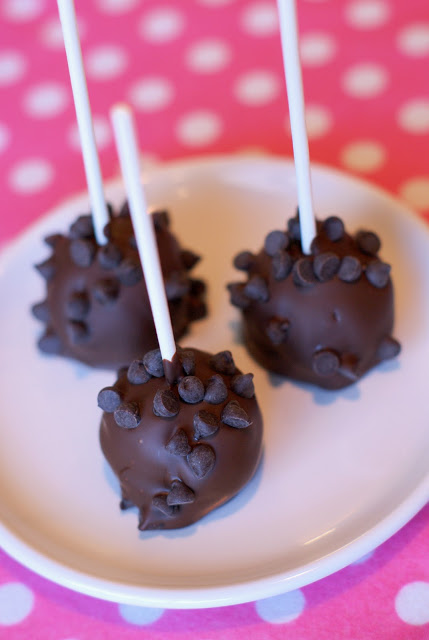 There are some things in the life that you just can't live without. In my opinion, chocolate is one of them! Anyone else with me? Now even if you are gluten free, dairy free, soy free…you can still enjoy the wonderful taste of chocolate. It's true! Enjoy Life (a company I just love) makes allergen free chocolate that melts my heart. I pretty much always have two or three bags of their mini chocolate chips in my pantry. They are truly a staple in this baking girl's kitchen!
Before sharing my post on the GFAF Expo (which was beyond FABULOUS!), I thought I would entice you with one more perfectly perfect dessert for Valentine's Day. You only have a couple days to gather your ingredients and make a batch of these adorable chocolate cake pops! This cake recipe was made for cake pops, as it is slightly sweet since you later add the frosting to it to make the dough. There are quite a few steps to making cake pops, but it is so worth the end result. With the chocolate cake center, the chocolate coating, and mini chocolate chips on top…it's a triple chocolate explosion in your mouth! I like to wrap them up in a cellophane bag and tie with ribbon. And we all know…every treat tastes better when it looks cute!
gluten free vegan chocolate cake pops
makes 24 pops
cake
1/2 cup cocoa powder
3/4 cup organic cane sugar
1 tablespoon instant coffee granules or espresso powder
1 teaspoon baking soda
1/2 teaspoon sea salt
1/2 cup water
1/4 cup pure maple syrup
1/4 cup sunflower seed oil
1/4 cup unsweetened applesauce
1 teaspoon apple cider vinegar
1 teaspoon pure vanilla extract
frosting
1/2 cup powdered sugar
1 tablespoon organic non-hydrogenated shortening
2 teaspoons coconut milk
coating
2 cups dairy free chocolate chips (I used Enjoy Life)
1 teaspoon shortening
24 lollipop sticks
dairy free mini chocolate chips*
Preheat
the oven to 350 degrees. Line 8×8-inch baking dish with parchment paper. Sift together the flour blend, cocoa powder, sugar, instant coffee, baking soda, and salt. In medium mixing bowl, whisk together the water, maple syrup, oil, applesauce, vinegar and vanilla. Slowly add in the dry ingredients and stir until combined. Pour the batter
into the prepared baking dish and bake for 25-28 minutes, until a
toothpick comes out clean. Cool in pan for 10 minutes. Remove from pan and cool completely on wire cooling rack.
To make the frosting, mix together the powdered sugar, shortening and milk. Set aside. Place cooled cake into large mixing bowl. Crumble cake using fork or fingers, until it becomes course crumbs. Add frosting and mix until the mixture starts to come together. Mixture is ready when you can roll a piece of dough into a ball. Cover and refrigerate for 1 hour to chill.
Line baking sheet with parchment paper. Roll the dough into 1-inch balls and place on cookie sheet. Place back in the refrigerator to chill. To make the chocolate coating, place the chocolate chips and shortening in microwave safe bowl. Microwave for 30 seconds on low. Stir and repeat until just about melted. You don't want the chocolate to become too hot. Stir until the chocolate is completely smooth and no lumps remain.
Remove cake balls from the refrigerator. Dip the end of the lollipop stick into melted chocolate. Place in cake ball. Repeat. Return to refrigerator for 10 minutes. Dip cake ball into melted chocolate. Gently tap off excess chocolate. Place on lined baking sheet. Sprinkle with mini chocolate chips. Place back in refrigerator for 15 minutes, to completely set. Store in airtight container in either the refrigerator or at room temperature.
*You could also use shredded coconut, toasted nuts, or fun sprinkles!