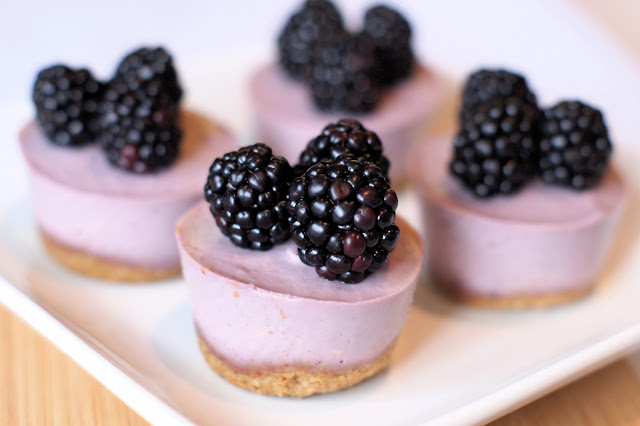 Love is in the air! Valentine's Day is just around the corner and it's time to start thinking about what to make for your special someone. Most people go for chocolatey desserts…not my husband (tragic, I know). Every year on Valentine's Day we choose to stay at home and after the kids go to bed, we enjoy a romantic dinner. Just the two of us. I try to come up with a new dessert that is both delicious and beautiful to compliment our meal. I think this special treat might be the one!
Refined sugar, gluten, and dairy free…these mini berry cheesecakes are simply marvelous! I took my recipe for
vegan mini coconut cream pies
and altered them into little, delightful cheesecakes. Sweetened with the delicate flavor of pure maple syrup and loaded with juicy berries. The crust is the perfect compliment, with oats and pecans. I seriously can't stand the cuteness of mini desserts. Mini pies, mini cupcakes, mini cheesecakes. Be still my heart. What dessert will you make this Valentine's Day to say "I love you"?
vegan mini berry cheesecakes
makes 16 mini cheesecakes
crust
3/4 cup certified gluten free oats
1/3 cup pecans, chopped
2 tablespoons pure maple syrup
2 tablespoons coconut oil, melted
filling
1 1/2 cups raw cashews, soaked
3/4 cup fresh or frozen berries*
1/3 cup So Delicious unsweetened coconut milk
1/2 cup pure maple syrup
1/4 cup coconut oil, melted
1 tablespoon fresh lemon juice
1/2 teaspoon lemon zest
1 teaspoon pure vanilla extract
1 cup additional berries, for garnish
Preheat oven to 350 degrees. To make crusts, place oats and pecans in food processor or high-powered blender. Grind for 30 seconds. Add maple syrup and melted coconut oil. Continue to blend until combined. Divided crust evenly into greased mini-muffin pan or mini cheesecake pan (I used a non-stick silicone mold which worked wonderfully). Bake for 10 minutes, or until golden brown. Allow to cool completely in the pan, while you make the filling.
Soak raw cashews in warm water for 30 minutes. Drain. Add soaked cashews, berries, coconut milk, and maple syrup to food processor or high-powered blender (I used my Blendtec). Blend on high for 1-2 minutes. Pour in melted coconut oil and continue to blend on high until smooth and creamy. Add lemon juice, zest, and vanilla. Pulse until combined. Pour berry mixture into pan, over the cooled crusts. Carefully place in freezer for 1-2 hours to become firm. Remove mini pies from pan and store in refrigerator. To serve, top with berries.