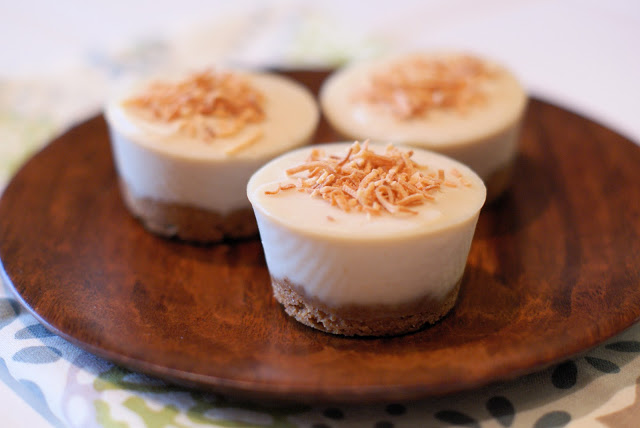 You know when you come up with a new recipe and you can't WAIT to share it? That is how I feel about these mini coconut cream pies! I have a deep, intense love for coconut. I've always loved any dessert where coconut is the star. I'm like my dad that way. His favorite dessert…coconut cream pie! Buttery crust with creamy pudding, filled with specks of shredded coconut. Every bite is heavenly!
Now, traditional coconut cream pie is loaded with butter, eggs, and cream. Three beautiful ingredients that are off limits for this girl. What's a baker to do? Come up with a recipe that is not only gluten free and vegan, but also insanely delicious. A crispy, coconut oatmeal crust. Creamy coconut cream filling made from cashews, shredded coconut, coconut oil and coconut milk. The crust is baked, but the filling is raw and can seriously be eaten by the spoonful (guilty). I decided that topping them with toasted coconut made them even cuter than they already are. Watch out because these mini coconut cream pies are a.d.d.i.c.t.i.n.g. Serving size on these tasty treats is only one…honestly, who can eat only one? I dare you to try!
vegan mini coconut cream pies
makes 16 mini pies
crust
3/4 cup certified gluten free oats
1/3 cup unsweetened shredded coconut
2 tablespoons brown sugar
2 tablespoons coconut oil, melted
filling
1 cup raw cashews nuts, soaked
1/2 cup So Delicious unsweetened coconut milk
2 tablespoons pure maple syrup
1/4 cup coconut oil, melted
1/4 cup, plus 3 tablespoons unsweetened shredded coconut
1/4 cup organic powdered sugar
1/2 teaspoon pure vanilla extract
toasted shredded coconut for garnish (optional)
Preheat oven to 350 degrees. To make crusts, place oats and coconut in food processor or high-powered blender. Grind for 30 seconds. Add brown sugar and melted coconut oil. Continue to blend until combined. Divided crust evenly into greased mini-muffin pan or mini cheesecake pan (I used a non-stick silicone mold which worked wonderfully). Bake for 10 minutes, or until golden brown. Allow to cool while you make the filling.
Soak raw cashews in warm water for 30 minutes. Drain. Add soaked
cashews, coconut milk, and maple syrup to food processor or high-powered blender (I used my Blendtec). Blend on high for
1-2 minutes. Add melted coconut oil, 1/4 cup shredded coconut, powdered sugar and vanilla
extract. Continue to blend on high until smooth and creamy. By hand, stir in the remaining 3 tablespoons shredded coconut.
Pour coconut mixture into pan, over the cooled crusts. Carefully place in freezer for 1-2 hours to become firm. Remove mini pies from pan and store in refrigerator. To serve, top with toasted shredded coconut.