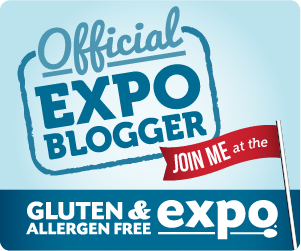 This gluten free blogger is getting quite excited to attend the Gluten and Allergen Free Expo in San Francisco! When I first found out about the GFAF Expo, I knew Kevin and I had to
go. A gluten-free baker/blogger with a husband who has celiac
disease…this event was too good to be true! Plus, San Francisco is
conveniently only a couple hours away from us. This will be our first time attending this event and that's not even the best part. A weekend-getaway with my amazing husband AND I will be attending as a member of the GFAF Expo's official blogger team! How cool is that? Seriously. I've been counting down the days for months now!
Gluten and Allergen Free Expo – San Francisco
San Francisco Airport Marriot Waterfront Hotel
February 9 – 10, 2013
9:00 am – 4:00 pm daily
Everyone is welcome!
The GFAF Expo was founded by Jen Cafferty, who is a blogger too! Her goal is to educate and encourage those who are living a gluten free lifestyle. This is truly one of the best events in the US for those with celiac disease or gluten/allergen free diets. Not only are there over 100 venders sampling and selling their products, but there are also classes offered with information on living gluten free and cooking tips too. You will get to discover gluten free companies and products that you didn't even know were out there! Everyone who attends will receive a cool gift bag to carry all your goodies. Coupons, classes, samples, and hard-to-find gluten free products to purchase. Sounds super cool to me!
Can't make it to San Francisco? No problem! The GFAF Expo is providing four additional events that will be taking place throughout this year. There will be one in Des Moines, Chicago, Meadowlands, and Dallas. You can check out the GFAF Expo online, to get all the information you need and to purchase tickets. I'm very much looking forward to this spectacular event, especially meeting and connecting with fellow gluten free bloggers. I promise to post updates on my facebook and twitter while I'm there. So be sure to follow me! When I return from the Expo, I will be sharing lots of photos, new products and stories of our gluten free adventures. I'm thinking a special giveaway will be a must too. Check back to hear all about the fun!