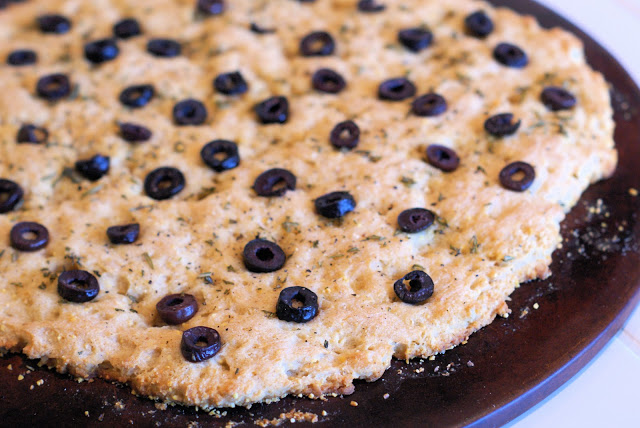 Warm, soft, and fresh out of the oven. That's my favorite way to eat bread! I came up with this extremely quick and easy (and delicious) recipe for focaccia bread. I basically made a few tweaks here and there to my yeast-free pizza crust. Result…a crispy, chewy foccacia topped with freshly chopped rosemary and sliced kalamata olives. The added cornmeal makes the texture of this bread that much more delightful. I sliced it into pizza-slices and served warm. My kids couldn't get enough. They kept saying, "more yummy bread, please!"
gluten free kalamata olive and rosemary focaccia
serves 8
additional 1 teaspoon xathan gum*
1/4 cup, plus 1 tablespoon cornmeal
2 teaspoons baking powder
1 teaspoon granulated garlic
1/2 teaspoon sea salt
1 1/2 cups plain sparkling water
3 tablespoons, plus 1 tablespoon olive oil
2 tablespoons honey
topping
1 tablespoon olive oil
1 1/2 teaspoons fresh rosemary, chopped
1/4 teaspoon freshly ground pepper
1/4 cup kalamata olives, sliced
Preheat oven to 425 degrees. Prepare pizza stone/pan by brushing on 1 tablespoon olive oil and sprinkling of 1 tablespoon cornmeal. In large mixing bowl, whisk together flour blend,
xanthan gum, baking powder, granulated garlic, and salt. Pour in sparkling
water, honey, and 2 tablespoons olive oil. Stir until just combined.
Spread dough
onto baking stone with rubber spatula or wet hands to smooth dough out. Brush the top of dough with olive oil. Sprinkle with chopped rosemary, ground pepper and olives. Bake for 22-25 minutes, or until golden brown. Slice and serve warm. Best enjoyed hot and fresh out of the oven!
*There is already xanthan gum in the flour blend, but you need an additional teaspoon in this recipe.