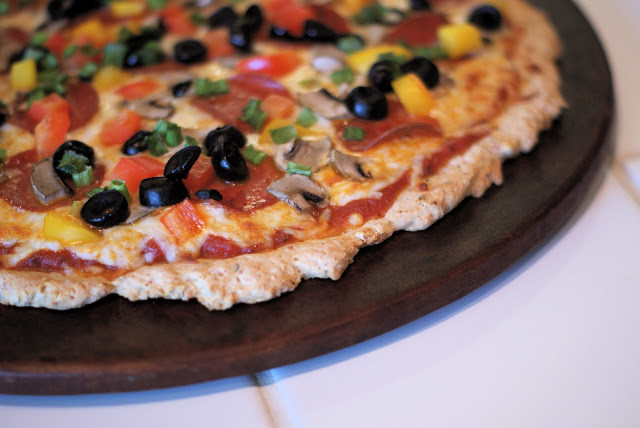 Who says you can't have pizza when you can't have gluten?  It took me a while to get the courage to try out a gluten free crust.  I was scared.  My greatest fear was that it would taste like cardboard.  We had tried a few gluten free pizzas at local restaurants and were not impressed.  So expensive for paper thin crust.  I just had to make a tasty, gluten free pizza right at home.
My dear friend Kerri, gave me this recipe for a gluten free, yeast free pizza crust.  Being that there was no yeast, I was a little skeptical.  However, I LOVE that this crust doesn't have to rise.  I can have pizza on the table in no time!  The secret ingredient…sparkling mineral water.  Works like yeast so it's a must in this crust.  I added honey to the recipe, which really helps to keep the crust chewy.  I also add dried Italian herbs and grated parmesan cheese.  Everything is better with more cheese.  Am I right?  This crust may not be your typical thick, yeast dough…but it is tasty, has great texture, and satisfies your deepest desire for a fresh-baked
pizza!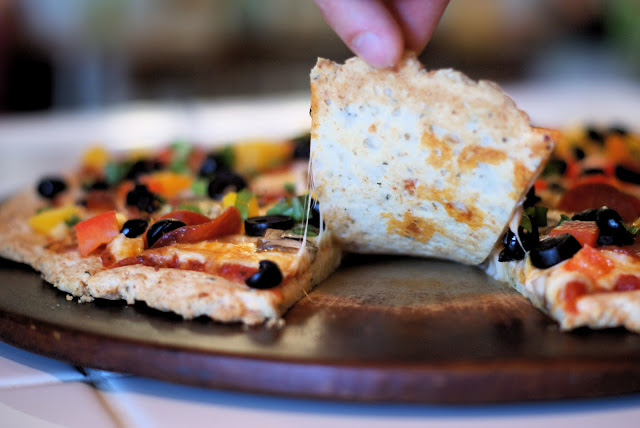 In our house, we like to top our pizza with a basic tomato sauce, shredded mozzarella cheese, and fresh veggies.  I just use whatever I have in the fridge.  My kids love mushrooms and onions.  Weird, but so awesome.  Spinach and artichokes are two of my favorites.  Turkey pepperoni or chicken sausage adds great flavor too!  Be creative.  Get your kids in the kitchen and let them help.  Have a family pizza-making night.  This pizza crust is a great canvas for a delicious meal to enjoy with those you love!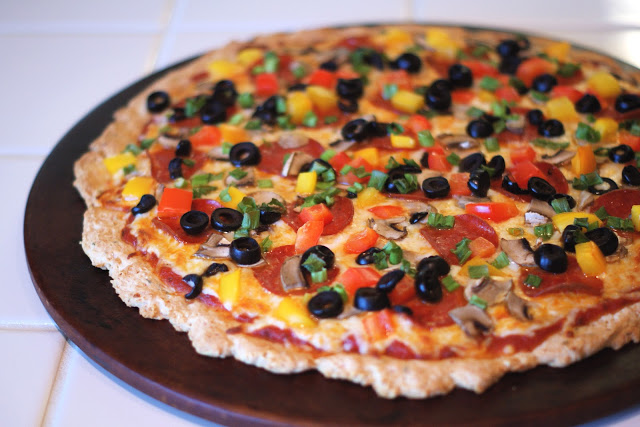 gluten free pizza crust
AUTHOR:
Sarah Bakes Gluten Free
SERVES:
14-inch pizza crust
INGREDIENTS
2 teaspoons baking powder
1/2 teaspoon dried basil, crushed
1/2 teaspoon dried oregano, crushed
2 tablespoons grated parmesan cheese (optional)
1/2 teaspoon sea salt
1 1/2 cups plain sparkling water
2 tablespoons honey or pure maple syrup
2 tablespoons olive oil
INSTRUCTIONS
Preheat oven to 425 degrees. Prepare pizza stone/pan by brushing on a little olive oil.
In large mixing bowl, whisk together flour blend, baking powder, herbs, cheese and salt. Pour in sparkling water, honey, and olive oil. Stir until just combined.
Spread dough onto baking stone using rubber spatula or wet hands to smooth dough out.
Pre-bake for 20-22 minutes, until slightly golden (you will continue to bake after you add the sauce/toppings).
Remove crust from oven. Let cool slightly. Top pre-baked pizza crust with your favorite sauce, cheese, and toppings.
Return pizza to oven and continue to bake for 10-12 minutes until bubbly and delicious!