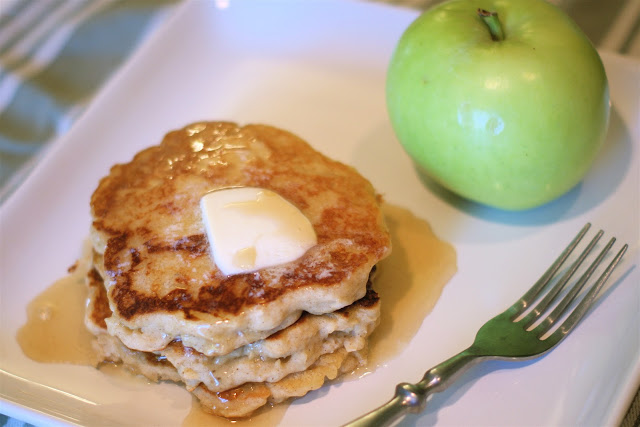 Nothing gets my family to the table for breakfast faster than a big plate of pancakes. They are everyone's favorite. When I ask Kyri and Kaden what they want for breakfast, it's always "pancakes!" Now that I have my favorite gluten free yogurt pancake recipe, it brings me great joy to bring a smile to my kid's face…through their tiny tummies.
We went to the farmers market and I brought home these 2 giant green apples. I was back in the kitchen the next moring, ready to make breakfast for the gang. I thought to myself, "Oooh, how about apple cinnamon pancakes?" Yes. The decision was made. I found this simple recipe on pinterest for apple cinnamon pancakes. I replaced 1/2 cup of the milk with yogurt and used my gluten free flour blend. They have a double-dose of apple with both applesauce and grated apple. Pure maple syrup is the perfect compliment to these apple cinnamon pancakes! Enjoy!
gluten free apple cinnamon pancakes
makes 6-8 pancakes
1 1/4 cups Sarah's gluten free flour blend
2 tablespoons brown sugar
2 teaspoons baking powder
1/4 teaspoon salt
1 teaspoon cinnamon
1/2 cup milk
1/2 cup plain Greek yogurt
1/2 cup unsweetened applesauce
1 apple, peeled and grated
1 egg
2 tablespoons canola oil
In medium bowl, whisk together flour blend, brown sugar, baking powder, salt, and cinnamon. Mix together together milk, yogurt, applesauce, egg and oil. Pour into the flour mixture and stir until combined. Mix in the grated apples.
Heat large skillet to low-medium heat. Spray pan with cooking spray or a little canola oil. Add 1/3 cup of batter to pan. If pan is large enough, you can cook a couple pancakes at a time. Cook until bubbles
start to form on the top and bottom is lightly browned.
Carefully flip with a spatula and cook the second side until golden
brown, a couple minutes more. Serve warm, with butter and pure maple syrup.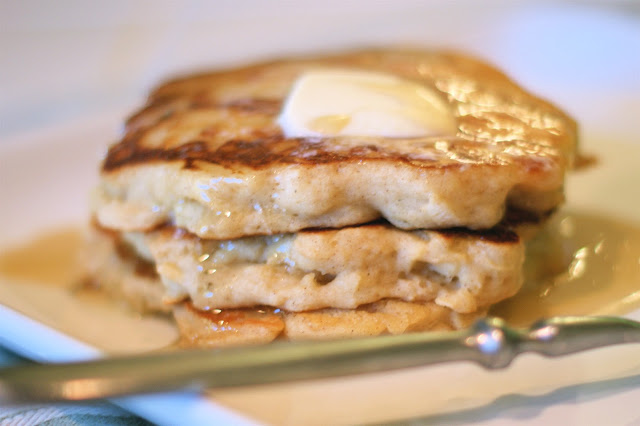 Recipe adapted from What Megan's Making