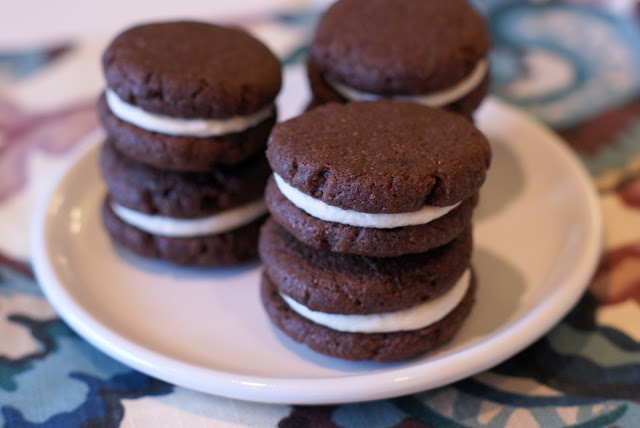 There are many treats that bring you back to your childhood. The ones you got so excited to see in your school lunch. I think we can all agree that one of the top fave treats for little kids…Oreo cookies! Two chocolate cookies, sandwiched together. Don't forget about the creamy filling! A big stack of Oreo cookies and a cold glass of milk. Perfection.
I decided it was time to come up with a recipe for gluten free Oreo cookies. How hard could it be? All I needed was a simple, lightly sweetened chocolate cookie. I was going for a cookie with the same flavor, but more of a soft texture in the center. These gluten free and vegan chocolate sandwich cookies are just what I had in mind! They are pretty cute too. Bite size and in my opinion, WAY better than the original chocolate sandwich cookie!
gluten free vegan chocolate sandwich cookies
makes 28-30 cookie sandwiches
1 3/4 cups Sarah's gluten free flour blend
1/2 cup cocoa powder
1/2 teaspoon baking soda
1/2 teaspoon salt
1/3 cup organic brown sugar
1/3 cup organic cane sugar
1/2 cup sunflower seed oil
1/2 cup So Delicious unsweetened coconut milk
1 teaspoon pure vanilla extract
creamy filling
1 1/2 cups organic powdered sugar
3 tablespoons organic non-hydrogenated shortening
1-2 tablespoons So Delicious french Vanilla coffee creamer*
Sift together flour blend, cocoa powder, baking soda, and salt. Set aside. In large mixing bowl, combine brown sugar, cane sugar, and oil. Beat for 2 minutes until creamy. Mix in the coconut milk and vanilla extract. Add the flour mixture and stir until combined. Refrigerate dough for 1 hour, to make it easier to work with.
Preheat oven to 350 degrees. Line large baking sheet with parchment paper. Take heaping teaspoon-size scoops of dough and roll into balls. Place on prepared cookie sheet. Flatten dough with bottom of glass or fingers to make a small circle (cookies won't spread much). Bake for 8-10 minutes or until cooked through. Allow to cool on cookie sheet for 2 minutes before placing on cooling rack. Repeat with remaining cookie dough.
While cookies cool, prepare the cream filling. Beat together the powdered sugar, shortening and 1 tablespoon creamer until smooth. Add an additional tablespoon of creamer if needed. Place filling in pastry bag and pipe onto center of half of the cookies (about a teaspoon). Top each one with an additional cookie and lightly press. Store finished cookie sandwiches in airtight container.
*You can also use the unsweetened coconut milk with 1/2 teaspoon pure vanilla extract.