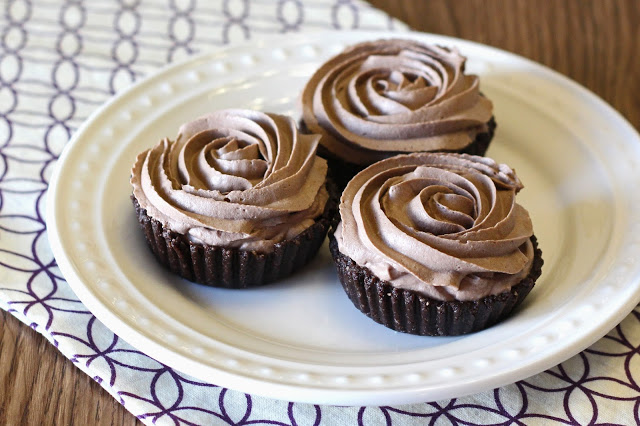 Healthy dessert never tasted so good! You can totally eat chocolate and not feel one bit of guilt. These gluten free vegan mocha mousse mini tarts prove that point. Raw, no-bake chocolatey crusts made with almond flour. Light, fluffy mocha mousse made from coconut cream. Just the right amount of sweetness and refined sugar free!
I have to say I love working with Bob's Red Mill and experimenting with their products. They recently sent me a case of their finely ground almond flour and I'm smitten. Love the flavor and texture of this nut flour. I know gluten free and paleo folks use it all the time, I just wasn't able to because I was really sensitive to almonds. I had a high reaction on my food allergy blood test. Such a bummer! Since being off of them for quite some time and giving my body a break, I decided to reintroduce them. So far, so good. I'm totally hooked to unsweetened almond milk now too.
A big thank you to Bob's Red Mill for sponsoring this post! For more delicious recipes and a coupon for $1.00 off any product, visit bobsredmill.com. Friends, please enjoy this healthy no-bake chocolate treat!
gluten free vegan mocha mousse tarts
makes 12-14 mini tarts
raw chocolate crust
1 1/2 cups Bob's Red Mill blanched almond flour/meal
1/4 cup good quality cocoa powder
dash sea salt
3 tablespoons coconut oil, melted
2 tablespoons pure maple syrup
dairy free mocha mousse
1/4 cup pure maple syrup
2 teaspoons instant espresso powder*
2 11-ounce containers So Delicious culinary coconut milk (full fat), refrigerated overnight**
5 tablespoons good quality cocoa powder, sifted
1 teaspoon pure vanilla extract
Line muffin tin with nonstick cupcake liners. Set aside. To make crusts, whisk together almond flour, cocoa powder and salt. Add melted coconut oil and maple syrup. Mix until well combined. Add about a tablespoon crust mixture to each cupcake liner. Press into bottoms and halfway up sides of cupcake liners. Place in refrigerator to chill and become firm, about 30 minutes.
When crusts are ready, make mocha mousse. Dissolve espresso powder in maple syrup in small bowl. Set aside. Remove coconut milk from refrigerator. Cut open top of containers and scoop out only coconut cream. Strain off all coconut water and save for another use. Place coconut cream into large bowl of standing mixer. Add maple syrup mixture to coconut cream, along with cocoa powder and vanilla. With whisk attachment, whip on high for 3-5 minutes, until light and fluffy.
As soon as mousse is ready, remove tart crusts from refrigerator. Take out of cupcake liners and place on serving tray. Fill each tart crust with mocha mousse, filling just to the top. Scoop remaining mousse into large piping bag with large open star tip. Pipe onto each tart, making a rose shape (start in center and work your way out). Place mocha mousse tarts in refrigerator until ready to serve. Keep chilled.
*Feel free to omit the espresso powder. You will still have a delicious chocolate mousse!
**If you cannot find
So Delicious culinary coconut milk
, you can use 2 cans full-fat coconut milk. Be sure to shake cans in the store, if they seam too watery, they won't firm up in the fridge.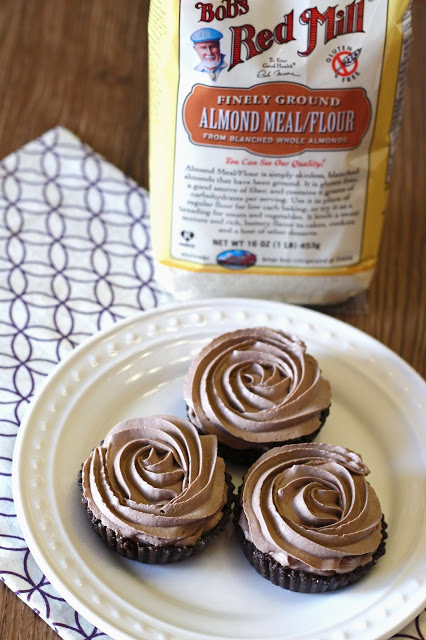 I'll be sending a package of
Bob's Red Mill
almond meal, along with one of my
flour sack towels
, to one of you! Enter in the widget below and be sure to leave a comment. Tell me, "
what is your most favorite (sinful) chocolate dessert?
" You can receive extra entries by liking Bob's Red Mill on
facebook
,
tweeting
about the giveaway or sharing on
instagram
. The last day to enter is
Thursday, February 12
. I'll announce the winner on Friday. Good luck!