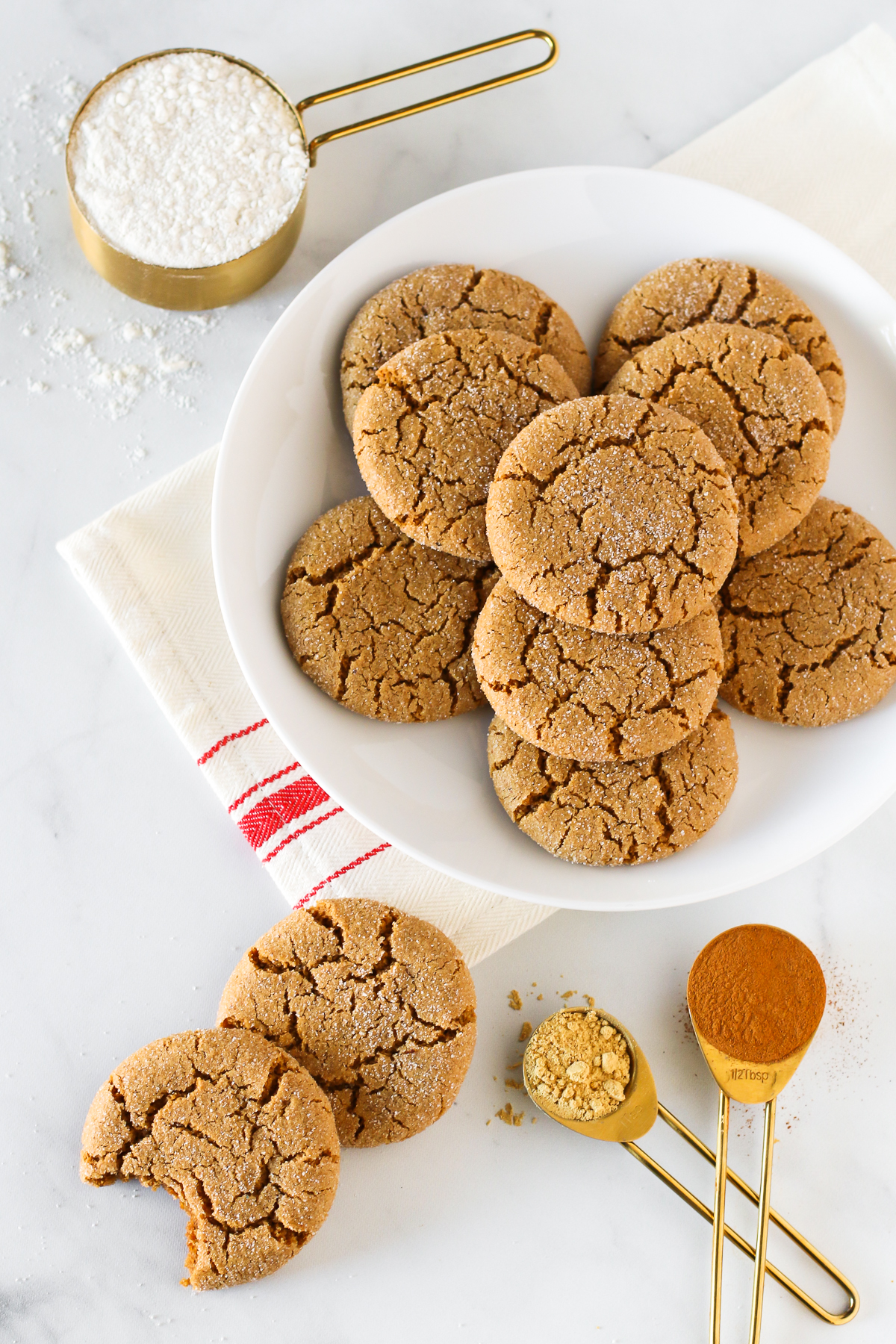 Soft, chewy and perfectly spiced. I adore these gluten free vegan molasses cookies, especially this time of year. A plate of these cookies is sure to be a hit at any holiday party!
Cookies, cookies, cookies. When I think of holiday baking, I think of cookies. Baking cookies to package up and send to friends near and far. Remembering my grandma when making the cookies she used to make for us when we would come visit. Decorating sugar cookies with my family on Christmas Eve. So many precious memories around cookies and Christmas.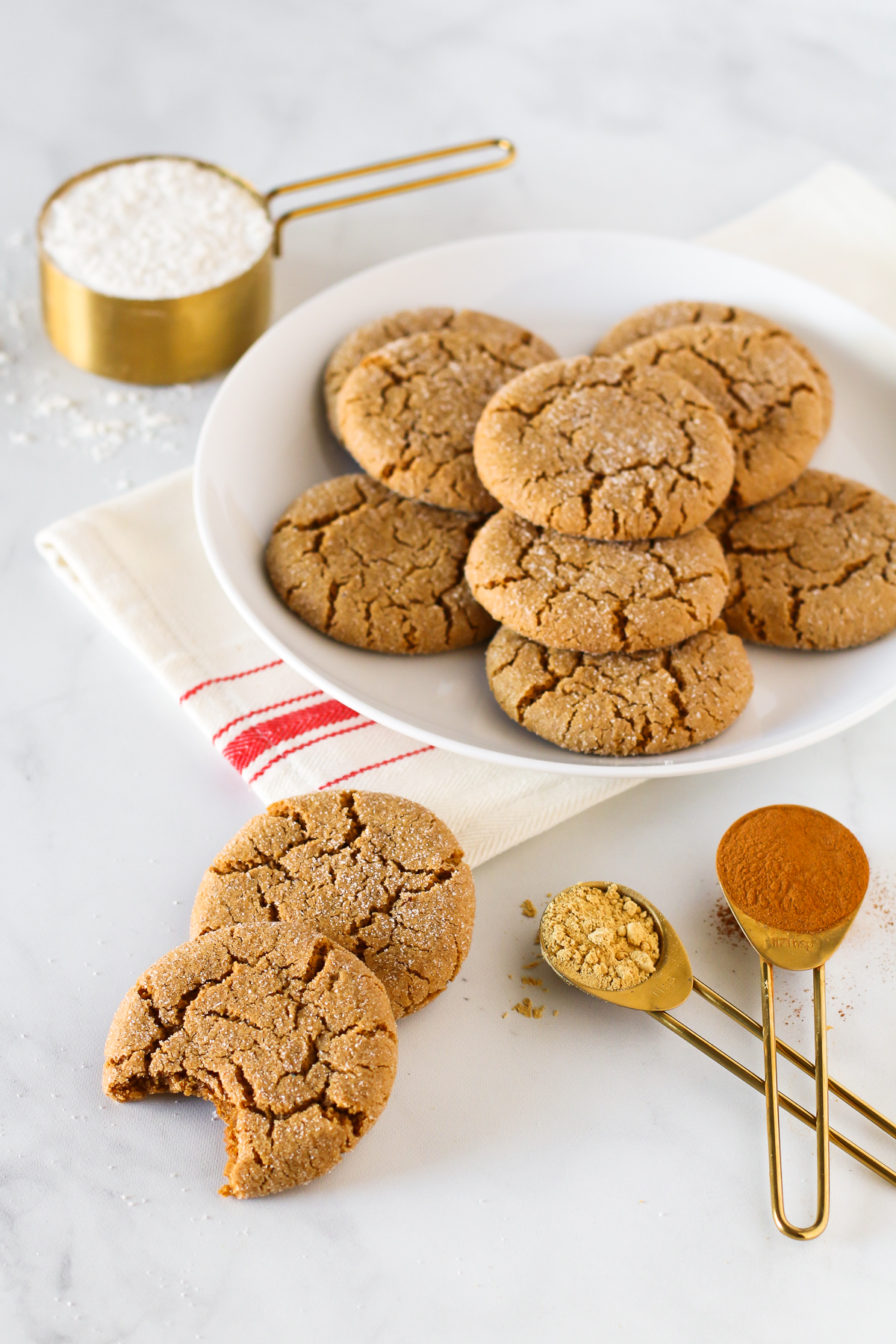 One of my pantry staples during all of this holiday baking and cookie making is the tried-and-ture Bob's Red Mill gluten free 1-to1 baking flour. It's very similar to my own gluten free flour blend and I like to always have it on hand. It's great for all of you gluten free baking needs and works well when swapping out all-purpose flour. If you are new to gluten free, I know how scary and intimidating it can be. That's why I highly recommend this baking flour. It's a great place to start!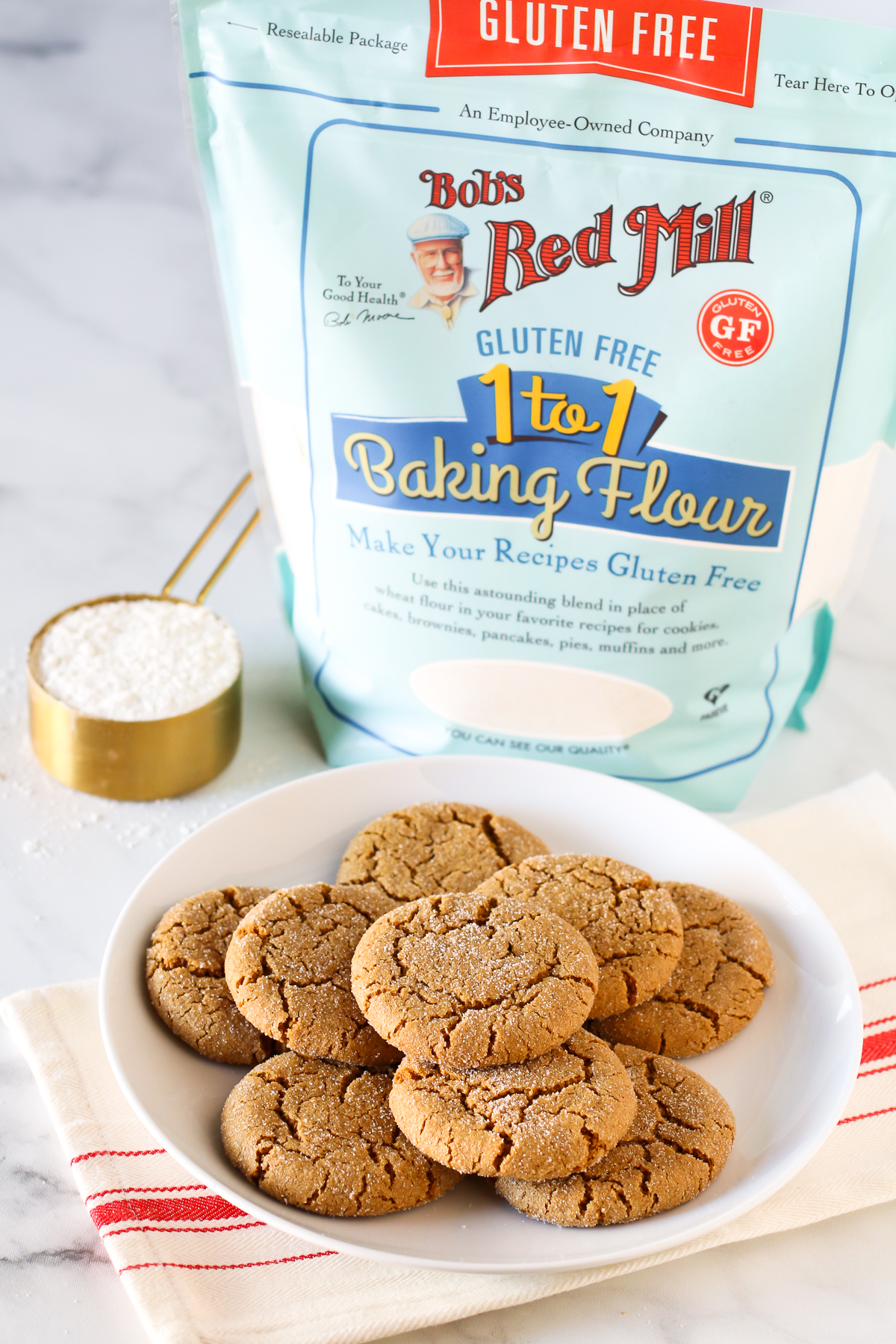 People often ask me, "how do you create your recipes?" Well, it's a lot of trial and error. Sometimes when I try out a new recipe, I get lucky. Luck as in they turn out on the FIRST try. I say it's a gluten free miracle! We all know baking without gluten, can be tricky, especially when you are also cutting out dairy and eggs. That's why I love sticking with products I know and trust for good results. Bob's Red Mill gluten free 1-to-1 baking flour is one I can always count on.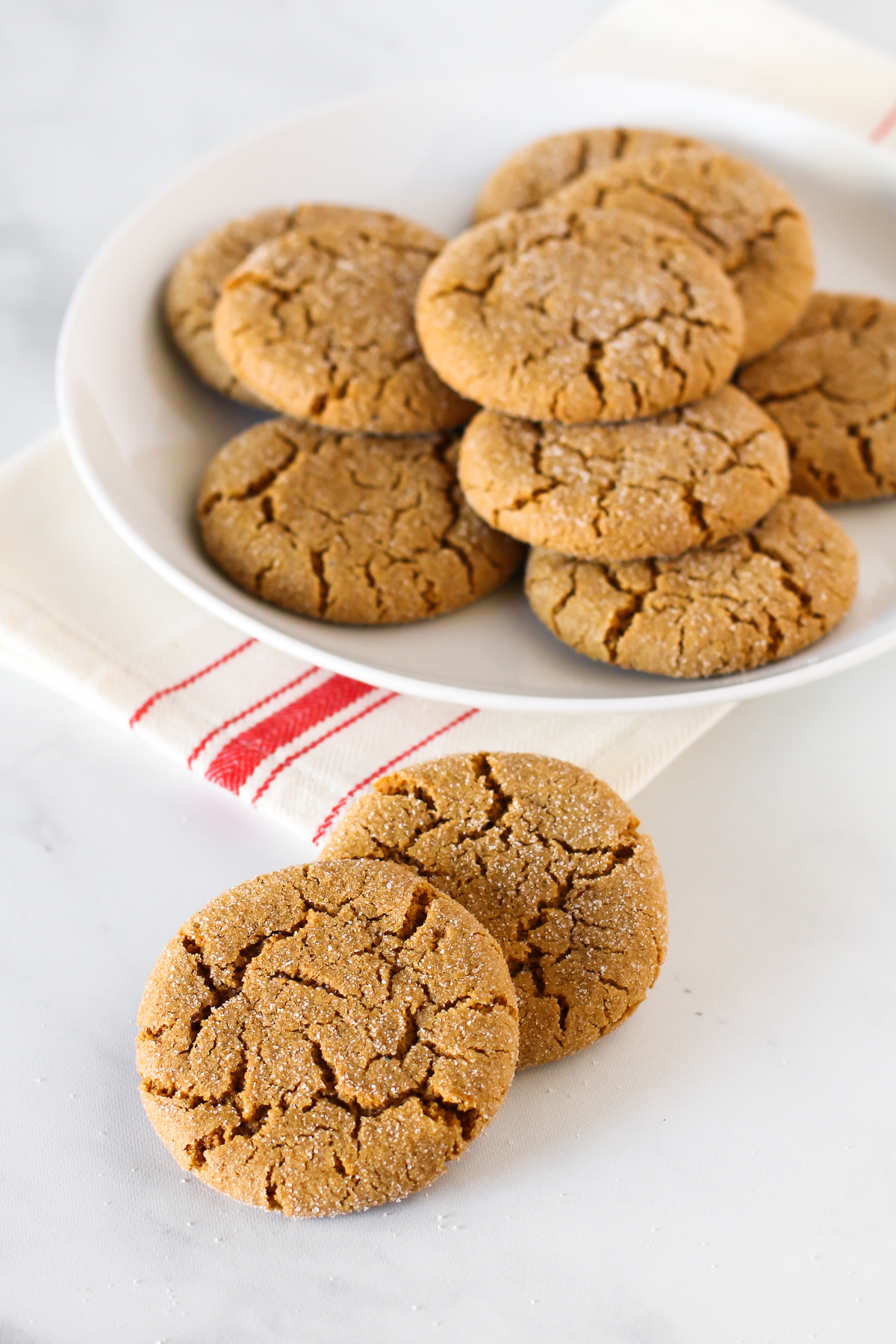 Are you a fan of gingerbread? Then you are going to LOVE these gluten free vegan molasses cookies! The richness of the molasses paired with the warm spice of cinnamon, ginger and nutmeg. It's magical. I love gingerbread in all forms. Cookies, cakes and even whoopie pies! I think I've found my new favorite in these molasses cookies. I mean, will you just look at those crinkles and that light dusting of sugar?
Not only did I use the gluten free 1-to-1 baking flour, I also used Bob's Red Mill almond flour. There is something about the addition of almond flour that just makes the texture of these cookies oh so perfect. They are soft, yet chewy. Sweet, but not too sweet. You can taste all the spices, but they are not overwhelming. I'd have to say, these molasses cookies are just a delightful holiday cookie. One that I know you are going to adore, just as much as I do!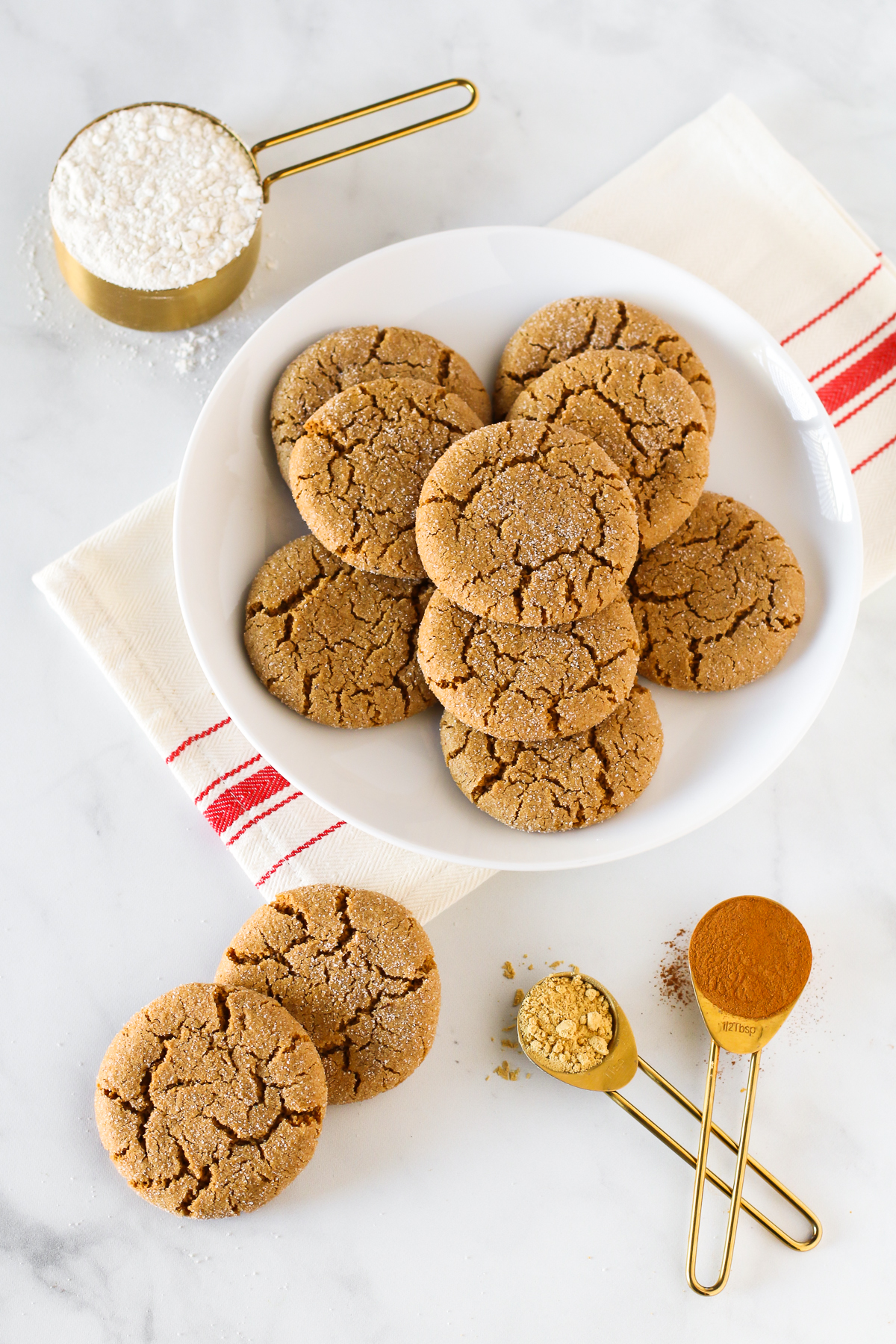 gluten free vegan molasses cookies
AUTHOR:
Sarah Bakes Gluten Free
INGREDIENTS
3/4 cup Bob's Red Mill almond flour
3/4 cup brown sugar
1 1/2 teaspoons ground cinnamon
1/2 teaspoon ground ginger
1/4 teaspoon ground nutmeg
1 teaspoon baking powder
1/2 teaspoon baking soda
1/2 teaspoon sea salt
6 tablespoons grape seed oil or sunflower seed oil
1/4 cup molasses
1/4 cup warm water
1 teaspoon pure vanilla extract
1/4 cup cane sugar, for coating cookies
INSTRUCTIONS
Preheat oven to 350 degrees. Line baking sheets with parchment paper.
In large bowl of stand mixer, blend together flour, almond flour, brown sugar, cinnamon, ginger, nutmeg, baking powder, baking soda and salt.
Add oil, molasses, water and vanilla. Mix until cookie dough comes together and is well combined, 1-2 minutes.
Scoop cookie dough using cookie scoop and roll into balls. Roll dough in sugar and place onto baking sheet. Flatten balls of dough with fingers or bottom of glass cup.
Bake cookies 10-12 minutes. Cookies will be soft to the touch. Allow to cool on pan 5 minutes. Place cookies on cooling rack to cool completely.
This post has been sponsored by Bob's Red Mill. All opinions are my own. Check out more delicious healthy recipes, snag coupons and find stores near you at bobsredmill.com!
This post contains affiliate links. If you purchase items through some of the links, I earn a small commission off the sale at no extra cost to you. Helps keeps the recipes coming and the blog up and running